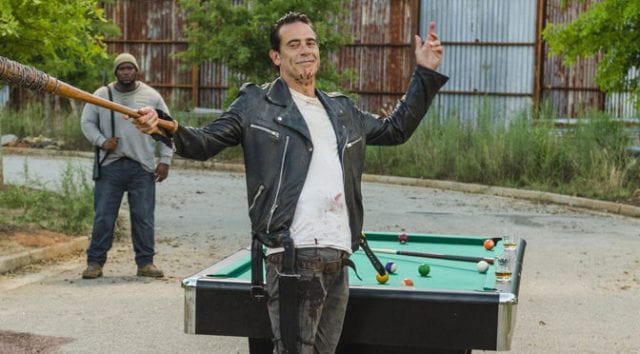 Warum heißt Negan eigentlich Negan? Der "The Walking Dead"-Erfinder Robert Kirkman hat im Nachgang zum Mid-Season-Finale eine Erklärung dazu abgegeben. Danach sollte der Name möglichst negativ klingen. Sein Favorit war eigentlich Nagus, aber dann hat Krikman festgestellt, dass der Name bereits in einer anderen prominenten Serie auftaucht, und zwar in der Star Trek-Serie Deep Space 9. Deswegen tausche Kirkman beim Schreiben der Comics den Namen noch einmal aus:
I just wanted the name to sound negative in some way, so I was calling him 'Nagus' for a long time, which is just a word I thought I pulled from thin air. But apparently that's the Ferengi leader in Star Trek: Deep Space 9, so I was like, 'Well I can't call him Nagus.' So then I was like, 'Okay, Negan, that sounds fine.' (Robert Kirkman)
Generell arbeitet Kirkman gerne mit erfundenen Namen – also mit Namen, die sich nicht auf reale Personen beziehen oder die nicht in anderen Serien bereits prominent auftauchen. Hat er eine Idee für einen Namen, googelt er erstmal, ob es den Namen schon gibt.
via: Comicbook.com