Auch die dritte Serie aus dem "The Walking Dead"-Universum war der Corona-Pandemie zum Opfer gefallen. Obwohl schon fertig abgedreht, wurde der Serienstart von "The Walking Dead: World Beyond", der für den 12. April 2020 geplant war, abgesagt – aus Sorge, mit der Post Production nicht fertig zu werden. Jetzt haben wir einen neuen Starttermin: Es ist der 4. Oktober 2020. Die erste Folge wird also direkt nach dem Staffelfinale von "The Walking Dead" laufen. Und in den Folgewochen dann immer im Anschluss an die neuen Folgen von "Fear the Walking Dead", Staffel 6. Heißt auch, dass man an dieser Stelle die Ausstrahlungstermine der drei Serien etwas zusammenschiebt, um die Zeit der Pandemie aufzuholen. Was wir schon wissen, ist, dass die Serie nur 2 Staffeln bekommen wird, also als "Limited Event" auf den Markt kommt. Und wir wissen, dass bei uns "The Walking Dead: World Beyond" bei uns bei Amazon Prime Video laufen wird, also so wie "Fear the Walking Dead". Da bin ich mal gespannt, ob Amazon beide Serien gleichzeitig ins Programm nimmt oder "TWD: World Beyond" nicht noch weiter in die Zukunft schiebt.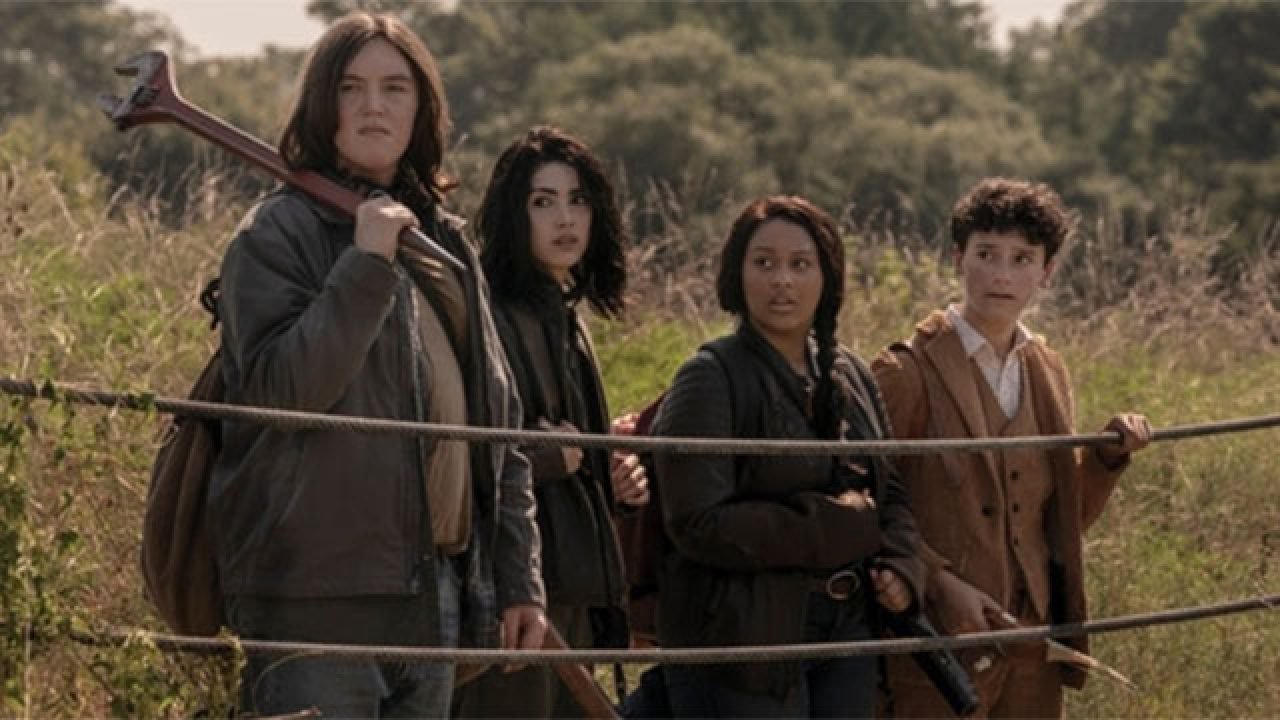 Auf jeden Fall haben wir auf der Comic Con einen neuen Trailer vorgestellt bekommen, der durchaus interessant aussieht – und möglicherweise sogar Hinweise auf den noch offenen Rick Grimes-Film liefert, wenn man sich mal den Helikopter im Trailer genauer ansieht. Zum Rick Grimes-Film wurde auf der San Diego Comic Con übrigens nichts gesagt. TWD-Erfinder Robert Kirkman sagte nur im Vorfeld, dass die Corona-Pandemie dem Film nicht schade, sondern ihn besser mache, weil es dadurch mehr Zeit gebe, an dem Film zu arbeiten.
Zurück zu "The Walking Dead: World Beyond": Scott M. Gimple, mittlerweile "The Walking Dead chief content officer", erklärt gegenüber Entertainment Weekly die Hintergründe zur Limited Event Serie so:
"There's a lot of things that make it different. The first one is really the situation with which the characters have been living in, relatively, a first-world situation. Relatively. Because it's focusing on young people, even the "adults" in this are on the younger side, they've more or less grown up with this. There's a certain everydayness of this to them, though they've been behind walls. It's a very big deal for these characters to leave these walls…. It's an incredible act of bravery for some of these people to potentially step out into the world."
Weitere Infos zur Serie gibt es hier in unserem Beitrag zum damals geplanten Serienstart.