Mehr als zehn Jahre ist Friends nun off air. Meiner unbedeutenden Meinung —und der von geschätzt 85% aller Serienliebhaber— nach, ist die Sitcom über sechs Freunde im New York der Neunziger, eine der besten, wenn nicht die beste Comedyserie.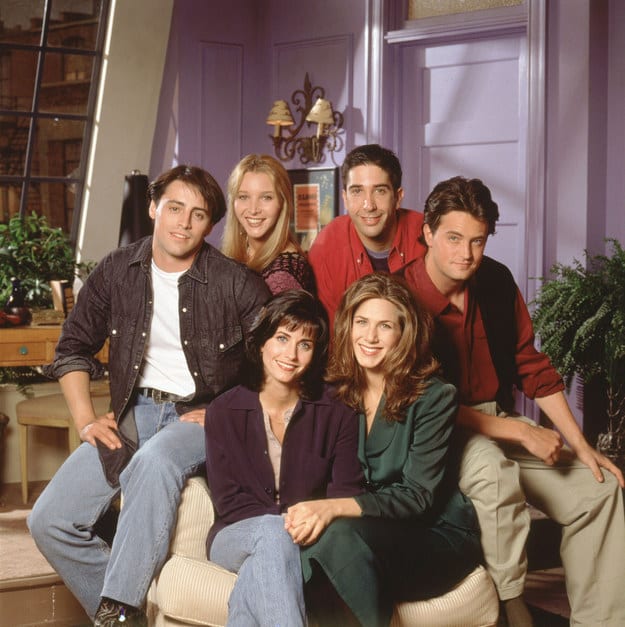 Schon seit Jahren schreit die Welt nach einem Friends-Film, aber leider sieht es nicht danach aus, dass wir jemals einen solchen bekommen werden. Die Schauspieler sind inzwischen dann auch alle in etwa in ihren Spätvierzigern… da kann man den ganzen Mitt- und Spätzwanziger-Humor nicht mehr anbringen.
Wie auch immer, ich hoffe ja, dass Friends niemals rebooted wird, auch wenn manche Ideen zu Buzzfeeds "If "Friends" Had Been Set In 2015" ganz nett sind.
1. The one where Joey discovers Tinder.
Joey kennen wir alle als den Aufreißer-Typen. Tinder fände er bestimmt gut.
2. The one where Joey finds Phoebe on Tinder and they finally stop dancing around the subject and hook up.
Fair enough.
5. The one where Ross' terrible spray tan goes viral.
Und dann auf Buzzfeed landet…
32. The one where they find out that Janice has become the seventh biggest YouTube vlogger on the planet.
Absolut möglich.
45. The one where Ross moderates the r/dinosaurs sub-Reddit.
In dieser Aufgabe würde er nun wirklich aufgehen.
51. The one where Joey finds Rachel's copy of Fifty Shades of Grey.
Oder Chandler findet die verlegte Twilight-Fanficion in Monicas Nachtschrank und hat einen kleinen Nervenzusammenbruch.

Die ganze Liste hier.

-->