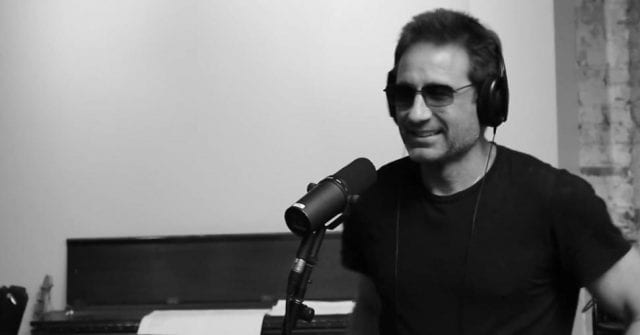 Gerade erst wurde sein Comeback als Agent Mulder bei den X-Files bekannt gegeben, jetzt hat David Duchovny angekündigt, im Mai sein erstes Musikalbum herauszugeben. "Hell or Highwater" wird es heißen und 12 selbstgeschriebene Songs beinhalten. Erste Ausschnitte deuten darauf hin, dass sich die Stücke durchaus im Style seiner letztes Jahr abgedrehten Serie Californication bewegen dürften.
Ab sofort kann man das Album bereits bei amazon und iTunes vorbestellen. Am 12. Mai soll das Album erscheinen. Erste kurze Videos sind von der Plattenfirma Thinksay Records und von David Duchovny veröffentlicht worden. Schon in der Serie Californication stand die Musik im Mittelpunkt: In der zweiten Staffel arbeitet er mit der Serienfigur Lew Ashby zusammen, dessen Biografie er schreiben soll; in der sechsten Staffel steht der fiktive Musiker Atticus Fitch im Mittelpunkt.
I sing. #HellOrHighwater http://t.co/2PugzaQft4

— David Duchovny (@davidduchovny) March 31, 2015
Gegenüber dem Rolling Stone hatte David Duchovny bereits im letzten Jahr geäußert, wie sein Musikalbum klingen müsste.
I can only compare my music to artists that you know, so it's going to sound like I'm bragging. But in my wildest dreams, I would sound like Wilco or R.E.M. I'd put it somewhere in there – if I'm lucky.
Denmächst ist Duchovny auch in einer neuer Serie zu sehen, die Aquarius heißen wird und auf NBC anlaufen wird. Die Serie wird in den 60er Jahren angesiedelt sein; David Duchovny spielt darin den Polizisten Sam Hodiak. Duchovny ist wie bei Californication Co-Produzent der Serie.

-->