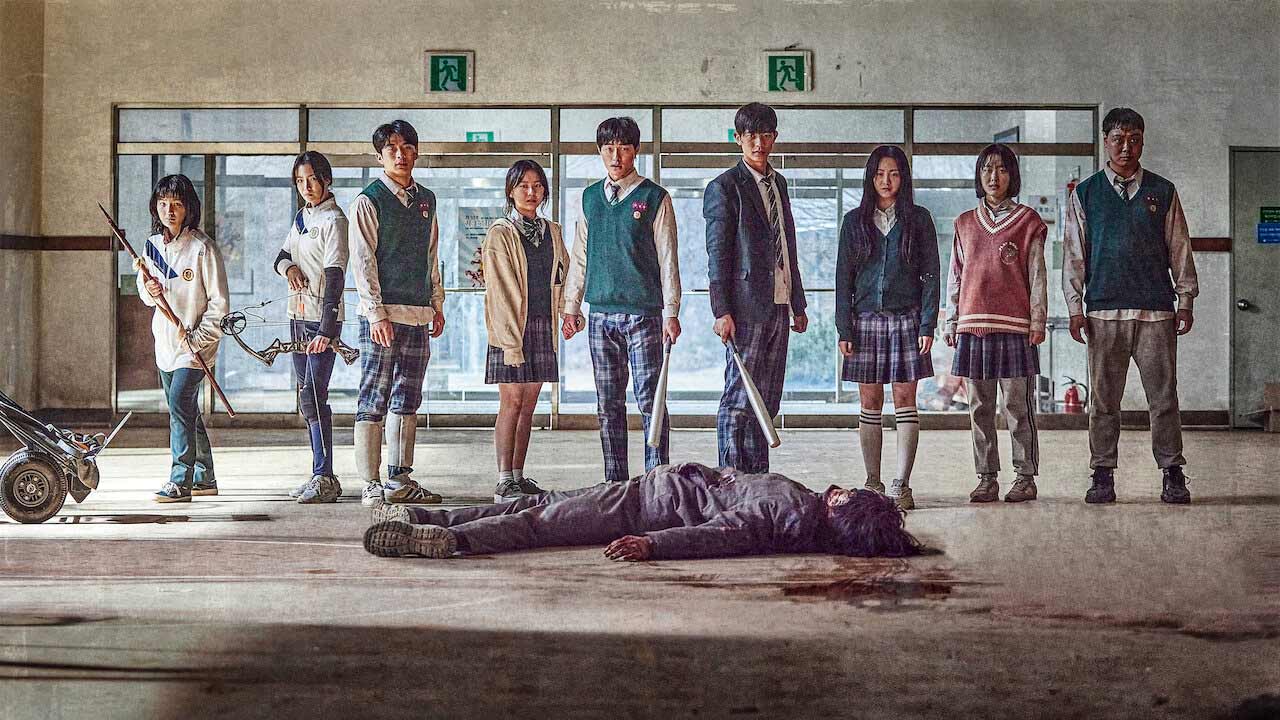 Der "Squid Game"-Hype ist noch nicht ganz abgeflacht, da kommt eine neue, noch blutigere Serien-Produktion aus Südkorea daher. "All of Us Are Dead" (Originaltitel: 지금 우리 학교는 / "Jigeum Uri Hakgyoneun") wird bereits in wenigen Wochen weltweit auf Netflix erscheinen und die Zombie-Apokalypse über eine High School hereinbrechen lassen. Die Geschichte basiert auf dem Webtoon "Now at Our School", der 2009-2011 von Joo Dong-geun veröffentlicht worden und hier einzusehen ist. Hier erstes Bewegtbildmaterial zur Serien-Adaption.
Zunächst hätten wir den offiziellen "Date Announcement Teaser" zu "All of Us Are Dead", der heute Nacht veröffentlicht worden ist und erste, kurze Eindrücke vom Format liefert.
"Zombies have overrun our school
Will you escape, die or unite to survive?"
Dann wäre da noch der "Official Teaser", der mit seinen rund anderthalb Minuten aber eher Trailer-Format besitzt, finde ich, so aber nochmal deutlich mehr zur Story der Serie zeigt.
"School's out for the Apocalypse
Students are trapped at Hyosan High
'No one can save us but ourselves.'
Will you kill
Or let yourself be killed"
Hier noch ein Video, das nicht wirklich offiziell ist und etwas fragwürdig erscheint. Könnten alte Aufnahmen aus anderen Produktionen sein, es wird drumherum auch von "Movie" geschrieben, aber irgendwie geht es doch um die Serie "All of Us Are Dead" – vermutlich nur Clickbait-Mist, aber irgendwoher müssen die teilweise schon ziemlich cool aussehenden Aufnahmen ja stammen:

Ich glaube nicht, dass die Serie auch nur im Ansatz an die Sphären von "Squid Game" heranreichen wird. Dazu ist das Thema zu unoriginell und auch nicht direkt massentauglich, fürchte ich. Für mich persönlich (und sicherlich auch einige andere) könnte das aber durchaus was werden.

Zu sehen bekommen wir in "All of Us Are Dead" aber unter anderem Lee Yoo-mi, die die Ji-yeong in "Squid Game" gegeben hat, sowie Byeong-cheol Kim, der die Rolle des Yeonseol-gwanli-gamyeon gespielt hatte. Ansonsten könnten westliche Zuschauer:innen noch Rich Ting aus z.B. "The Man in the High Castle" kennen.

Alle acht Folgen der ersten Staffel von "All of Us Are Dead" werden ab Freitag, dem 28. Januar 2022, auf Netflix zur Verfügung stehen. Hier der Direktlink zur Streamingseite, wo ihr die Serie bereits auf eure Watchlist setzen könnt.

Bild: Netflix

-->