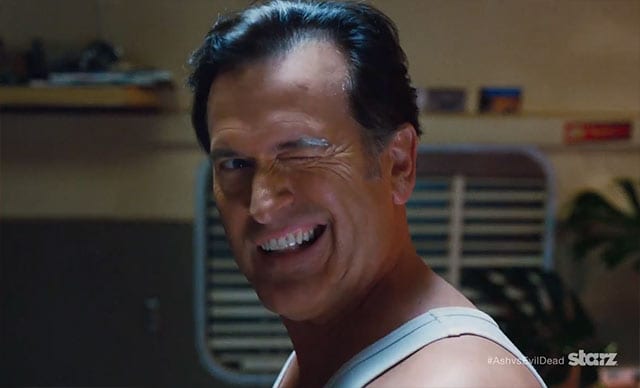 Normalerweise wird eine Serie erst dann verlängert, wenn sich ein nachhaltiger Erfolg eingestellt hat. Üblicherweise geschieht dies gegen Ende, oder sogar erst nach dem Ende einer Debütstaffel.  Der kleine Kabelsender StarZ, welcher sich die für Wiederbelebung des 1981ers Horrorfilms als Serie verantwortlich zeichnet, hat nun vor dem Start der ersten Staffel am 31. Oktober bereits eine zweite Staffel von Ash vs. Evil Dead bestellt. Carmi Zlotnik, Managing Director des Senders sagt dazu:
One season isn't enough to satisfy the fans' two decade-long appetite for more Ash. The early fan and press support, along with the international broadcaster demand for more story have made it clear that the adventures of Ash Williams can't end with season one. – Carmi Zlotnik, StarZ
Warum dieser (riskante) Plan erfolgreich sein könnte, lässt sich aus Bewertungen zu den ersten zwei Episoden ableiten, welche auf der New York Comic Con gezeigt wurden:
Having seen the first two episodes, I can say that Ash is just as good as advertised (if not better). It's a show that's going to find its audience very quickly and, most likely, live a very long and prosperous life in the years to come. – ScreenRant
Wer die Tage bis zur Premiere der ersten Staffel nicht mehr abwarten kann, bekommt hier einen kurzen Einblick in die neue Serie.
via: screenrant