"Szene für Szene die Welt entdecken" ist nicht nur der Buchtitel zum Werk von Andrea David, bekannt durch ihren filmtourismus.de Blog und die dazugehörigen Social Media-Kanäle. Sondern auch für mich seit vielen Jahren ein gelebtes Motto, wenn ich unterwegs bin und das Fotohobby mit der Geographie-Leidenschaft verbinde. Städte entdecken, Orte aufspüren, Sehenswertes festhalten – so ungefähr würde meine Beschreibung vom idealen Urlaub klingen.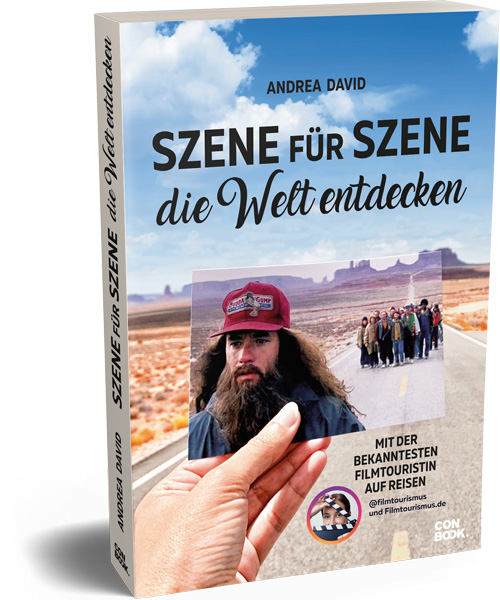 Und nichts anderes macht Andrea David seit vielen Jahren – ebenfalls erst als Hobby, inzwischen hauptberuflich. Sie spürt Orte auf, die sie in Filmen und Serien entdeckt – und setzt sie mittels Fotografie in Szene. Im doppelten Sinne im Prinzip, denn auf ihren Fotos sind Szenenfotos aus Filmen und Serien zu sehen, die sie in der exakt passenden Umgebung vor die Kamera hält. Hat vermutlich jeder schonmal gesehen, bei Facebook oder Instagram, oder eben auf ihrer Website. Und das gibt's endlich als Buch (Partnerlink), und ich habe mich unheimlich gefreut, als ich davon las, dass es filmtourismus.de in gedruckter Form geben wird.
Jetzt ist das Buch da, und es ist sehr umfangreich geworden. Knapp 300 Seiten liegen vor uns, mit extrem vielen Fotos (klar, darum geht's ja), wobei ich mir an einigen Stellen gewünscht hätte, dass die Fotos auch mal großflächig auf einer oder gar einer Doppelseite zu sehen sind. So sind sie oft halbseitig oder etwas kleiner abgedruckt, wodurch für mich ein ganz klein wenig der Charme verloren geht, aber das machen die Fotos durch die Motive natürlich schnell wieder wett.
Szene für Szene die Welt entdecken – in Game of Thrones, Outlander, Star Wars & Co.
Und das Drumherum macht natürlich auch extrem großen Spaß: Andrea David und der Conbook Verlag haben sich eben nicht darauf beschränkt, sozusagen ein Bildarchiv der Website filmtourismus.de abzuliefern, sondern ergänzen die Fotos der Drehorte und Locations um viele nützliche Informationen – wenn man zum Beispiel wissen möchte, wo was gedreht wurde, um vielleicht später auch einmal selbst dahin zu fahren. Mein Geographen-Herz geht natürlich bei dem üppigen Kartenmaterial auf; alles ist um Adressen, Links und nützliche Informationen ergänzt.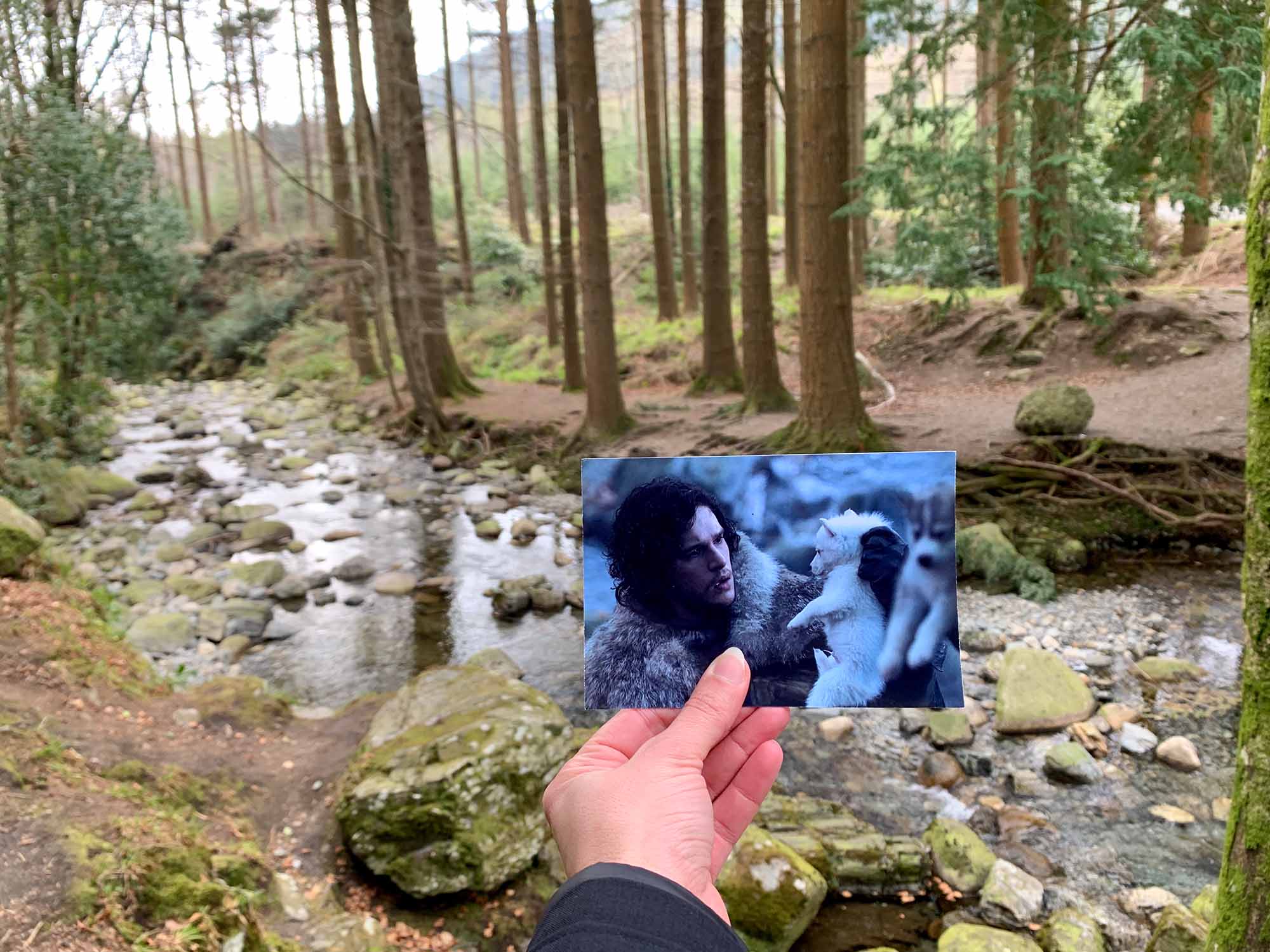 Dazwischen gibt's immer kurze Texte von Andrea David selbst, in denen sie ihre Beziehung zu den Drehorten und zu ihrer Reise zu selbigen beschreibt. Das macht's noch persönlicher und man verweilt nochmal länger auf den 300 Seiten, weil's einfach Spaß macht, die Fotos zu betrachten und dazu die Geschichte zu den Fotos zu lesen. Mit dabei sind Fotos zu "Outlander" und "Game of Thrones", zu "Harry Potter" und "Star Wars".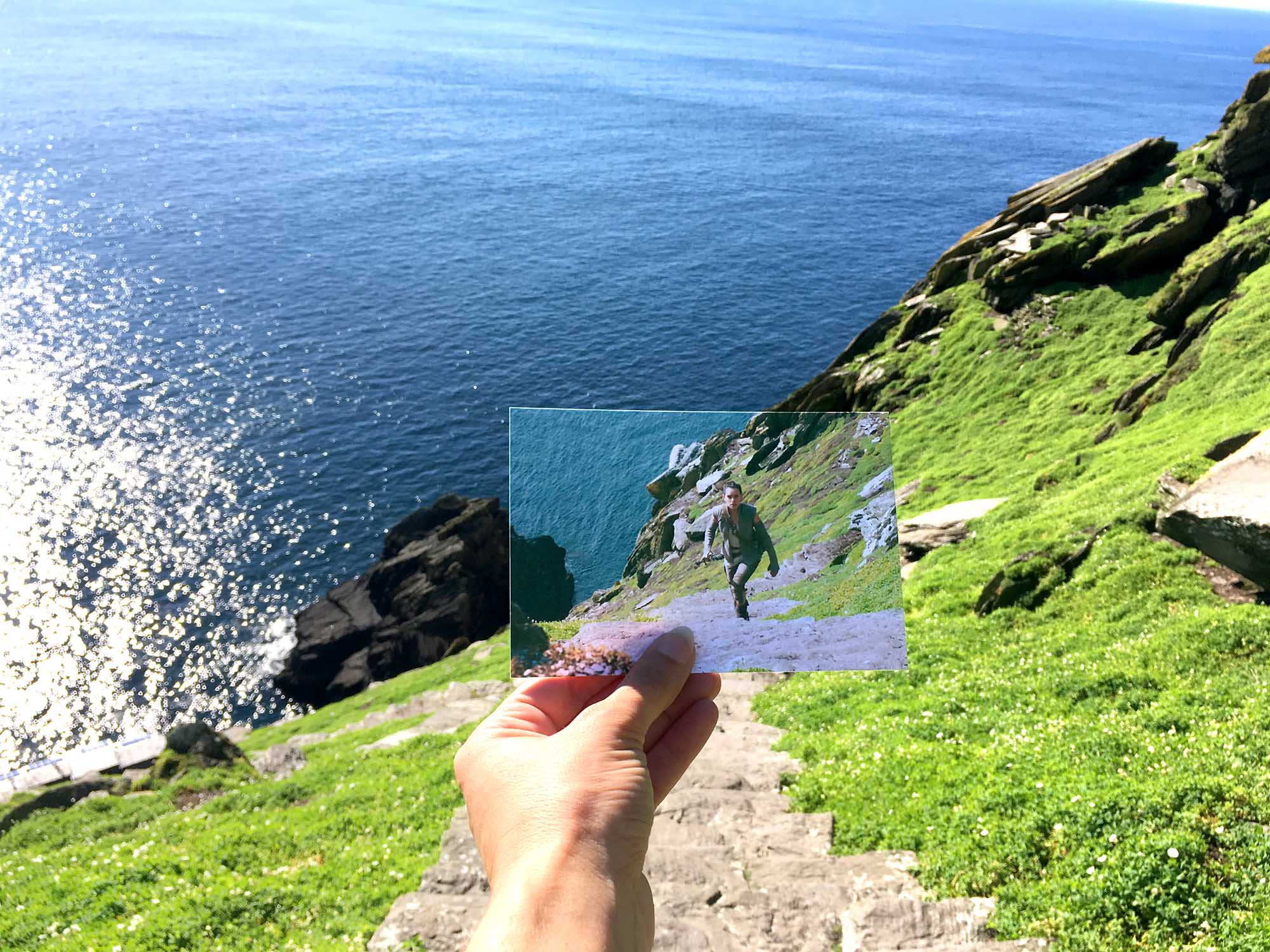 Und dass die Film- und Serienfans Spaß an Andrea Davids Arbeit haben, erkennt man an den vielen Kommentaren auf ihren Social Media-Kanälen, und auch daran, dass die Community sie inzwischen tatkräftig bei der Recherche unterstützt, wie Andrea David selbst auf ihrer Website sagt. Ich ertappe mich selbst auch häufiger dabei, nach bestimmten Orten zu suchen, die man in Serien oder Filmen gesehen hat. Das funktioniert natürlich vergleichsweise einfach bei realen Serien, die in unserer Gegenwart spielen (zum Beispiel die Hotspots in Berlin aus "4 Blocks"), wird aber richtig schwierig, wenn es um Science-Fiction- oder Fantasy-Serien geht. Hier liegt für mich das größte Entdeckungspotenzial in den Arbeiten von Andrea David, die dafür Quellen bei Filmverleihern, Tourismusverbänden und Sendern recherchieren, dann noch das passende Szenenbild auswählen und schließlich in unserer Wirklichkeit den passenden Ort wiederfinden und besuchen muss. Es ist eben nicht nur ein Foto, das Andrea David vor Ort macht. Und es ist eben nicht nur ein Buch, das sie jetzt vorgelegt hat. Das Buch ist der Beleg dafür, wie viele extrem spannende Orte es auf der Welt gibt, die sich durch Filme und Serien in der Realität entdecken lassen – Szene für Szene.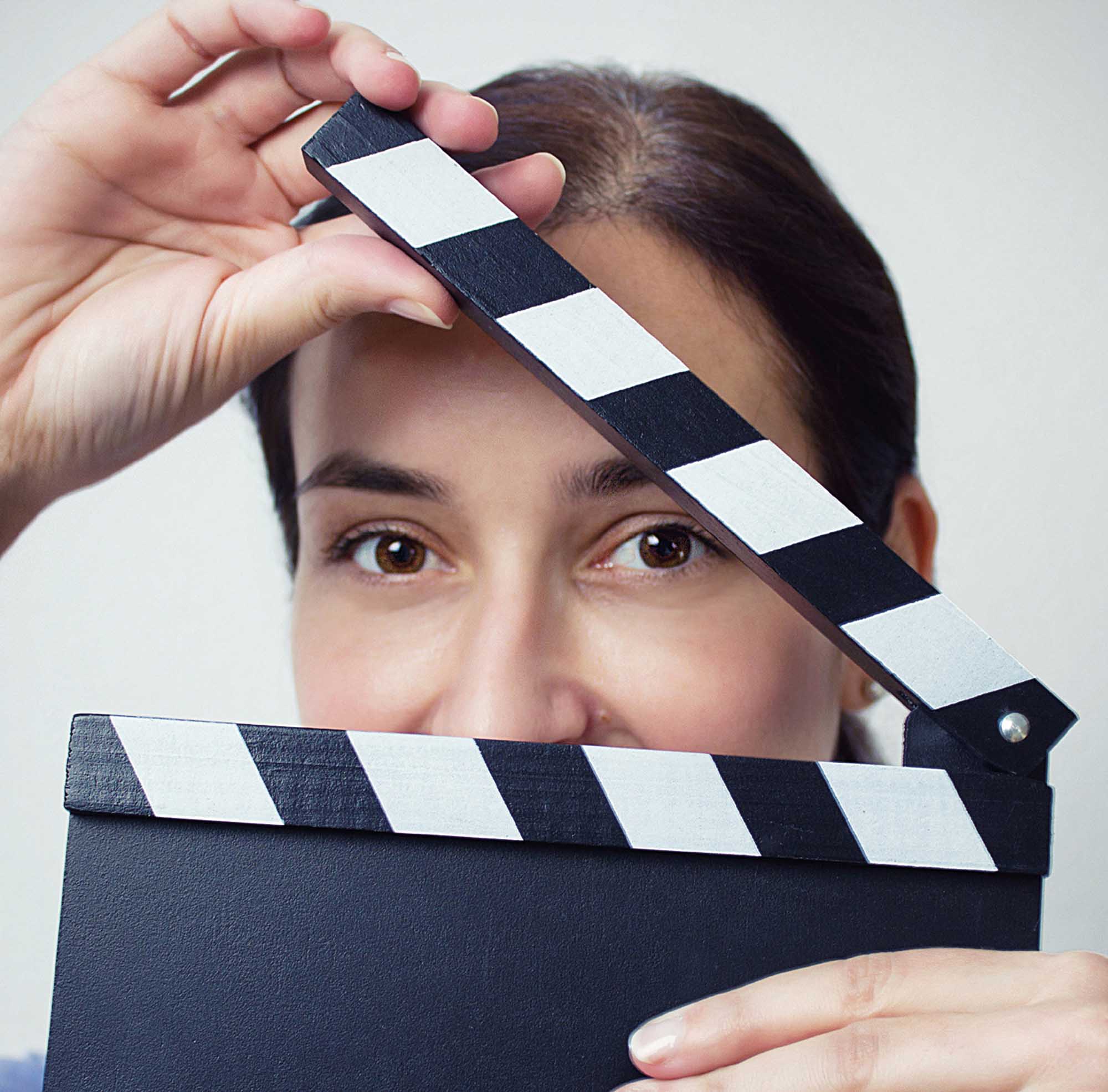 Info: Andrea David (filmtourismus.de): Szene für Szene die Welt entdecken. Oktober 2022 (1. Auflage), Premium-Paperback mit Einbandklappen, 288 Seiten, ISBN: 978-3-95889-435-8, 19,95 Euro

Bilder: Andrea David, Filmtourismus.de, Cover Copyright CONBOOK / Forrest Gump © Paramount Pictures | Andrea David, Filmtourismus.de / Game of Thrones, HBO | Andrea David, Filmtourismus.de / Star Wars, Disney | Andrea David, Filmtourismus.de

-->