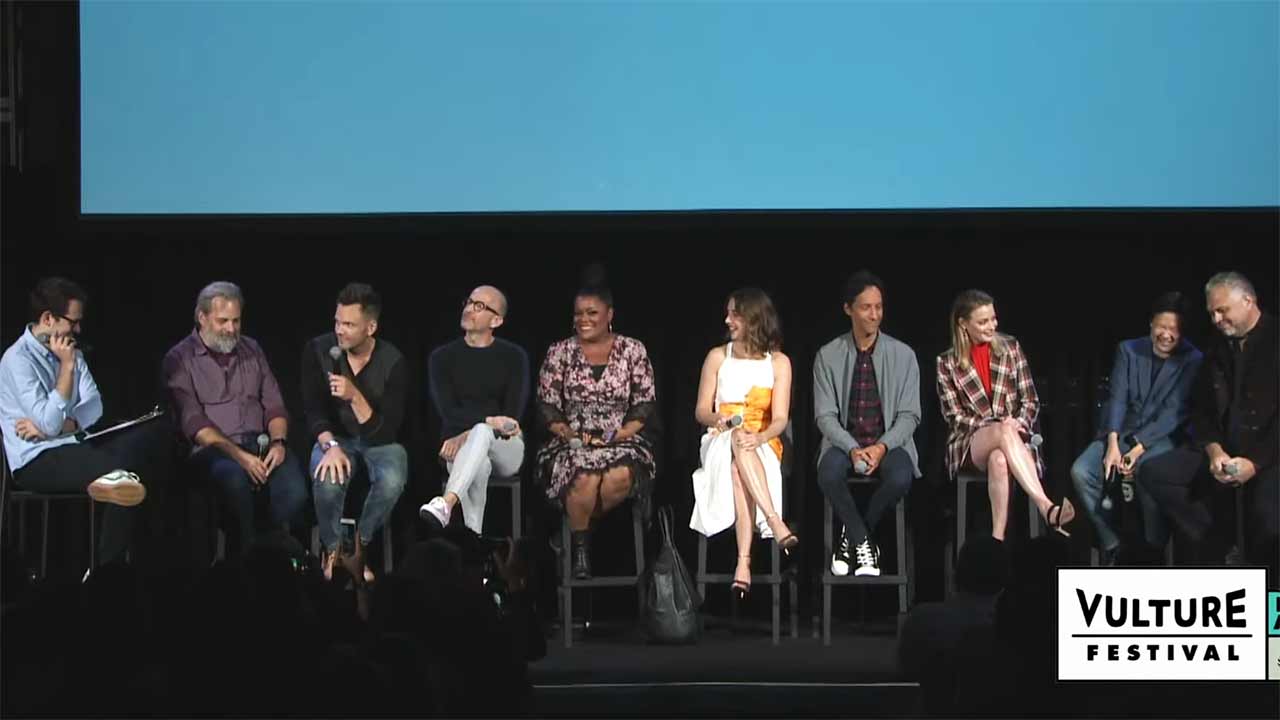 2018 hatte Vulture noch den Cast von "Scrubs" zum Jubiläums-Panel geladen, vergangenes Jahr haben Darstellende und Produzenten von "Community" den gemeinsamen Weg auf die Bühne gefunden. Unter anderem Serienschöpfer Dan Harmon und die Stars Joel McHale (Jeff Winger), Gillian Jacobs (Britta Perry), Danny Pudi (Abed Nadir), Alison Brie (Annie Edison) sowie Ken Jeong (Ben Chang). Mit viel Selbstironie und vor allem guter Laune quatschen die Mitwirkenden über die 2009 auf Sendung gegangene und wahrlich einen seltsamen Weg durchlaufende Comedy-Serie. Seit Kurzem sind alle sechs Staffeln der Show ja auch endlich bei Netflix Deutschland aufgeschlagen, yay!
"Ten years after the pilot premiered, the cast of Community reunites at Vulture Fest. Vulture 's senior editor Jesse David Fox sat down with the gang who reflects on their favorite episodes and what made the show so special."
Schade nur, dass weder Donald Glover noch Chevy Chase dabei waren, wobei das bei beiden ja erklärbar ist, haben sie zuletzt ja nicht mehr zum Cast gehört und Ersterer genug anderes zu tun und Letzterer ist ja eher im Schlechten aus der Serie gegangen… Aber das macht definitiv Lust auf einen Rerun, oder?! Nachdem die Serie anfangs noch etwas schleppend und austauschbar für meinen Geschmack daher kam, hat sie mich ab der zweiten Staffel mit vielen originellen Ideen und Konzeptfolgen zu überzeugen wissen. Nur auf den gebetsmühlenartig angestrebten Film ("Six seasons and a movieeee!") warte ich noch immer vergebens…
Noch mehr Lust auf Panels mit Original-Cast? 2017 hatten sich die Leute von "Parks & Recreation" zum Zehnjährigen getroffen. Scheint so ein typisches Ding zu sein. Freue mich auf weitere dieser informativen wie unterhaltsamen Gesprächsrunden!