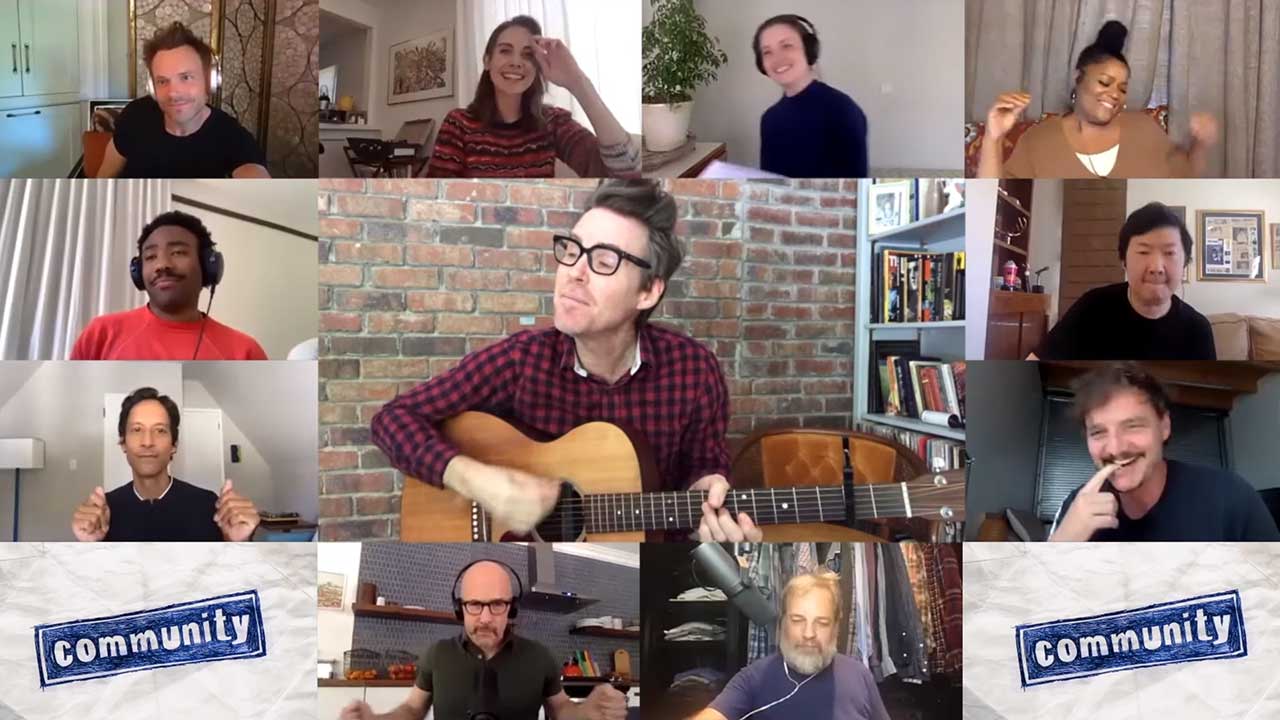 Vor rund einer Woche gab es die "Community"-Reunion im Zuge des Podcasts "The Darkest Timeline" von Ken Jeong und Joel McHale, jetzt haben sich Cast und Crew erneut zum Videocall verabredet, um gemeinsam ein Script zu lesen. Genauer gesagt, die vierte Folge der fünften Staffel, "Cooperative Polygraphy". Neben dem Hauptcast, dem erfreulicherweise auch erneut Donald Glover angehört, ist nicht nur Showrunner Dan Harmon am Start, sondern auch "The Mandalorian" (und "Game of Thrones"-Darsteller) Pedro Pascal. Und alleine die Tatsache, dass der Komponist des Titelsongs selbigen vorab zur Einstimmung trällert, ist einfach nur zuallerliebst!
"The Greendale Community College study group is back together to benefit World Central Kitchen and Frontline Foods (wck.org/community). Sit back, relax, and get your giggles in as the cast reads Season 5, Episode 4: Cooperative Polygraphy."
Abschließend gab man Variety in Person von Michael Schneider noch die Gelegenheit, durch ein kleines Q&A mit den Anwesenden zu führen.
"The fun continues as the cast and creator of Community participate in a Q&A following their virtual table read."
Allgemein bin ich gerade sehr happy, wie viel Aufmerksamkeit "Community" momentan erhält. Der internationale Schritt zu Netflix hat anscheinend für ordentlich Aufschwung gesorgt, so dass es nicht nur zu mehr Content zur Comedy-Serie kommt, sondern auch zu gesteigerten Chancen, dass es doch noch zu einem abschließenden Film des Formates kommen könnte ("Six seasons and a movieeee!"). Immerhin scheint der Hauptcast ja Bock drauf zu haben, sich weiterhin mit der Serie verbinden zu lassen. Passend dazu: Was macht der "Community"-Cast heute? oder auch eine Panel-Diskussion mit Cast und Produzenten aus dem Jahr 2018 (als man noch nebeneinander sitzen durfte, das waren noch Zeiten…).

Mehr zu "Community" gibt es hier im Blog-Archiv für euch!

-->