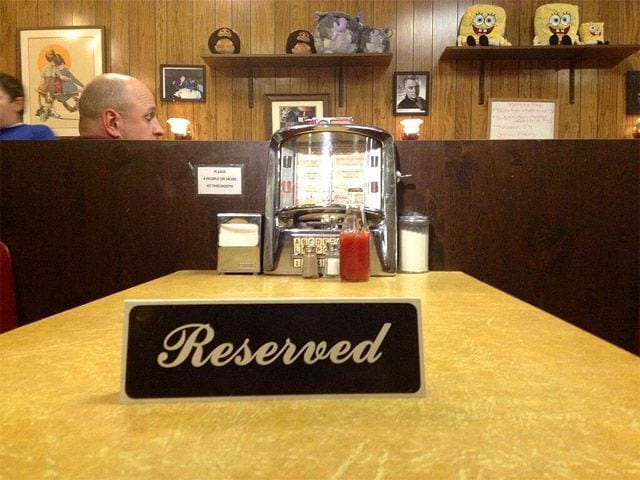 Ihr habt es letzte Woche mitbekommen – eine Nachricht, die niemand hören wollte, erschütterte am Donnerstag die Serienwelt. James Gandolfini – vielen bekannt aus der Serie "Die Sopranos" und gesegnet mit zahlreichen Auszeichnungen – verstarb in Italien an einem Herzinfarkt.
Viel zu früh und völlig unerwartet, da sind wir uns vermutlich alle einig.
Nun hat das Restaurant, in dem er die letzte Szene für die Sopranos drehte, ihm die wohl größte Ehre erwiesen und eben jenen Tisch für ihn reserviert, an dem er saß.
Holsten's Brookdale Confectionery, which serves as the diner where iconic Tony Soprano may have met his end, paid tribute to the late James Gandolfini with an understated act: a "reserved sign." The famed booth (the third one on the left in the establishment's dining room) where Tony hunkered down in the series finale was eerily empty Wednesday, shortly after reports of the actor's death. All the while, admirers filed through to pay their respects.
Darüber hinaus gibt es mittlerweile eine Fülle an Tribute-Videos – zwei der Besseren wollen wir euch nicht vorenthalten und nach ein paar Tagen endgültig von einem der Größten Abschied nehmen.
via: crackajack