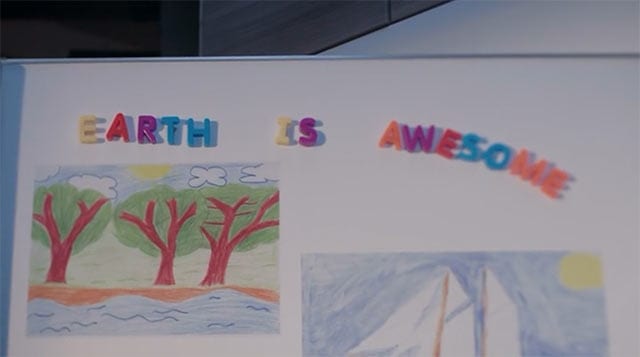 Diese Woche hat Extant für mich einen gehörigen Gang hochgeschaltet und gezeigt, welches erzählerische Potenzial in der Serie steckt. Ich habe zwar etwas Angst, dass die Handlungsfragmente etwas zu schnell herausgegeben werden, gerne könnten sich solche Entwicklungen über mehrere Episoden strecken – aber wer weiß, was uns noch so erwartet.
Wir starten mit einer sehr harmonischen und visuell ansprechenden Eröffnungssequenz von Molly daheim, in der sie nochmals Marcus' Unfall durchträunt – nur um anschließend in einen noch horrenderen Traum zu gelangen. Mit dem Zeug, das sie intus hat, möchte ich bitte nicht in Vollnakose versetzt werden!
"I know, when I'm hallucinating! I had a lot of training lately." (Molly)
Nach den Experimenten werden Molly und Ethan im Wald ausgesetzt. Sollte das alles bewusst so aussehen, als hätten Aliens die beiden für Experimente "hochgebeamt"? In der letzten Folge hatte ich noch auf einfach unglücklich inszenierte Hubschrauber-Scheinwerfer getippt, ggf. war das aber bewusst so inszeniert. Die Gegenspieler haben die Schwangerschaft einfach rückgängig gemacht, wollen Molly scheinbar in den Wahnsinn führen. Dazu zeigt sich Sam als unloyal, bzw. hat zu große Angst, dass ihrem Bruder etwas zustößt… So langsam wird klar, in welche Richtung es geht. Vertuschungen und Mindgames, nachdem Molly das auch klar wird, gar in alle Richtungen. Genau dieses "Ihr wisst nicht, dass ich es weiß"-Spiel, könnte durchaus Früchte tragen und spannend werden. Dazu hat der Schock Ethan ganz schön mitgenommen. Beim versuchten Neustart erhalten wir eine weitere Kostprobe seiner Creepyness.
"Who are you? Who are you? Who are you?" (Ethan)
Ach ja: Bam! Wir bekommen zu sehen, wie sehr Julie in dem ganzen Bionic-Ding drin steckt. Sie ist die Frau aus dem Vorspannt, die mit einer Schwebetorsostütze duscht. Prosthetik ist scheinbar mehr als deutlich fortgeschritten. Dazu muss John klarstellen, dass die beiden keine Partner sind, sondern sie für ihn arbeitet, sie fühlt sich aber scheinbar als Mutter – wussten wir doch, dass es hier Spannungen geben wird!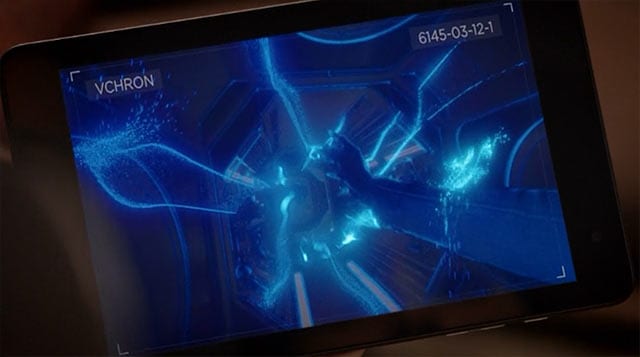 Weitere Zukunftsdinge neben der schwebenden Duschhilfe: akustische Bewusstlosigkeits-Schocker, Doktor-Ankündigungs-Screens, klugscheißende Navi-Systeme (wobei, ist das wirklich neu?), superschneller Datentransfer per Touch-Verbindung und visuelle Filter, die außerirdische Energiepartikel sichtbar machen. Ach ja, die Quintessenz der Folge: Molly hat ein paar kleine Beweise, die John ihr glauben lassen. Und das Raumfahrtinstitut ist Schwanger.
"What the hell is it?" – "It's… A boy." (Sparka und Wissenschaftler)
Meine Meinung:
Für mich die bisher beste Folge der Staffel. Jede Menge Tempo und vor allem eine sehr intensive Erzählung. Man hatte tatsächlich zwischenzeitlich den Eindruck, es funktioniert, man könne Molly als verrückt verkaufen und so selbst gegen ihren Mann spielen lassen. Vielleicht hätte es wie gesagt sogar gut getan, wenn man diesen vermeintlich aussichtslosen Zustand eine Woche lang gelassen hat. So haben wir aber ein paar schöne Wendungen erlebt – auch wenn der Wissenschaftsbuddy mit seinem Filter etwas aus dem Nichts kam. Dafür hat mir positiv gefallen, dass der Hundebiss tatsächlich doppelt funktional eingefügt worden ist, was zeigt, wie durchdacht die Serie ist. Außerdem noch die Anspielung auf den Alien-Satz schlechtin, als John sagt "I want to believe".
Um die Irritation um den Kühlschrank zu Beginn der Folge und dieser Folgenbesprechung noch zu beseitigen, möchte ich mit einem weiteren Bildzitat aus der Folge abschließen.
"Ethan is awesome" (Kühlschrank)
-->