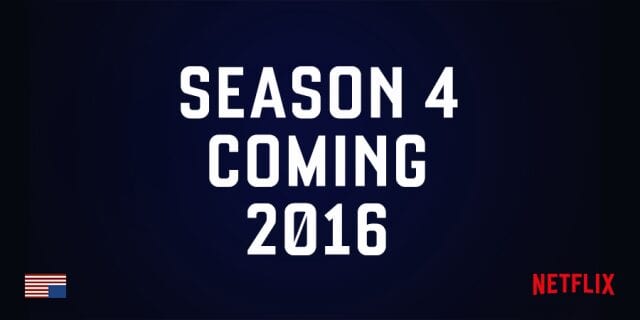 House of Cards bekommt eine 4. Staffel: Netflix hat über den Serienaccount @HouseofCards bei Twitter bekannt gegeben, dass 2016 die Season 4 mit Frank Underwood veröffentlicht wird.
I will leave a legacy. #Underwood2016 pic.twitter.com/lEC49fd7X1

— House of Cards (@HouseofCards) April 2, 2015
Gedreht wird laut Variety diesen Sommer. Serienschöpfer Beau Willimon und sein Autorenteam schreiben seit einiger Zeit an der nächsten Staffel, wie Willimon jetzt auf Twitter verriet.
Official – S4 of @HouseofCards announced. But the writers & I have been secretly writing for months hehe. @netflix pic.twitter.com/rmra1rWBlj

— Beau Willimon (@BeauWillimon) April 2, 2015
Fans waren bis zuletzt unsicher, ob nicht doch – wie beim Original von BBC – nach der dritten Season Schluss sein könnte. Nach der Ankündigung fällt die vierte Staffel möglicherweise direkt mit dem US-Wahlkampf um die nächsten Präsidentschaft zusammen. Bekanntlich wird Kevin Spacey, der Frank Underwood in House of Cards verkörpert, für CNN im Wahlkampf eine Serie über die spannendsten Wahlkämpfe der US-Geschichte präsentieren. Der amtierende Präsident Barack Obama hat sich bereits als House of Cards-Fan geoutet.

Gespannt sein darf man, ob House of Cards 2016 dann auch in Deutschland bei Netflix laufen wird oder ob Sky weiterhin die deutschen Rechte hält. Bislang lief die Serie exklusiv bei Sky Atlantic.

-->