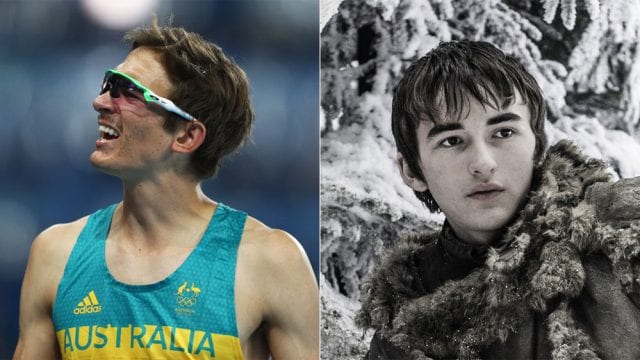 Haben wir hier bei sAWE.tv eigentlich schon was zu Olympia 2016 in Rio gemacht? Glaub' nicht – gibt ja auch eigentlich keinen Grund, hat ja nichts mit Serien zu tun. Fast. Der australische Hochsprung-Olympionike Brandon Starc macht seit einigen Tagen von sich reden – oder besser gesagt, über ihn wird geredet.
Er hat nämlich den gleichen Namen wie der Held aus Game of Thrones, mal abgesehen von dem 'c' statt des 'k' am Ende des Nachnamens. Seitdem die Game of Thrones-Jünger auf der Welt das entdeckt haben, ist die Fangemeinschaft des Australiers massiv gewachsen. Von Game of Thrones inspiriert waren Brandons Eltern übrigens nicht: Der Sportler ist 22 Jahre alt und damit 2 Jahre älter als der erste Band von GRR Martins Romanreihe.
Genutzt hat das alles leider wenig: Heute Nacht schaffte er es zwar ins Hochsprung-Finale, dort wurde er allerdings nur 15. und Letzter. Aber wie heißt es so schön bei Olympia: Dabeisein ist alles. Und vielleicht sehen wir ja demnächst auch Brandon Starc in der Serie in einer kleinen Nebenrolle – da gab es ja schon ganz andere, die dort einen kleinen Auftritt ergattert haben.
https://twitter.com/kimrrenfro/status/765197583740469250
There is an Australian highjumper called Brandon Starc, dude could jump the Wall. #HouseStarc pic.twitter.com/KvJV6Waz03

— Fi (@federering) August 15, 2016
GREAT jump by Aussie high jumper Brandon Starc. Sailed over the bar! Winter is coming for his rivals #rio2016

— Anthony Sharwood ❄️ (@antsharwood) August 15, 2016
You're the 3-eyed wombat now, Australian high jumper Brandon Starc.

— Aaron S. Weber (@Short_epics) August 15, 2016
via: WWOS

-->