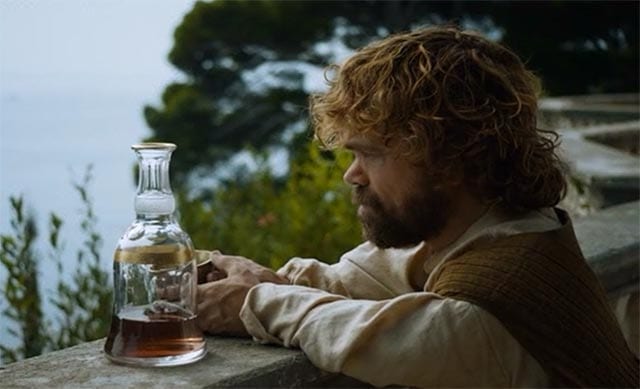 Endlich. Endlich hat das Warten ein Ende. Endlich nicht mehr Massen an Teasern, Trailern, Previews, Recaps oder bemalter Dracheneier zu Ostern. Sie ist da, die fünfte Staffel Game of Thrones. Sogar etwas verfrüht und mehr, als man denkt. Nein, wir haben nicht mehr als eine Folge geschaut und werden es auch bei diesem Wochenrhythmus belassen. Alles andere wäre zum einen HBO gegenüber nicht ganz fair und man selbst macht es sich damit ja eh nur irgendwie ein Stück selbst kaputt…
Aber kommen wir zum Start!
Im Vorspann bekommen wir mal wieder Pentos zu sehen, was ein wichtiger Ort der neuen Staffel werden dürfte. Interessanter ist aber der für die Serie doch recht ungewöhnliche Auftakt. Eine Rückblende. Klein-Cersei demonstriert bereits in jungen Jahren ein sagen wir mal ausgeprägtes Selbstbewusstsein. Und eine Wahrsagerin, dass sie tatsächlich Blut in Zukunft umwandeln kann.
"You're not territying. You're boring." (Cersei Jr.)
Eine Antwort gibt es auch auf die ewig-währende "What's in the boooox?!"-Frage. Antwort: es ist klein, trinkt viel und mag Sarkasmus. Tyrion, der eindrucksvolles Trinkvermögen demonstriert – oder zumindest einen eisernen Willen, so zu tun als ob – ist seelisch am Boden, hat einfach keine Lust mehr.
"The future is shit. Just like the past." (Tyrion)
"I'm done with Westeros and Westeros is done with me." (Tyrion)
Kann er einem ans Vaterland glaubende und Frieden propagierendem Varys trauen? Ich für meinen Teil nun etwas mehr, immerhin möchte der sich dem von mir sympathisierten Team-Targaryen anschließen. Fuck, yeah! Da könnten demnächst ein paar Plätze angstbedingt frei werden. Hach, sie werden soo schnell erwachsen… Außerdem gilt gerade die Devise "Süßer die Huren nicht summen". Gefährliche Unsullied-Vorlieben im Rotlicht-Milieu. Fast so gefährlich, wie sich von Melissandre zuquatschen zu lassen.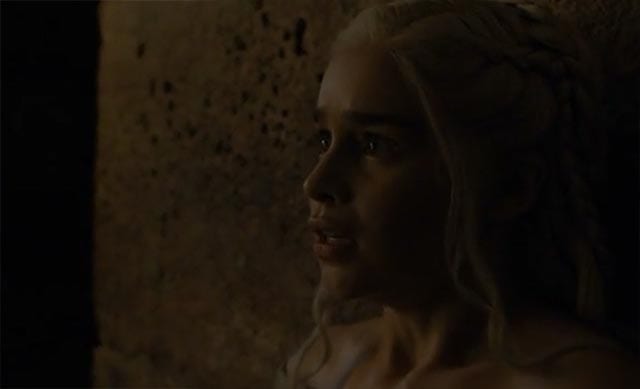 "Are you a virgin?" – "No." – "Good." (Melissandre & Jon)
Rayder heißt nicht Knicks und sonst ändert sich alles. Stannis will die Wildlings als Armee, Jon Bow mehr Gerechtigkeit und Brienne – was will eigentlich Brienne?
"The good lords are dead and the rest of them monsters." (Brienne)
Okay, man weiß es nicht genau. Vielleicht einer der vielen Orte und Figuren, die man in der ersten, sehr vollgepackten Episode vielleicht hätte auslassen können. Ebenso wie den Littlefinger-Part, auch wenn der mal wieder hervorragend gut geschrieben war!

Erneut haben die Macher bewiesen, dass sie einen runden Übergang von Staffel zu Staffel schaffen. Situationen werden entsprechend ihrer Notdürftigkeit aufgelöst und weiter gesponnen, anstatt einfach in die nächsten Abenteuer zu springen. Das bedingt aber eben auch, dass das Epische sich zunächst aufbauen muss. Das war ein solider Auftakt auf hohem Niveau, der aber auch gezeigt hat, dass es manchmal schwer ist, die Balance zwischen "wir wollen euch so viel wie möglich zeigen von den Figuren" und "wir können euch dann pro Figur aber auch nur ein bisschen zeigen" zu halten. So wurde aber vieles in Gang gesetzt, einige neue Figuren und Locations bieten Platz für Diskussion und Rätselei und irgendwie geht es uns Zuschauern dann auch wie vielen der beteiligten Charaktere: Unsicherheit ist die aktuell herrschende Macht in Westeros.

-->