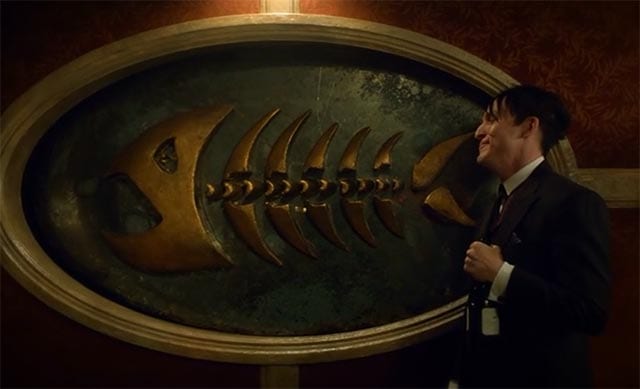 Diese Woche gibt es eine Episode über Freundschaft. Freundschaften, die entstehen, sich intensivieren oder auch enden. Jedenfalls bekommen wir erneut demonstriert, wie verwoben und undurchsichtig das Netzwerk Gothams doch ist – und welche Überraschungen es bereit hält.
Da hätten wir zunächst Fish, die sich einen neuen Freund macht. Zumindest für eine Weile, denn ihr größter ist definitiv Butch. Fish' Ego und Rachegedanken stehen einer erfolgreichen Flucht im Wege, so dass sie ihrem alten Freund Penguin einen Besuch abstattet. Etwas eigenartig, wie sie nur mit Butch an ihrer Seite so leicht an ihre alte Wirkungsstätte gehen konnte, aber gut. Am Ende landet sie dann aber bei ihrem guten alten Freund Bullock, um dann ganz ohne Freunde davon zu schwimmen.
"Ladies and gentlemen – Welcome to Fish Moonie's!" (Fish)
Penguin intensiviert derweil seine Freundschaft zu Jim und zeigt, von welchem Nutzen er mittlerweile sein kann. Jim macht sich Freunde auf der Polizeiwache und steht seinen Mann. Ein erster Schritt zur Reinigung der Polizei? Oder ein Schritt in Richtung Ausbildung eines Geschmacks für Macht Gordons? Auf dem Revier macht derweil Nigma tatsächlich so etwas wie erste Freundschaftsfortschritte in Richtung seiner Angebeteten.
"I'm surgical removing the onions from my take-out." (Nigma)
Ach ja, diesen Bruce gibt es ja auch noch… Bei ihm entwickelt sich die erste Liebe scheinbar in eine Sackgasse. Cat möchte die Freundschaft zu ihm scheinbar lieber Gestern als Heute beenden. Wieso bleibt unklar, so kann Bruce sich aber wenigstens wieder darauf besinnen, Batman zu werden.
"Oh look, who it is. Millionaire Bruce Wayne. Who are you – his bodyguard?" – "If needs be, Miss, yes." (Ivy & Alfred)
Schlecht war das nicht, richtig gut aber auch nicht. Es gab ein paar schöne Sequenzen und Charaktere wie Viktor machen immer Spaß. Dazu an einer Stelle auch Soundtrack von Hanni El Kratib – passender Weise mit dem Titel "Family":
Gestört hat mich etwas den erneut deutlich zugeschnittenen Hauptfall sowie einige arg konstruiert wirkende Elemente. Dass der Nachtwächter nicht einmal "der war groß und rothaarig" sagen konnte am Anfang – nein, er muss natürlich erst aufs Revier und da eine Weile warten, klar. Und was war das denn bitte für ein armseliges Fluchtmanöver von Delaware?! So bescheuert wie Gordons Spürsinn für versteckte Speicherkarten gut ist. Schön dagegen war, dass Richter Bam-Bam nochmal aufgegriffen wurde.
Insgesamt eine okaye Folge, die wie eingangs beschrieben immerhin demonstrieren konnte, wie einige Personen zueinander stehen – und einigen aufgezeigt hat, was für Möglichkeiten sich im Zusammenspiel ergeben. Es bleibt abzuwarten, wann und wie Fish zurück kehrt, ob Butch noch lebt und wie Falcone sich nun wieder einbringen wird. Schauen wir mal.