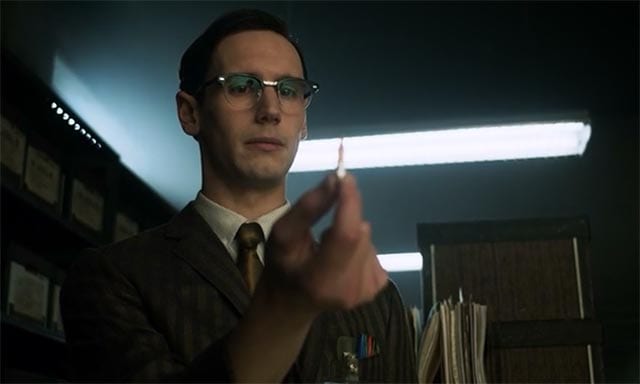 Ein neuer Herzschlag-Fanatiker macht Gotham unsicher. Adrenalin kann eine Droge sein, doch normaler Weise produziert man die stets in Eigenregie. Doch ein neuer alter Bekannter nimmt gerne auch von anderen: Jonathan Crane, der später als Batman-Gegenspieler Scarecrow zu sehen sein wird, erscheint. Doch bisher zunächst nur als schüchterner Sohn (der mich ein wenig an den jungen Dexter Morgan erinnert). Sein Vater mordet einen Phobiker nach dem nächsten.
"You worried about me, Captain? You know I don't start drinking before noon…" (Bullock)
Bruce ist berichtigter Weise enttäuscht von der Polizeiarbeit Gordons. Mehrere Monate sind mittlerweile seit dem Mord an seinen Eltern vergangen. Aber so ein Fall dauert eben so lange. Wenn man sich ihm nicht widmet. Und auf Dates geht. Und Arkham-Angestellter spielt.
Kurz vor ihrer Flucht verpfeift Fish Penguin an Maroni, der ihn auf einen kleinen Trip in die Natur nimmt.
"Super! I love a roadtrip. Yay…" (Penguin)
Das Geheimnis-Spiel hat mir sehr gefallen. Penguin vermutlich weniger. Dennoch tolles Spiel der beiden Darsteller. Dafür mag er Telefonieren im Auto.
"Where's the guy?" – "Which guy?" – "The guy with the thing…?" (Penguin & Maroni)
Jetzt wissen wir endlich, was Bullock antreibt im Leben: Arbeitsmotivation (und emotionale Teilhabe) durch den Anblick einer schönen Frau. Naja, wer kann es ihm verdenken?
"I'm a cop – the only thing I'm scared of, is decaf coffee." (Bullock)
Nygma wird suspendiert anstatt richtig ernst genommen. Außer von Jim. Dann ist er wieder drin und wird erneut von niemandem ernst genommen. Okay, ein bisschen schon. Irgendwann müssen die beiden Turtel-Geeks doch mal zusammen kommen!
Viel seichte Unterhaltung, jedoch bis auf die tolle Landhaus-Szene zwischen Maroni und Penguin wenig Sensationelles. Dennoch wird einiges in Gang gesetzt. Ein Verbrecher wird mal nicht in der gleichen Folge geschnappt, Fish bekommt angriffslustigen Besuch auf hoher See und Penguin muss neue Gefahren fürchten. Alles in allem sehr solide, aber da geht noch was!