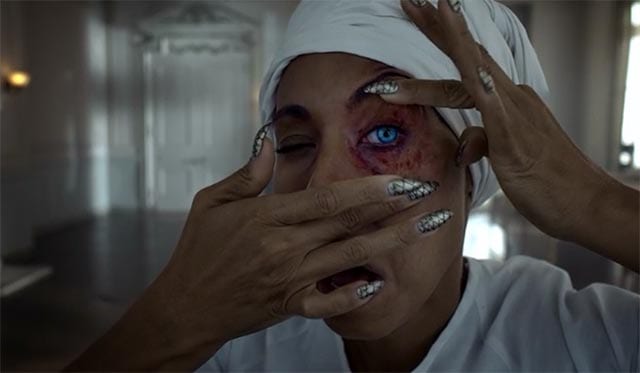 Diese Woche zeigt sich Gotham als freundliches Paradis des Friedens, der Normalen und der Menschlichkeit. Zumindest, wenn man die Stadt mit einer einsamen Insel einige Meilen von der Küste entfernt vergleicht. Alfred ist derart geschockt, dass er glatt verheimlicht, wer ihn abgestochen hat. Loyal bis zum Tod, oder so.
"Get back in bed. That's an order!" (Bruce)
Fish hat Glück und kommt mit einem blauen Auge davon. Die Philosophie des Puzzle-Doktors gefällt ihr so sehr, dass sie angibt, seine rechte Hand werden zu wollen. Hoffentlich nimmt er das nicht wörtlich… Die Montage mit dem Frankenstein-Verschnitt war so verstörend wie sie künstlich aussah, aber hey, why not? Jedenfalls wird ihr schnell klar, dass sie sich zwar vorerst gerettet hat, aber das nicht ganz so einfach wird, wie gedacht.
"Hope is a carrot, easily dangled in front of the desperate." (Fish)
Viel volksnahere Probleme haben Jim und Bullock. Buchalter mit Messern zwischen den Zähnen – kenne ich von meiner Steuerabrechnung. Dazu ein Kaffeekranz mit erhöhter Kugel-Dichte – wie Oma sonntags beim Bingo. Jim spielt das Spiel der Großen und weiß auch, Druck auszuüben. Und für sich zu nutzen. Schneller Aufstieg nach dem Beinahe-Rausschmiss und Arkham-Exkurs.
"You're lucky I've got a soft spot for old ladies." (Penguin)
Dafür, dass er ein Ding für alte Ladies hat, geht er am Ende ganz schön rigoros vor. Das passt vielleicht nicht ganz ist aber recht unterhaltsam. Dazu bleibt spannend, welchen Gefallen sich Penguin einholen wird. Bei dem bisherigen Tempo wird das aber sicherlich in der nächsten Folge aufgelöst.
Das hat mir zwar besser gefallen als die letzte Folge, weil es auch deutlich mehr in Richtung übergeordnete Handlung ging, dennoch hat mich auch hier das leichte und viel zu schnelle Spiel genervt. XY hat totaaaaal sichere Geheimnisse irgendwie, aber kein Problem, durch Person X und Schachzug Y schaffen wir das in 15 Minuten. Anstatt hier die Möglichkeit zu nutzen, reeller gestaltete Timelines zum Verweben von zwei, drei Story-Strängen zu nutzen, hält man den Zuschauer scheinbar weiterhin doof genug, nur 45 Minuten Handlung auf einmal im Kopf behalten zu können. Sehr schade drum, weil Wendungen und Intrigen so deutlich weniger intensiv daher kommen.
So ganz klar ist übrigens noch nicht, wann die nächste Folge läuft. Nach einigem Hin und Her wurde die Staffel ja bereits vor geraumer Zeit auf 22 Episoden aufgestockt. Nächste Woche folgt jedoch nach aktuellem Stand erst einmal eine Wiederholung (S01E07).