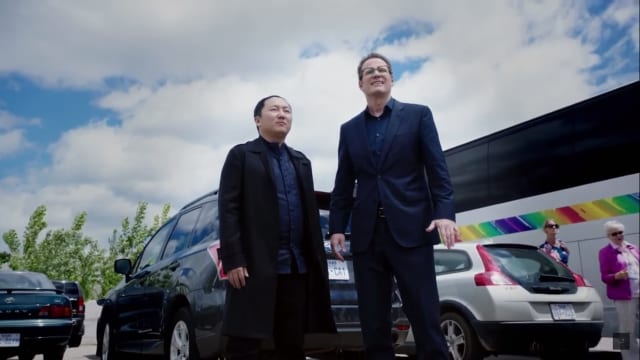 Nur noch 12 Tage bis Heroes Reborn in den USA seine Premiere feiert. Bis jetzt haben wir im Vorfeld schon einiges zum Spin-Off von Heroes geliefert bekommen: eine 40-minütige Prequel-Serie, einen Blick hinter die Kulissen, einen 3-minütigen Trailer sowie zwei Teaser. Um weiterhin in aller Munde zu bleiben, folgt nun der nächste Teaser, der die Wartezeit bis zum Start am 24. September verkürzen soll:
"Sometimes you have to stand up for something bigger than yourself." (Luke Collins)
Zum Auftakt der Serie strahlt NBC eine Doppelfolge aus (Brave New World + Odessa), der im Rahmen der ersten Staffel elf weitere Episoden folgen werden.
"It's good to be back!" (Hiro Nakamura)
In den Interviews der Darsteller von Heroes Reborn erfahrt ihr einiges zur neuen Serie, den Figuren, der Mutterserie Heroes sowie dem gesamten Helden-Konzept und warum dieses ihrer Meinung nach so gut funktioniert:

Jack Coleman (Noah Bennet)

Heroes Reborn Interview - Jack Coleman

Zachary Levi (Luke Collins)

Heroes Reborn Interview - Zachary Levi

Danika Yarosh (Malina)

Heroes Reborn Interview - Danika Yarosh

Robbie Kay (Tommy Clarke)

Heroes Reborn Interview - Robbie Kay

Ryan Guzman (Carlos Gutierrez)

Heroes Reborn Interview - Ryan Guzman

Was wir aus den Interviews wohl vor allem lernen, ist, dass die Serie die Geschichte der Mutterserie "Heroes" fünf Jahre später wieder aufnimmt.

-->