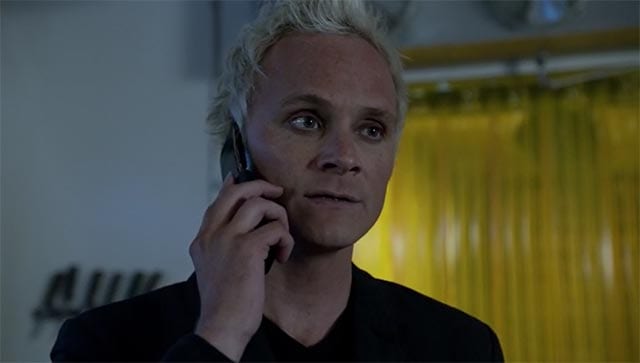 Dialoge so schlagfertig wie Zombies, die auf ihre Essenslieferung warten – starker Einstieg diese Woche!
"I'm a social worker. My insurance just covers about one bandaid a year…" (Major)
"Oh, that looks nasty!" – "I believe the professional term is – 'ewwww!'…" (Clive & Rob)
Diese Woche auf der Speisekarte: Internet-Troll und Hacker, nicht mehr ganz frisch. Dafür püriert und mit Heißhunger auf Süßes.
"Great – I ate Homer Simpsons brain…" (Liv)
Auf die Konfetti-Kanone hätte man aber direkt kommen dürfen. Mordwaffe Geburtstagskarte ist aber ganz originell. Ähnlich wie ein WoW-Abklatsch als Polizei-Recherche. Rob als euphorischer Game-Nerd passt einfach wunderbar!
Interessant: der London-Zombie ist auf einer anderen Party gewesen, es ist also verbreiteter als man denkt, aber irgendwie auch keine richtige Seuche.
Blaine kommt wieder auf den Radar unseres Haupt-Casts. Dass er jedoch derart hoch pokert beim Polizeibesuch ist seltsam, er würde doch keinen Polizisten umbringen, oder? Genau so unsinnig wie die einen Tag vorher herunter gefallene Dose, die plötzlich übersprudelt.
Wortspiele, Ironie, dazu schöne Szenen wie die Befragung über Skype – ein willkommener Qualitätssprung im Vergleich zur vorherigen Folge! Dazu noch ein gehöriger Schuss Aufschlüsselung, welche Macht heutzutage von Hackern bzw. den Daten im Netz ausgeht.