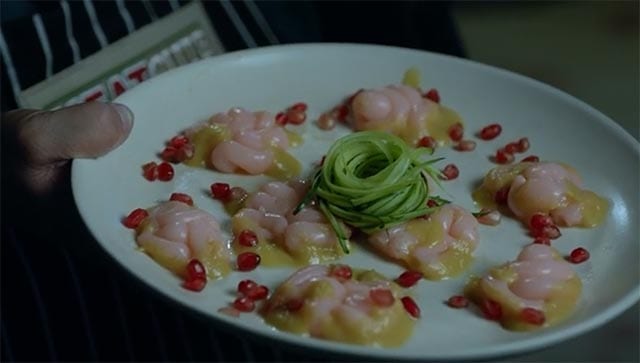 Okay, ich muss zugeben: seit der ersten Folge warte ich auf ein "Liv(e) and let die"-Zitat. Mit dem Folgentitel "Liv and Let Clive" ist es dann wohl da, wenn auch etwas doppelt doppeldeutig. Aber okay.
Diese Woche gibt es auf der Speisekarte: Asia-Gang-Mitglied mit Paranoia statt Fingerkuppen. Und Kung Fu.
"You are who you eat, right?!" (Blain)
Dabei fällt vor allem der eigentliche Nebenstrang immer positiver auf. Blaine, ein Zombie-Playboy mit Peperoni-Shakes, geht gechillt zur Zombie-Metzgerin seines Vertrauens. Da offenbaren sich nicht nur allermodernste Gehirn-Variationen kulinarischer Sorte, sondern vor allem ein richtig gut florierendes Geschäft.
"When there's a winner, there has always to be a loser. That's science! What do I always say?" – "You can't flex fat?" (Lieferanten-Zombies)
Deutlich farbloser gibt sich da die "Haupt-Story". Liv zweifelt bescheuertermaßen an Clive – okay, das kann noch am gefutterten Gehirn liegen. Aber den Zuschauer dürfte das nicht mehr verwundern, dass da eine Wendung folgt. Dieses 08/15-Schema müssen die dringend abstellen. Ganz nett sind weiterhin die Dialoge und die Kleinigkeiten, wie dass Liv Major auf Ravi ansetzt, die Diablo-Gemeinsamkeiten finden und eine WG gründen.
"He had me at '4K TV'…" (Major)
Wieder besser als zuletzt, aber auch nur aufgrund der Potenziale, die sich im doch etwas komplexer erscheinenden Geschäft von Blaine stecken. Bei den Liv-Fällen droht es langsam etwas fad zu werden. Mir gefällt dagegen sehr, dass die Welten miteinander verwoben werden und bspw. die Entführungs-Kind-Sucher-Entführung über mehrere Folgen gestrickt wird. Aber es fehlt dann doch noch etwas Peperoni oder Doppel-Jalapeno auf der wöchentlichen Gehirn-Pizza…

-->