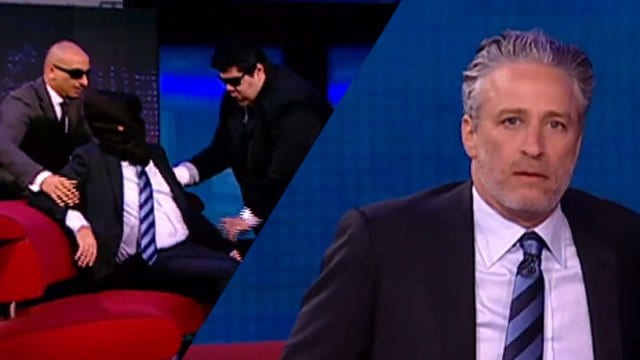 Jon Stewart macht gerade eine Daily Show Auszeit, reist durch die Welt und dreht eine Dokumentation. Dabei machte er einen Abstecher in die ägyptische Variante der Daily Show. Untermalt mit dem imperialen Marsch aus Star Wars, wurde er mit Sicherheitskräften und schwarzer Kapuze als westliche Geisel in die Sendung geführt.
Der Besuch war nicht nur humoristisch, sondern auch ein imposantes politisches Signal und als Unterstützung für den ägyptischen Kollegen gedacht.  Bassem Yousse ist als Moderator nämlich nicht nur Kritik sondern auch konkreten Drohungen der Regierung ausgesetzt, was Jon Stewart so kommentierte:
If your regime is not strong enough to handle a joke, then you dont have a regime.
Für unsere politisch-satirisch interessierten Besucher ein Leckerbissen. Zuerst das komplette Interview, ab der 2. Minute reden sie Englisch. Darunter finden ihr einen CBS Zusammenschnitt mit Hintergrundwissen, für die ungeduldigen.
Das komplette Interview (ab Minute 2:35 wird Englisch gesprochen):

البرنامج - لقاء باسم مع جون ستيوارت - الحلقه 28 Jon Stewart with Bassem Youssef in Egypt
Zusammenschnitt mit Hintergrundwissen: