Wir wollen euch sonntags nicht nur irgendeinen x-beliebigen Serienklassiker vorstellen, der irgendwo in irgendeinem Archiv irgendeiner x-beliebigen Seite schlummert, sondern einen Klassiker, der auch was mit uns persönlich zu tun hat. Wenn ich jetzt schreibe, dass ich für diese Ausgabe die Comedyromanze Sex and the City gewählt habe, könnte das vielleicht falsch verstanden werden. Nichtsdestotrotz ist SATC für diese Woche der Klassiker meiner Wahl. Denn wenn man ehrlich ist – die Serie lief vor 18 Jahren an und endete vor 12 – für mich hat sie damit allein zeitlich betrachtet Klassikerpotenzial genug.
SATC ist für mich eine Serie, die einen Mädelsabend perfekt macht (und schon viele in der Vergangenheit perfekt gemacht hat). Furchtbar klischeehaft, ich weiß. Funktioniert aber.
Seriensteckbrief
Name: Sex and the City
Genre: Comedy, Romanze
Laufzeit: 30 Minuten
Staffeln (Folgen): 6 (94)
Ausstrahlung: 6. Juni 1998 (Ende: 22. Februar 2004)
Darsteller: Sarah Jessica Parker, Kim Cattrall, Cynthia Nixon, Kristin Davis
Handlung
4 Frauen. New York. Extravagante Kleidung. Hohe Schuhe. Dates. Drinks. Sex. Liebe. Und vor allem eins: Freundschaft.
Die vier besten Freundinnen Carrie, Miranda, Charlotte und Samantha wohnen in New York, sind in ihren Dreißigern – und single. Sie hangeln sich von Date zu Date, von Party zu Party, von Beziehung zu Beziehung. Und sprechen darüber. Ein Thema wird dabei immer besonders intensiv behandelt: Sex. Das trifft sich gut, denn Carrie ist (Sex)Kolumnistin für eine New Yorker Zeitung. Hier schreibt sie über persönliche Erlebnisse, Erfahrungen und all das, was sie so in ihrem Leben beschäftigt. In 94 Episoden wirft sie dabei 92 mal mehr, mal weniger tiefgreifende Fragen auf.
"In a city like New York, with its infinite possibilities, has monogamy become too much to expect?" (Carrie)
"Are men just women with balls?" (Carrie)
"Is it better to 'fake it' than be alone?" (Carrie)
"Are the men of today less threatened by a woman's power, or are they just acting?" (Carrie)
Das Schöne an Sex and the City ist, dass in der Serie – auch wenn vieles oft etwas übertrieben oder unrealistisch dargestellt wird – alle möglichen Lebenslagen mit allen möglichen Beziehungen behandelt werden. Für jedes Gefühl gibt es ein Outfit, für jede Lebenslage einen Mann (oder eine Frau) und für jedes Verlangen nach Aufmunterung eine gute Party … und gute Freunde.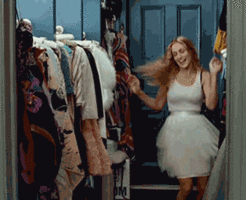 Trivia
Was viele gar nicht wissen ist, dass die Serie ursprünglich auf dem gleichnamigen Buch von Candace Bushnell basiert. Naja, die Serie orientiert sich eher sehr vage an der Vorlage. 2008 und 2010 kamen die beiden Filme zur Serie in die Kinos. Die Hauptdarsteller waren wieder mit dabei, die Handlung schloss an vorher, also in der Serie Geschehenes an und die Stimmung und Atmosphäre, die die Filme vermittelten, kamen dem Ursprung schon sehr nah. Für SATC-Liebhaber und Kenner ein Muss.
Ähnlich wie in Friends gab es auch in SATC Gastauftritte von Prominenten: Justin Theroux, Bradley Cooper, Heidi Klum und David Duchovny (Akte X) sind nur einige wenige der heute so berühmten Darsteller, die in der Serie schon mal einen kleinen Auftritt hingelegt haben. Ab Herbst spielt Sarah Jessica Parker dann übrigens selbst endlich mal wieder in einer Serie mit. Da startet auf HBO nämlich Divorce, ebenfalls ein Comedy-Format, in dessen Mittelpunkt sie stehen wird.
Insgesamt wurde SATC mit 55 Awards ausgezeichnet. Sie erhielt als allererste Pay-TV-Serie den Emmy als "Outstanding Comedy Series" und ebenso den Golden Globe als beste TV-Serie in der Sparte Comedy. Doch die Serie versprüht nicht nur Witz und Charme, Emotionalität ist ihre große Stärke.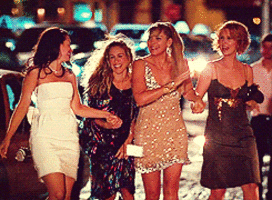 Also, wer sich mal wieder ein bisschen über schrille Kleidung auslassen, gute Musik hören oder ein bisschen New York-Atmosphäre genießen will, der versüße sich den Nachmittag mit einer Folge Sex and the City. Zwei Folgen gehen auch gut. Drei sind noch besser. Und ein Marathon grenzt an Perfektion. Happy Sunday!

Bilder: HBO

-->