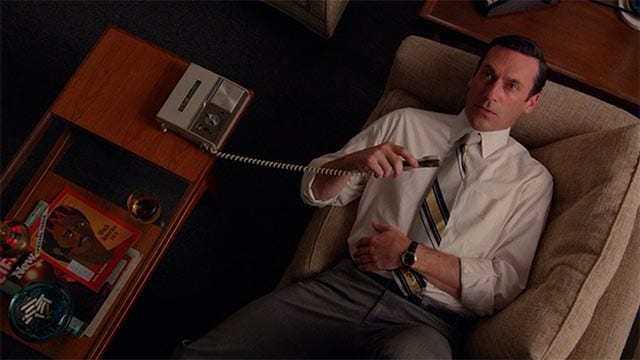 Weiter geht es mit Gute Zeiten, Alte Zeiten. Don verkauft sein Appartement – oder versucht es zumindest, ist die leere Wohnung doch irgendwie auch ein Abbild seiner selbst.
"Have you ever sold an appartement?" – "I've a lot uglier things than this." (Maklerin & Don)
Joan ist an der Westküste, wo es heiß zugeht. Wir bekommen erneut einen neuen Charakter geboten, der in Windeseile eingeführt wird – auch in ihrem Herzen. Kein Wunder, hat er doch nur noch vier Folgen Zeit. Aber irgendwie kommt da gerade eine Menge aus dem Nichts…
Sally plant einen längeren Jugend-Trip und trifft auf den kaum wieder zu erkennenden Jugendfreund Glen – oder was von ihm übrig geblieben ist. Krasse Verwandlung! Plötzlich ist selbst Betty ungewohnt freundlich zu ihm… erinnert sich dann aber doch an ihren Ring am Finger. Schade, wäre eine gute Gelegenheit gewesen, etwas Schockierung zu erzeugen, wenn Sally ihre Mutter und Glen in flagranti erwischt hätte.
"We have a peanut butter cookie problem!" (Pete)
Durch den Peanutbutter-Fall gibt es endlich mal wieder etwas Agentur-Business und die guten alten Don Draper-Moves zu sehen. Gerade die abschließende Szene in seinem Büro dürfte ihm zu denken geben. Und durch Dons Job, die Zukunft der Agentur aufzuzeigen, erhalten wir wenigstens mal etwas mehr Einblick in die Firma und Vorstellungen der Angestellten. Und er Gelegenheit zur Selbstreflektion. Man muss eben Prioritäten setzen im Leben.
"I wanna watch The Brady Bunch…" (Bobby)
Das war deutlich runder und relevanter als zuletzt. Es war kurzweilig, hatte seine leichten und denkerischen Momente, auch wenn es keine Überfolge war, so darf es als Mindestmaß gerne weiter gehen. Wobei natürlich die Frage ist, ob man als Zuschauer nun in alles etwas hinein interpretiert, auch wenn es eigentlich gar nicht so gedacht war – wie damals im Deutsch-Unterricht bei der Gedicht-Analyse. Aber Don ohne Wohnung, dafür mit vielen Gedanken in Richtung Zukunft – folgt hier ein Neuanfang? Der Wegzug aus New York? Das Ende des Mad Man? Oder trifft er eine neue Nachbarin auf dem Hausflur und zieht bei ihr ein?