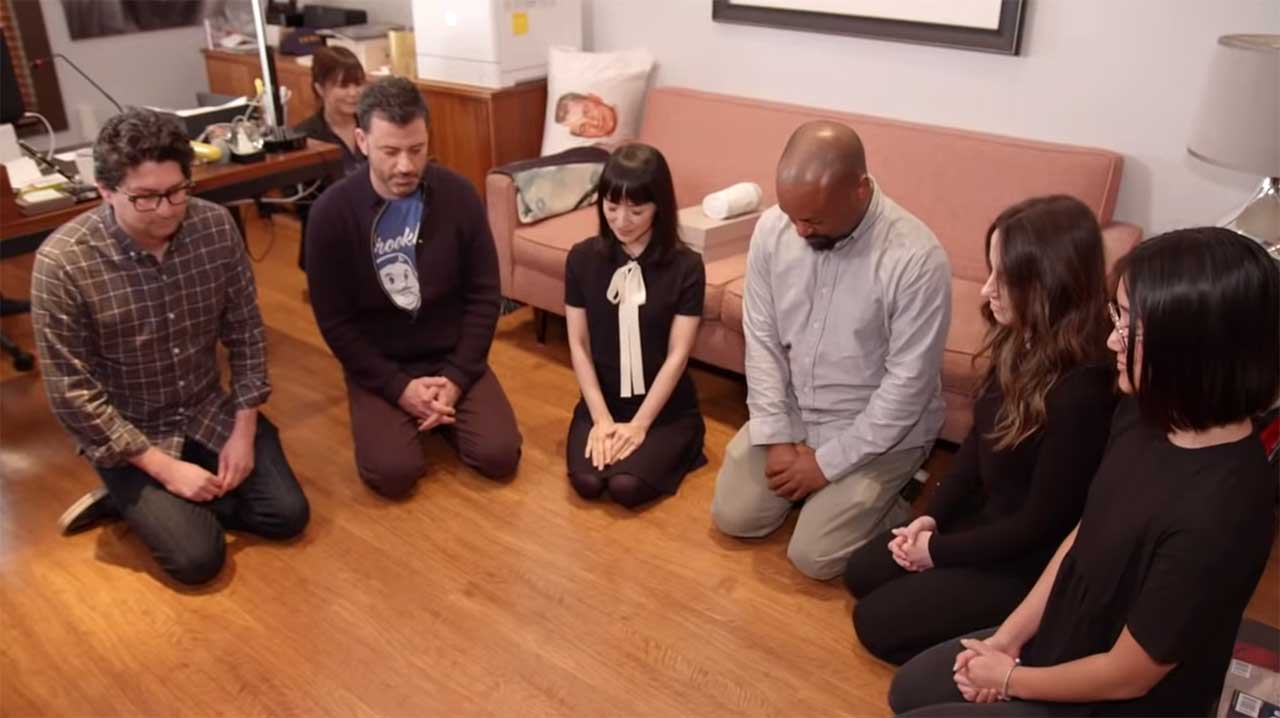 Vor ein paar Wochen haben mein Lieblingsmädchen und ich so durch Netflix gescrollt, um zu schauen, was wir denn schauen wollen, und kamen über das Dokutainment-Format "Aufräumen mit Marie Kondo". "Haha, das sollten WIR auf jeden Fall mal schauen" lautete der einvernehmlich selbstkritische Vorschlag, der zunächst süffisant halb-ironisch in den Raum geworfen wurde, um weiter im Programm zu skippen. Einen Tag später haben wir dann wirklich zwei Folgen der Sendung geguckt, am Wochenende drauf lagen meine Shirts und Socken gefaltete in den Kommoden-Schubladen und meine Twitter- und Instagram-Bubbles haben nur so vor "Does it spark joy?"-Anspielungen gestrotzt.
Der Aufräum(-Zuschau)-Hype geht so weit, dass Late Night Show-Host Jimmy Kimmel die bezaubernde Dame zu sich ins Büro geladen hat, um ihm beim Reinemachen behilflich zu sein.
"Marie Kondo is the reason everyone you know is suddenly cleaning up. She wrote a book and has a Netflix show called 'Tidying Up'. If you haven't seen it – basically, she makes people get rid of stuff. We've been doing our show for 16 years and Jimmy has accumulated a lot of stuff in his office at work. So someone thought it would be a good idea to ask Marie Kondo to help tidy up his office and this is how that went."
Ernst gemeinte Frage an die Leute, die die komplette Staffel gesehen haben: Lohnt es sich, da mehr als zwei Episoden zu schauen? Wir haben 1 und 6 geguckt (die, wie ich gerade bei IMDb sehe, mit am schlechtesten bewertet wurden), hatten aber da bereits das Gefühl, dass es doch irgendwie immer das gleiche Prozedere ist.