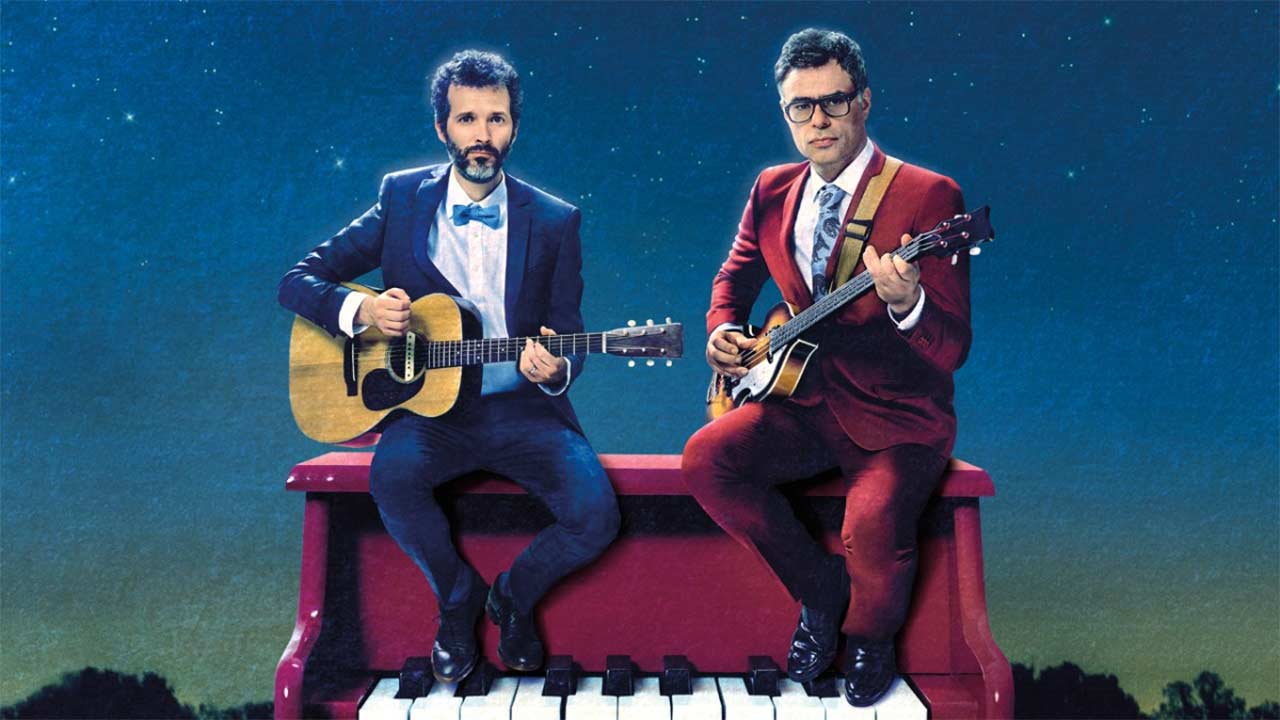 In unserem seriesly podcAZt hatte ich die damalige HBO-Comedy "Flight of the Conchords" als "Beste Serie mit 'F'" im ultimativen Abschluss-Battle vertreten. Nunmehr zehn Jahre ist es her, dass die letzte Folge der originellen Musik-Serie im Fernsehen lief, jetzt ist das unterhaltsame Duo, bestehend aus Bret McKenzie und Jemaine Clement, wieder da.
"Live in London" (Partnerlink) heißt die CD, die am 8. März in den Handel kommen wird. Neben alten Klassikern sind auch sieben ganz neue Songs auf der Doppel-CD zu hören, die vor Live-Publikum im Londoner Apollo Theater aufgenommen wurde. Leider gibt es beim jüngst veröffentlichten Track "Iain and Deanna" nur die Audio-Spur zu hören, hier hätte ich mir als Musikvideo einfach die entsprechenden Live-Aufnahmen vom Konzert gewünscht. Vor allem, was gewisse Lacher angeht, die visuelle Ursachen zu haben scheinen. Aber gut – man muss halt dabei gewesen sein…
Noch ein weiterer Track, der bereits Ende letzten Jahres veröffentlicht wurde, ist "Father And Son":
Und jetzt bitte wieder eine neue Staffel der Fernsehserie machen, okay?!
Flight of the Conchords – "Live in London" Tracklist
1. Father and Son
2. Band Reunion
3. Iain and Deanna
4. Inner City Pressure
5. New Zealand Symphony Orchestra
6. Summer of 1353
7. Complimentary Muffin
8. Stana
9. Stuck in a Lift
10. Foux du Fafa
11. Seagull
12. Mutha'uckas – Hurt Feelings
13. One More Anecdote
14. Back on the Road
15. Thank You London
16. Bowie
17. Bus Driver
18. Tuning
19. Robots
20. Shady Rachel
21. Carol Brown
22. The Most Beautiful Girl (In The Room)

-->