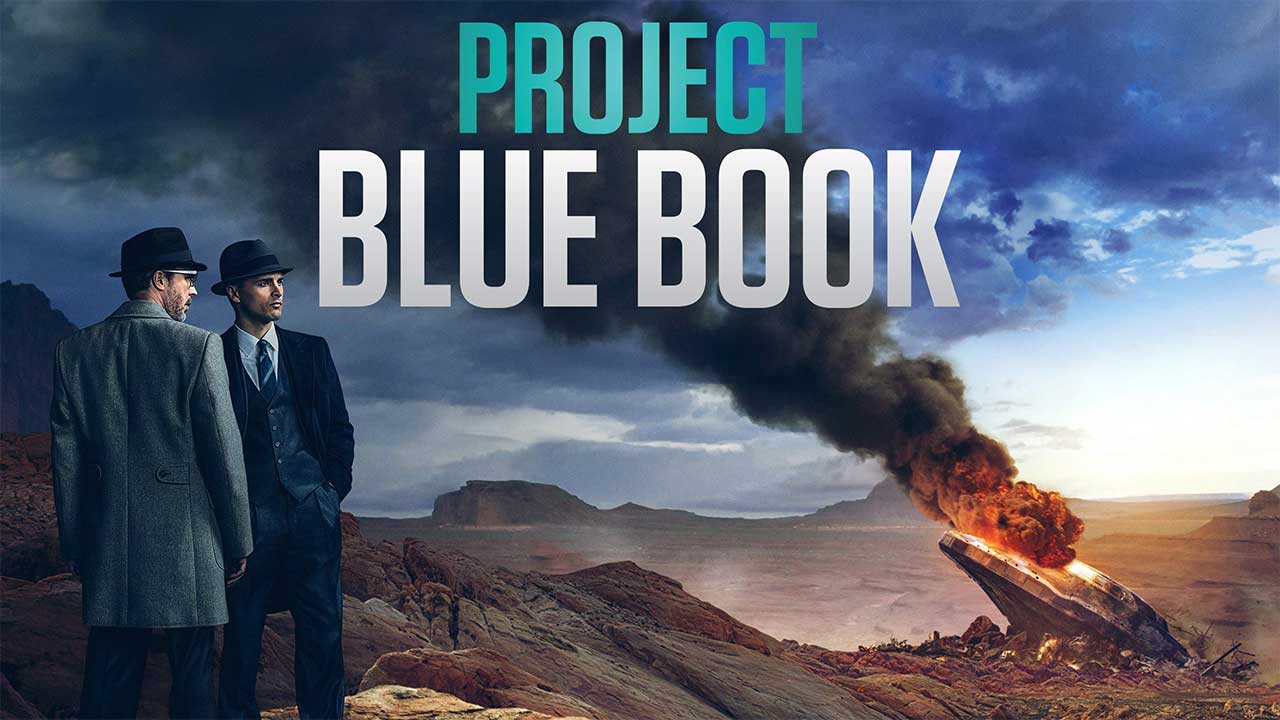 Oftmals sind schwache Quoten und/oder Kritiken ja Grund dafür, dass Serien nicht so lange laufen, wie es ursprünglich gedacht oder möglich gewesen wäre. Nicht so bei "Project Blue Book". Vor rund zwei Jahren hatten wir euch hier den Trailer zum Historiendrama mit unter anderem Aidan Gillen ("Game of Thrones"), Michael Malarkey ("The Vampire Diaries") und Neal McDonough ("Suits") gezeigt. Seitdem liefen insgesamt 20 Episoden in zwei Staffeln bei stabilen und eigentlich zufriedenstellenden Einschaltquoten. In der am 24. März diesen Jahres ausgestrahlten Staffelfinale wurden die Fans gar mit einem großen Cliffhanger versorgt – doch die Auflösung könnten sie niemals zu sehen bekommen…
Grund dafür ist eine Grundsatz-Neuausrichtung des Heimat-Senders "History" in den USA. Der will fortan prinzipiell nur noch Mini-Serien produzieren und keine mehr, die über mehrere Jahre auf Drehbuchbasis entstehen. Statt einfach keine neuen davon mehr anzugehen und anzunehmen bzw. lediglich die schlecht laufenden Formate vorzeitig zu cancellen, wird ein harter Cut gemacht und direkt sämtliche Weiterproduktion unterbunden werden. Das Aus für "Project Blue Book"?
Fans haben sich direkt mobilisiert. Geleitet von Carsten Krikorka wurde eine Online-Petition mit dem Namen "Save 'Project Blue Book' The TV Series" bereitgestellt. Auf Change.org haben bereits über 14.000 Fans ihr Votum für eine Fortsetzung gegeben.
"History has regrettably cancelled the series in May 2020 after only 2 Seasons as the company is pursuing mini-series only. According to executive producers David O´Leary (creator) and Sean Jablonski (showrunner) as well as leading actor Michael Malarkey who portrays 'Captain Michael Quinn' Season 3 is ready to go!"
Ja, Syfy Wire hatte herausgefunden, dass die dritte Staffel bereits konzipiert und zu Teilen geschrieben worden ist. Man hat große Pläne und meiner Meinung nach wäre es zumindest den Fans gegenüber fair, einen gewissen Abschluss zu schaffen, so erinnert mich das doch stark an den fiesen Cliffhanger am "Ende" von "Fast Forward". Wieso pitchen die die dritte Staffel nicht einfach als Miniserie…? In Zeiten von Serien-Rettungen mache ich mir aber keine Sorgen. Notfalls landet das Format dann eben bei Amazon Prime Video oder Netflix oder so. Wieso nicht Syfy selbst, die ja den begleiteten Podcast dazu gemacht haben…?
Wer noch wissen will, worum es in "Project Blue Book" eigentlich genau geht (was mich jedoch wundern würde, wenn bis hier hin gelesen worden ist…), hier noch die Kurzzusammenfassung zur Serie, die bei uns übrigens bei TV Now zu sehen ist:
"The series revolves around the real-life Project Blue Book, a secret series of investigations into supposed UFO encounters and unexplained phenomena undertaken by the United States Air Force with skeptical astrophysics professor Dr. J. Allen Hynek in the 1950's and 1960's. With his partner, Air Force veteran Captain Michael Quinn, they investigate sightings across the U.S., and Dr. Hynek discovers that not everything can be explained by science."
"Project Blue Book" gibt's bei:
UPDATE (11.06.2021): Mittlerweile hat die Initiative auch eine eigene Website, auf der alle Entwicklungen gesammelt werden. Über 31.000 Unterschriften aus 151 Ländern konnten bereits gesammelt werden.
Bild: History