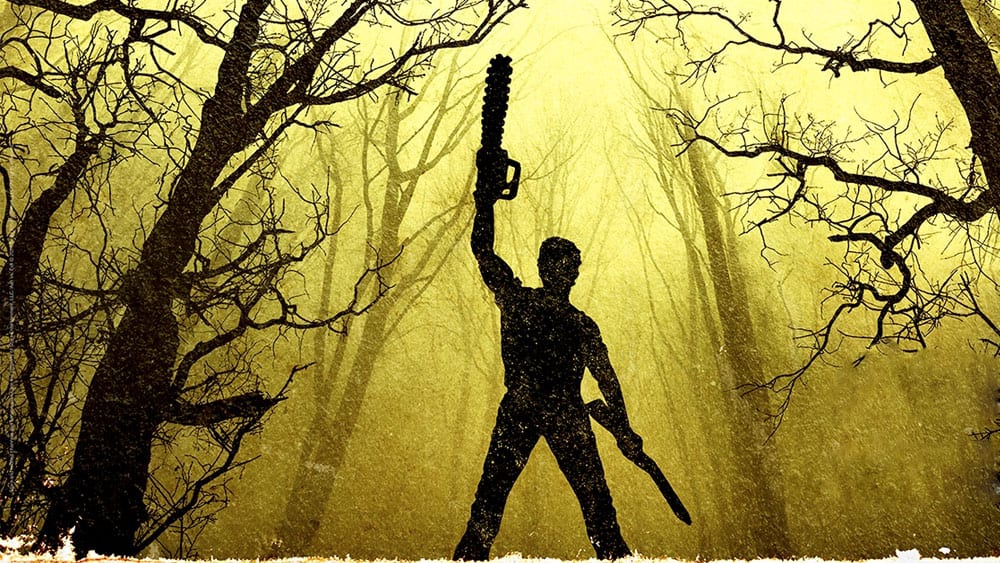 Eigentlich sollte es ein vierte Film für die Evil Dead-Reihe werden, doch das Material war so umfangreich, dass sich Sam Raimi und Konsorten kurzerhand für eine TV-Serie entschieden haben. Gut für uns und euch, denn sonst wäre das Format nie auf seriesly AWESOME gelandet! Denn so gibt es eines der unterhaltsamsten Formate des letzten Jahres auf immerhin zehn Episoden gestreckt – und mit einer bereits bestätigten zweiten Staffel.
Hier möchte ich euch in Kürze meine Meinung zur Debüt-Season preisgeben (nachdem ich hier bereits was zum Piloten gesagt hatte), ohne wirkliche Spoiler. Einfach ein Serien-Tipp, der die Serie in seine Bestandteile zerlegt, wie es Ash mit seiner Kettensägenhand nicht besser könnte. Okay, zumindest den Titel…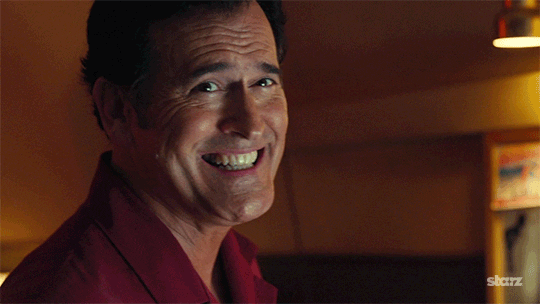 Ash
Ash ist wieder Ash. Klar, etwas in die Jahre gekommen, aber der Charme und leicht naive Witz ist auf Groovy-Anschlag – gewohnt lässig verkörpert von Bruce Campbell. Mit einer gehörigen Portion Selbstironie und der notwendigen Prise Schusseligkeit geht er das neue Abenteuer an. Das passt erstaunlich gut und wirkt nie gezwungen oder seltsam.
"Everybody dies here, it's just the rules. Death, taxes, more death. And I don't pay taxes, so it's just death." (Ash)
Neben jeder Menge One-Linern hat er natürlich auch Kettensäge und Schrotflinte im Gepäck. Einer der unterhaltsamsten Charaktere aus 2015!
vs
Kämpfen muss Ash nicht nur gegen das Böse, sondern auch gegen sich selbst und Vorurteile. Altersbeschwerden, falsche erste Eindrücke, schlechte zweite Eindrücke und eben stets die Frage, ob man den einfachen Ausweg nimmt, oder… Neh.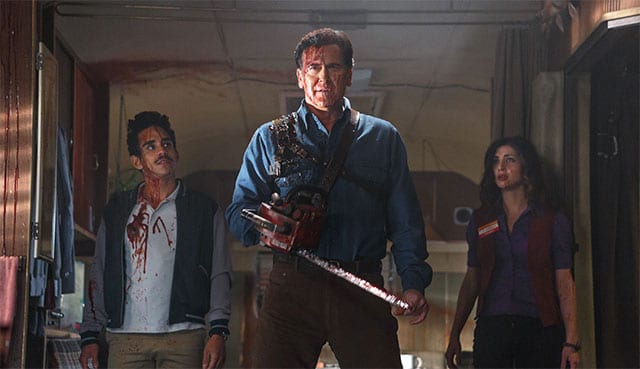 Mit ihm kämpfen vor allem der charismatische Pablo und die pessimistisch-toughe Kelly, die das heterogene Trio vervollständigen und etwas Jugend ins Spiel bringen. Hier gibt es noch am ehesten so etwas wie Charakter-Entwicklung, auch wenn das alles (noch) auf recht überschaubarem Niveau verläuft. Allgemein ist der Haupt-Cast recht überschaubar, lediglich Polizistin Amanda und eine gewisse Ruby stoßen noch hinzu…
Evil
Ach ja, und da wäre natürlich der zweite Hauptdarsteller: das Böse. Wie damals mit flinken Kamerafahrten inszeniert, durch wunderbar schräge Besessene verkörpert und mit dem gewissen Hang zum Spielen. Denn eigentlich könnte das Böse viel böser sein, aber so gibt es einen willkommenen Sparingspartner für Ash, was Kampf und Sprache angeht.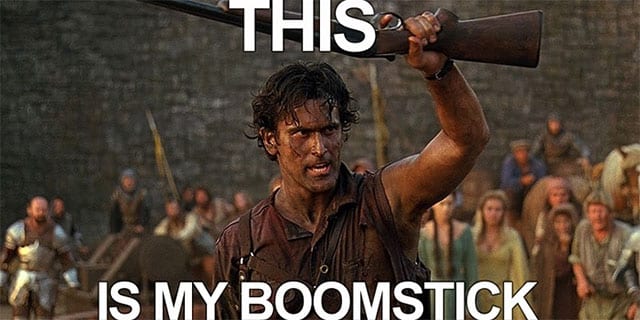 Hier und da wirkt es etwas unrund, wie das Böse agiert, oder wie die "Regeln" des Neconomicons nun wirklich sind. Aber das ist einem egal, denn die Action ist kurzweilig und vor allem die spätere Rückkehr zu Orten aus dem Film ist wunderbar.
"What's out there knows you're alive, and it wants you to be unalive." (Ash)
Dead
Wunderbar sind auch die Splatter-Einlagen. Die sind gar nicht wirklich grausam (im Erschrecken-Sinn) und auch keine realistischen Darstellungen. Überzeichnet, verdammt viel Kunstblut und mit schnellen Schnitten. Halt unterhaltend, ohne bedrückend zu sein. Und ohne dieses falsche "Zurückhalten", was man immer wieder der Spannung wegen in anderen Produktionen sieht. Wenn ein Charakter etwas tun müsste/sollte, tut er es auch. Gerne auf ausgefallene Art und Weise. BAM!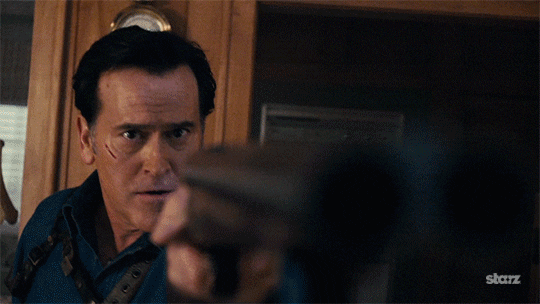 Insgesamt hat mich "Ash vs Evil Dead" ungemein gut unterhalten. Vor allem die kurze Lauflänge von knapp unter 30 Minuten Nettospielzeit, gepaart mit dem schnellen Pacing und den vielen, kleinen Referenzen zum filmischen Original, haben die Serien-Adaption enorm kurzweilig werden lassen. Nicht umsonst ist das Format auch in meinen Jahresrückblick geraten. Guter Cast, ausgefallenes Setting und toller Humor!

Die ersten vier Minuten der Serie könnt ihr euch hier anschauen, den Rest gibt es aktuell nur bei Starz. Wann eine Ausstahlung in Deutschland stattfinden wird, ist leider noch unklar.

Bilder: Starz

-->