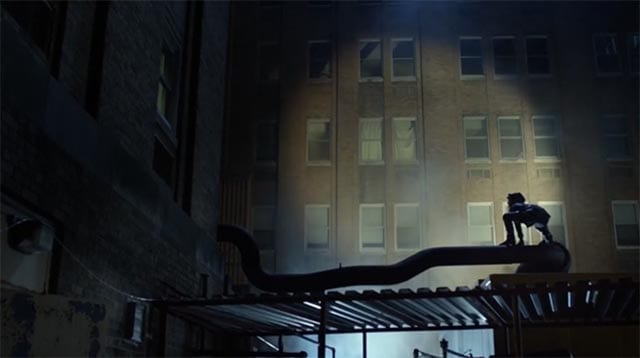 Wir befinden uns in einem erfreulichen Mehrteiler, was die Story angeht. Keine Ein-Folgen-Fiaskos mehr, sondern eine wunderbar homogen fortlaufende Geschichte, die folgerichtig in einem Durchsuchungsbefehl endet. Wieso der nur auf einen einzelnen Raum ausgelegt ist, dürfte weniger leicht ergründlich sein als Raketenforschung, aber immerhin…
"You stink, Strange. This whole place stinks." (Bullock)
Weitere Frage: Warum machen die Jim nicht einfach wieder zum Cop? Ist doch gerade beinahe ein Posten frei geworden. Ja, genau – Barnes hat scheinbar überlebt – unglaublich… Vermutlich liegt es am unheimlich nach Plastik aussehenden Schwert.
Da sieht eines deutlich wertiger aus: der Penguin-Stick!!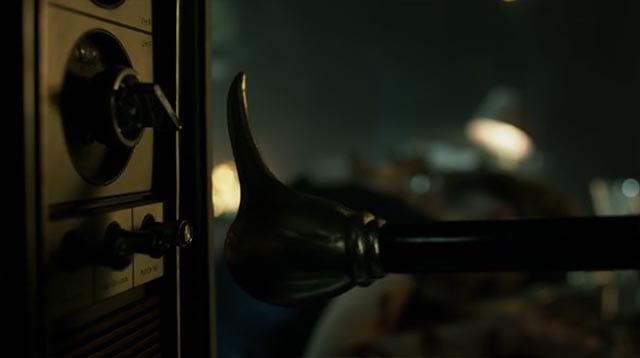 In etwa so schön inszeniert wie die vom Winde verwehte Haartsträhne Nygmas. Dass man jedoch direkt aus seiner Zelle in die Luftschächte kommt, ist nicht wirklich sicherheitsbedacht… Genau, wie das Gitter nicht wieder richtig drauf zu setzen – passt nicht wirklich zur Figur.
"I'm tired of trusting Jim Gordon!" (Bruce)
Bruce will endlich mitspielen, Butch was gegen sein Schnarchen unternehmen und Azrael sieht die Kirche eher als Dienstleister an. Seine Gedanken springen dabei schneller als Frösche im einsetzenden Sommerregen. Für einen vermeintlichen Profi-Killer ist er zudem erschreckend ineffektiv.
Besser passt das bei Selina. Die reagiert allergisch auf Mäuse und niesst auch noch wie eine Katze. Unterhaltsam, wie "Forsensic Guy" und "Street Trash Girl" aufeinander treffen. Vom Namen her eine geile Superhelden-Kombo! Die benötigen wir scheinbar auch in naher Zukunft…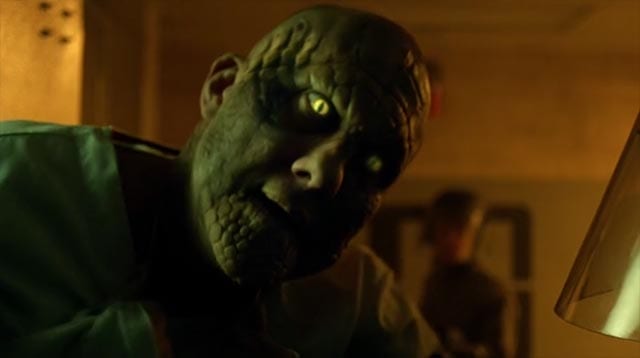 Nur blöd, dass beide nicht ganz der positiven Seite zugewandt sind. Aber Alfred mahnt berichtigter Weise an, dass das etwas viel "sentimentaler Nonsense" ist.
"Over my dead body." – "As you wish." (Alfred & Azrael)
Eine gelungene finale Drama-Szene beginnt in einem sehr netten Fuhrpark. Und gerade als ich "smart kid" notieren wollte, steigt der naive Junge einfach aus, man, man, man… Der Auftritt von Gordon war dagegen alles andere als "unexpected". Eher plump und vorhersehbar.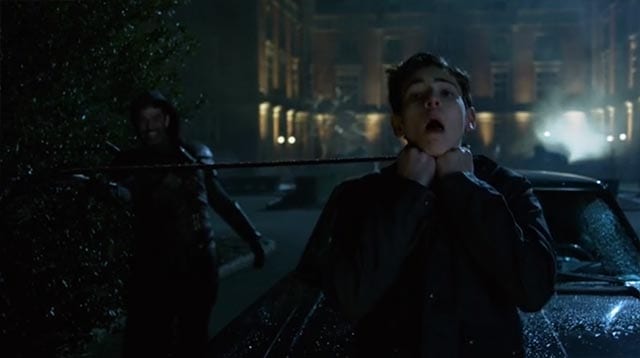 "Seems I've missed all the fun." – "Where have you been?!" – "I slowed him down, didn't I?" (Alfred & Jim)
Hach, aber dann ist es doch irgendwo schön, wie alle zusammen kommen! Wie artig Azrael auf das übertriebene "Tool" wartet und stehen bleibt dagegen weniger… Naja, wenn auch arg dick aufgetragen – das war dann doch schon ganz cool am Ende. Ebenso wie Fireflys Auftritt. Bin gespannt, wie Selina da rauskommen soll…
Hat Spaß gemacht und Zeugnis einer erfreulichen Konstanz in der letzten Zeit. Auch wenn es hier und da noch etwas zwickt, um wirklich perfekter in der Erzählweise zu werden, kommt alles merklich und recht plausibel zusammen (auch wenn das Zurücklegen von Strecke in Gotham einer gewissen Relativität zu unterliegen scheint). Irgendwie schade, dass Galazrael somit endgültig weg vom Fenster ist – schöner Charakter, aber so hat man sich wenigstens keine banale Hintertür offen gehalten. Wobei – vielleicht kann Strange ganz gut puzzlen?!
Noch zwei Folgen erwarten uns im Staffelfinale. Prof. Stranges Flucht, Selinas Vielleicht-Rettung und hoffentlich endlich ein weiterer Schritt in Sachen Batcave? Ich bin jedenfalls gespannt und voller Hoffnung, dass die das nicht vergeigen.
Bilder: FOX