Diese Woche hat in den USA die dritte Staffel der Anthologie-Comedyserie "Miracle Workers" (Trailer) ihren Abschluss gefunden. Nach meinem Review zur Auftaktfolge der "Oregon Trail"-Geschichte möchte ich euch jetzt noch einen spoilerarmen Blick auf die komplette Staffel bieten. Ab 12. Oktober 2021 wird die neue Staffel hierzulande immer dienstags um 21 Uhr in Doppelfolgen auf dem neuen Sender Warner TV Comedy laufen.
Vom Mittelalter in den wilden Westen
Nachdem Steve Buscemi Gott in der Himmels-Firma sowie einen Scheiße-Schaufler im Mittelalter gemimt hatte, landet er jetzt irgendwo dazwischen und darf als gesuchter Outlaw "Benny the Teen" das ins Alter gekommene Abziehbild des wilden Westens darstellen. Auch wenn die beiden Epochen für uns sehr nah aneinander wirken, liegen dann doch mindestens 340 Jahre zwischen Mittelalter(-Ende) und die Zeit des wilden Westens.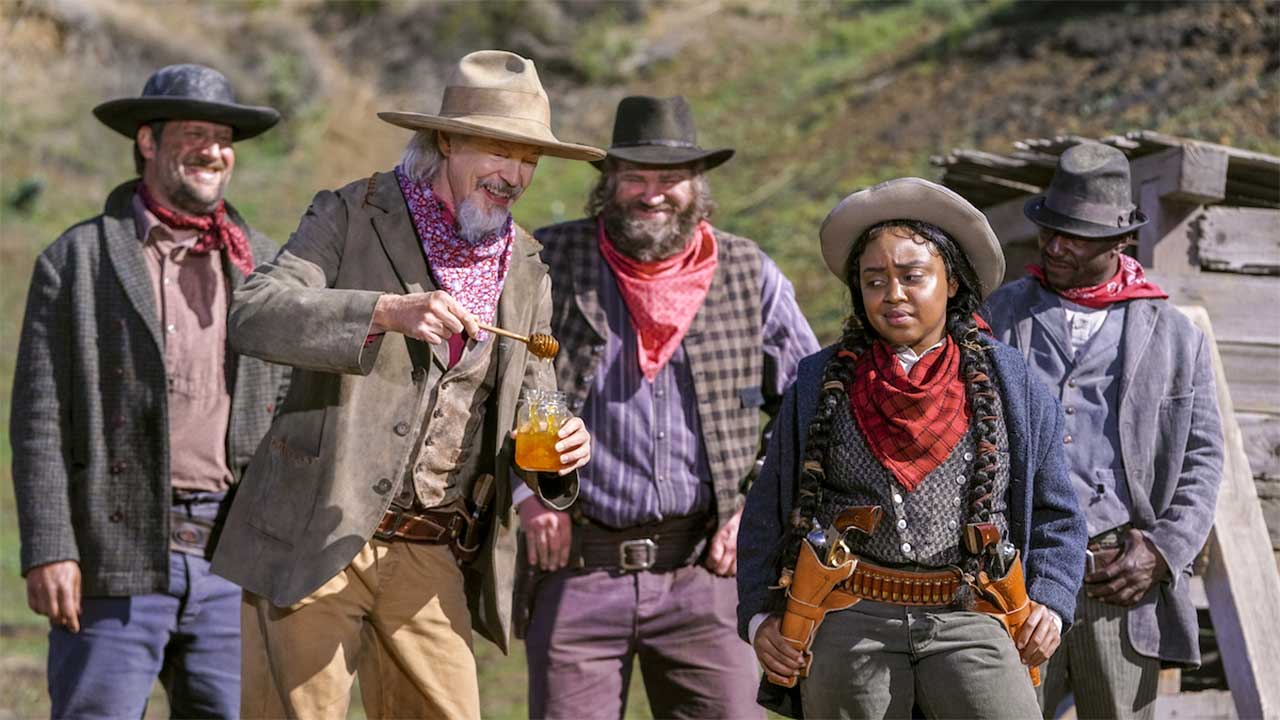 An Buscemis Seite bekommen wir (unter anderem) Daniel Radcliffe als Geistlichen Ezekiel Brown, Geraldine Viswanathan als Ehefrau eines reichen Schnösels und Karan Soni als namenlosen Kopfgeldjäger zu sehen. Vor allem die ersten drei Darsteller*innen tragen auch mitunter das komplette Ensemble, was mich zu einem der Negativpunkte dieser Staffel führt. Ach was – zu mehreren. Zum einen bleiben mir manche Figuren zu blass, wie die des "Gunslingers". Zum anderen sind einige zu inkonsequent dargestellt – wie der "Gunslinger". Das ist ja okay, wenn in solch einer Comedy einzelne Nebenfiguren auch lediglich als Komparsen oder Zielscheibe von einfachen Gags fungieren sollen, aber zwischenzeitlich hat sich das angefühlt, als ginge es eigentlich nur um die drei Hauptfiguren, das war mir persönlich zu wenig. Hervorheben kann man da aber noch den sehr gelungenen Auftritt von Quinta Brunson als Banditin Trig.
Humor-Fusion
Was "Miracle Workers" eigentlich schon immer ausgemacht hat, war die zeitflexible Humor-Fusion, die bewusst alle Regeln außer Kraft setzt und mit Ungereimtheiten spielt. Das wird in "Oregon Trail" (vielleicht sogar etwas zu oft) direkt angesprochen, wenn zum Beispiel eine Influencerin aufgrund einer Gehirnerschütterung Hashtag-Kauderwelsch von sich gibt.
Allgemein funktioniert die Verbindung alter Western-Klischees mit modernen Themen ganz gut. Das geht sogar bis hin zu gesellschaftlich komplexeren Themen. Rassismus, Trump, Atheismus – etliche Themen werden mal mehr und mal weniger gelungen eingebunden, wobei man vielleicht noch kritisieren kann, dass einzelne Segmente zu kurz und nicht wirklich nachhaltig präsentiert werden. Aber für den einen oder anderen Gag hat es dann doch gereicht.
"Kids these days are buying cowboy hats with bullet holes already in them." – "You kidding!?" (The Gunslinger & Benny the Teen)
Gar nicht so wilder Westen…
Was mich an "Oregon Trail" glaube ich am meisten stört, ist das langweilige Setting. Der wilde Westen war gar nicht so wild. Und vor allem wirkt es langweilig als Szenerie. Da muss schon ständig vom Cast etwas wie "Wir sind jetzt hier oder dort!" gesagt oder ein Schild eingeblendet werden. Der Abstecher in ein im Wandel befindliches Dorf war auch deshalb ein Highlight, weil es mal einen Szenerie-Wechsel zu sehen gab.
Auch wird in Folge Eins ein Katz-und-Maus-Spiel voller Kopfgeldjäger und Banditen skizziert, dass bereits kurze Zeit später auseinanderfällt. Natürlich liegt auch eine gewisse Ironie darin, wenn man das sich oftmals zu ernste Western-Klientel in der Form Hops nimmt, dass alle freundschaftlich Händchen-halten, aber das war mir bisweilen zu plump und flach.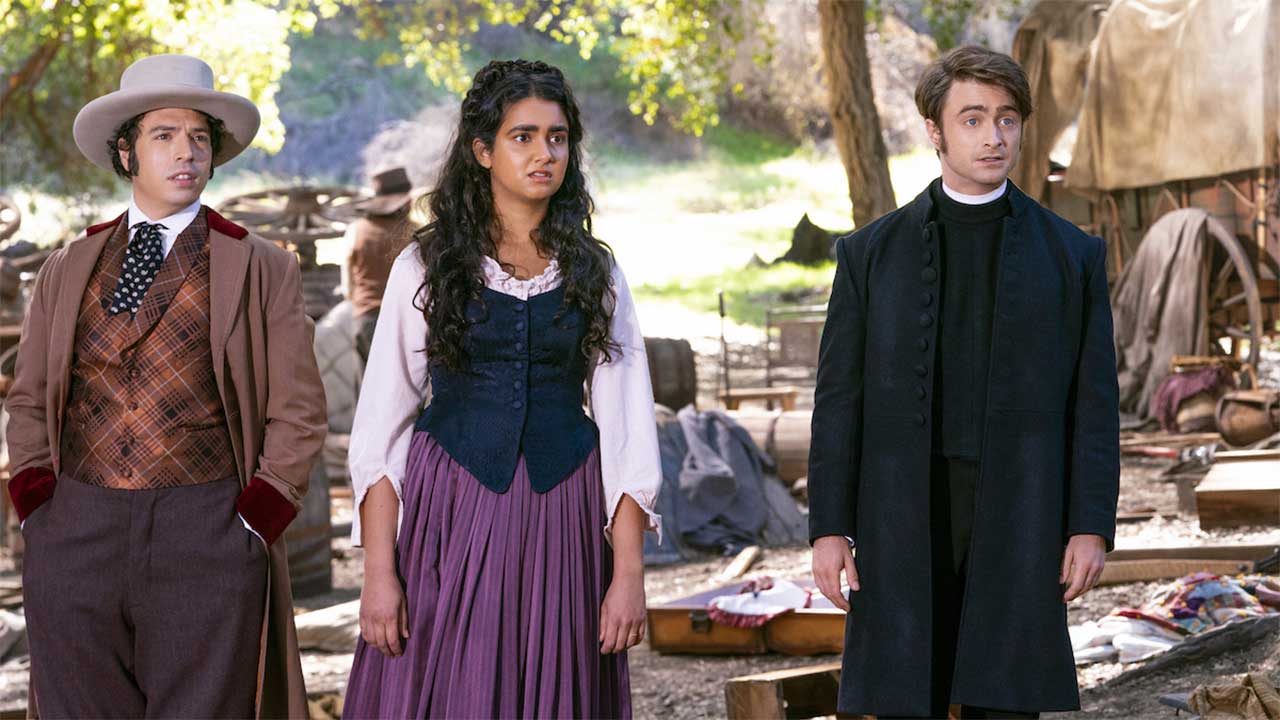 Tatsächlich bleibt mein Ersteindruck bestehen. Noch immer ist "Miracle Workers" sehr kurzweilig – was aber auch an der Tatsache liegen kann, dass die meisten Episoden klar unter der 20-Minuten-Marke verbleiben und so insgesamt lediglich etwas über drei Stunden Material zu sehen sind – aber so richtig mag es nicht mehr zu zünden. Die Originalität der ersten Staffel bleibt unerreicht und bei der zweiten hat mir die Humor-Einbindung deutlich besser gefallen, zumal die Umgebung mehr hergegeben hatte. "Oregon Trail" wirkt bisweilen flach in der Geschichte und weiß zwar mit Western-Klischees in Verbindung zu modernen Themen aufzuwarten, wirkt aber deutlich inkonsequenter und weichgespülter. Einige tolle Momente gibt es noch immer, so bleibt aber zu hoffen, dass man sich für eine mögliche vierte Staffel wieder etwas mehr Abwechslung ausdenken kann. Noch ist allerdings nicht offiziell bestätigt, ob es überhaupt weiter gehen wird. Ich würde mir aber zumindest noch eine Runde wünschen, da der Cast durchaus einiges auf dem Kasten hat und die Konzept-Ansätze an sich stimmen.

Bilder: TBS

-->