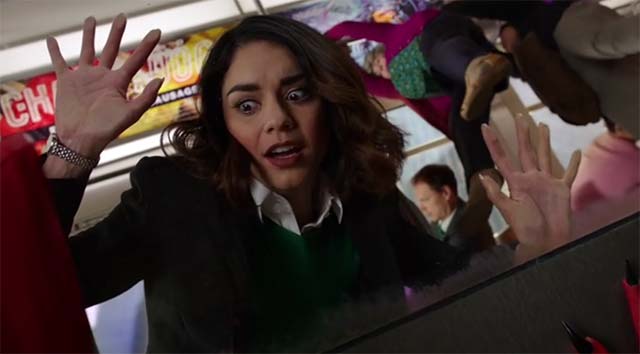 Die ersten Trailer zur neuen DC-Serie "Powerless" hatten mich durchaus angesprochen. Eine Serie im Superheldenuniversum, die uns die sterblichen Stars ohne Superkräfte zeigt? Tolle Idee! Dazu noch ein sehr vielversprechender Cast – anschauen! Doch kann der Pilot das halten, was ich mir von der neuen NBC-Comedy erwartet habe? Antwort: Ja. Teilweise. Der Auftakt ist durchaus gelungen, zeigt sich aber ähnlich superheldig, wie seine Protagonisten. Das ist alles von dieser Welt, aber es wirkt frisch und unterhaltsam. Das kann ja nicht jede neue Serie von sich behaupten…
Zierliches Hauptfigürchen ist Emily Locke. Vanessa Hudgens spielt den hübschen Naivling, der mit ganz viel Euphorie, Traum, Prinzip und großen Augen nach Charm City reist. An ihrem ersten Tag wird wunderbar damit gespielt, was sie alles neu und aufregend findet, während die Welt um sie herum entnervt Termine nach hinten schieben lässt, sobald es erste Anzeichen eines Superhelden-Auftritts gibt. In gewisser Weise spiegelt das ja auch die Einstellung diverser Gruppen zu der ganzen Superheldifizierung der letzten Jahre im Film- und mittlerweile Serienbereich wieder. Manche feiern es derbe ab, andere sind mittlerweile genervt von einem neuen Superhelden jede Woche…
"Wow, you don't see THAT everyday!" – "Well, actually you do. Every. Day."
Das Intro kommt in "nettem Comic-Look" daher, wirkt aber etwas lahm geschnitten und nicht wirklich "super". Vielleicht wird hier ja noch was gemacht.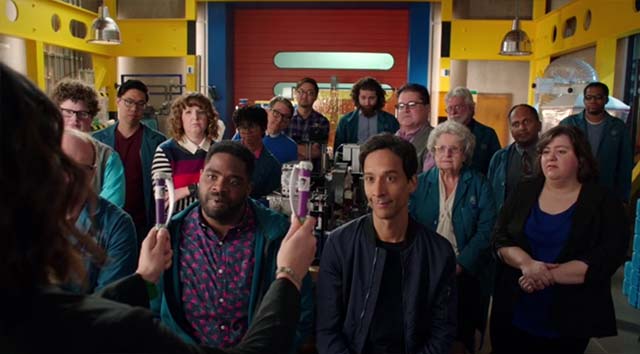 Grund der Reise ist Lockes neuer Job: Bei Wayne Security tritt sie die Leitung des Entwicklungsteams an. Das hatte zuletzt das Problem, die größte Innovation in einer Änderung der Farbe des Kassenschlagers "Joker-Antiserum" hinzubekommen. Ansonsten träumt der wunderbar selbstverliebte und vertrottelte Chef Van Wayne von einer Versetzung nach Gotham und den HBO Go-Passwort von Cousin Bruce.
"I'm more of a big picture guy. Look it this picture – it is HUGE!" (Van)
Lexcorp als große Wissenschafts-Konkurrenz, fliegende Kürbisse – der Pilot zeigt, dass verdammt viel Anspielungs-Potenzial vorliegt. Wenn die Serie das aufrecht erhalten kann, wäre das ein großes Plus. Comic-Nerds kommen auf ihre Kosten, Superhelden-Gelangweilte können sich an der stets irgendwie vorkommenden Anti-Haltung in der Stadt festhalten. Vielleicht ist Powerless endlich die Serie, die der Über-Fan mit seiner bisher minder begeisterten Freundin schauen kann.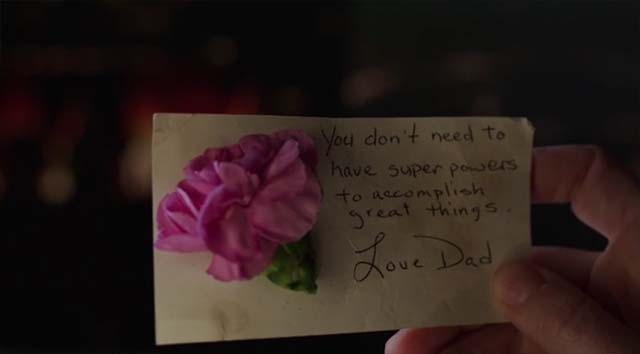 Auf wenig Begeisterung trifft zunächst Emily. Sie erfährt, bereits der fünfte neue Chef binnen Monaten zu sein und dringt nicht ganz zu ihrem Team durch.
"I refuse to let myself get attatched – I'm not getting hurt again." (Ron)
Als einzige in der Firma scheint sie den "Change the World"-Gedanken nebst etlicher Hoffnungen und Träume in ihrem Kopf zu tragen und schafft natürlich das Unmögliche und rettet alle, als wäre sie selbst Heldin. Naja.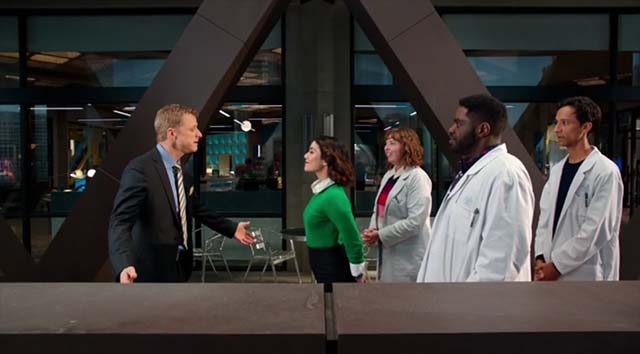 Nein, die Welt wird "Powerless" sicherlich nicht ändern, aber vielleicht schafft die Serie es tatsächlich, eine noch nicht bekannte Nische der von Ausgelutschtheit bedrohten Superhelden-Welt zu besetzen. Und klar, die ganze "es sind alle gefeuert, wenn jetzt nicht DIE Idee aufkommt"-Story, war natürlich so unnötig und vorhersehbar wie die AfD, aber egal.
Der Auftakt war kurzweilig, dynamisch und unterhaltsam. Die ganz großen Gags haben zwar gefehlt, aber die Dialoge waren erfrischend und modern geschrieben und vor allem die Sarkasmus-Rate unter den Angestellten hat mir sehr gefallen (an diese coolere Variante von Abed muss ich mich jedoch noch gewöhnen…). 3,5 Kronen hätten es bestimmt auch getan, aber ich will mal nicht so sein.
Insgesamt war das ein durchaus gelungener Auftakt, der mich jedenfalls dranbleiben lässt. Ich bin gespannt, wie die Serie weitere Superhelden(-Anspielungen) integrieren, aber vor allem, wie sie ihre eigenen Figuren inszenieren und entwickeln wird. Denn noch droht das alles sehr platt und abziehbildlich zu werden. Schafft man es aber, hier eine eigene Dynamik entstehen zu lassen, könnte das wirklich was werden.
Bilder: NBC