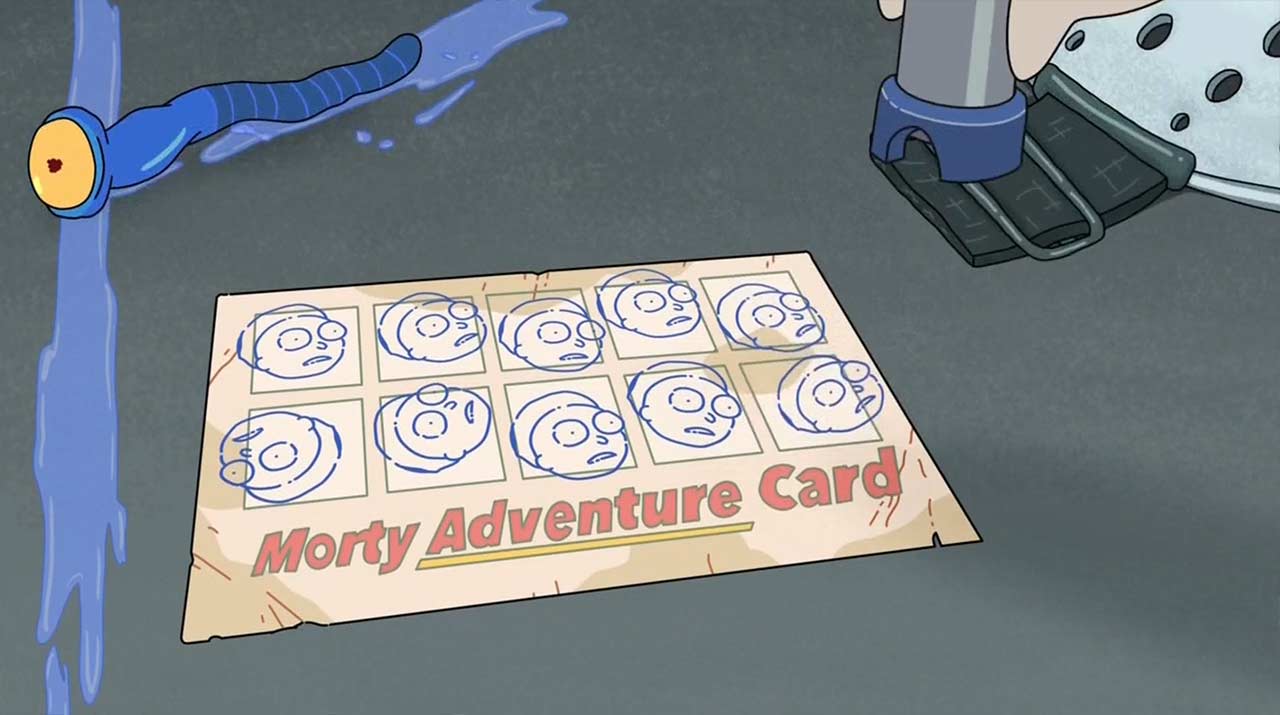 Den Stream zur Folge bekommt ihr am Ende des Beitrags zu sehen.
Bereits in der einen Minute vor dem Vorspann hat diese Episode mehr zu bieten als manch komplette Folge angesehener Dramaserien. Morty pocht auf sein in alten Folgen erhandeltes Recht des zehnten Abenteuers und hat in wunderschönem Kontrast zu all dem futuristischen SciFi-Krams eine wunderschöne Stempelkarte parat! Dazu noch ein paar kontextlose Aufräumarbeiten (mal schauen, ob wir den verloren gegangenen Alien-Parasiten nochmal zu sehen bekommen werden…) und ein intergalaktischer Anruf.
"I refuse to answer a literal call to adventure, Morty. Let it go to voicemail!" (Rick)
Das grandiose an der offensichtlichen Avengers-Parodie ist, dass wir den dritten Kampf dieser Truppe sehen und uns Glauben gemacht wird, wir hätten die zweite verpasst, also gab es früher ein "Vindicators 1" an, dass wir uns nicht mehr erinnern können? Eine kleine Referenz, einen Mini-Baustein, den wir vergessen haben? Nope! Alles frei erfunden und eine herrliche Manipulation des Zuschauers. Dazu eine unterhaltsame Zusammenstellung originell-bescheuerter Figuren, wie z.B. der "God damn"-Sager und Saubermacher Noob Noob im Hintergrund, der doch sehr an den noch in Reha befindlichen Mister Mr. Poopybutthole erinnert – vielleicht seine Geheimidentität oder schlicht die gleiche Rasse?
"I am back to one million ants." (Million Ants)
Auch Mega-Antagonist "Worldender" hatte gar keine Vorgeschichte – wobei, eigentlich hat er ja gar keine wirkliche Geschichte, ist er doch das erste "WTF?!"-Ding, das Rick "im Schlaf" erledigt hat.
"Well, it's official – I had too much to drink last night." (Rick)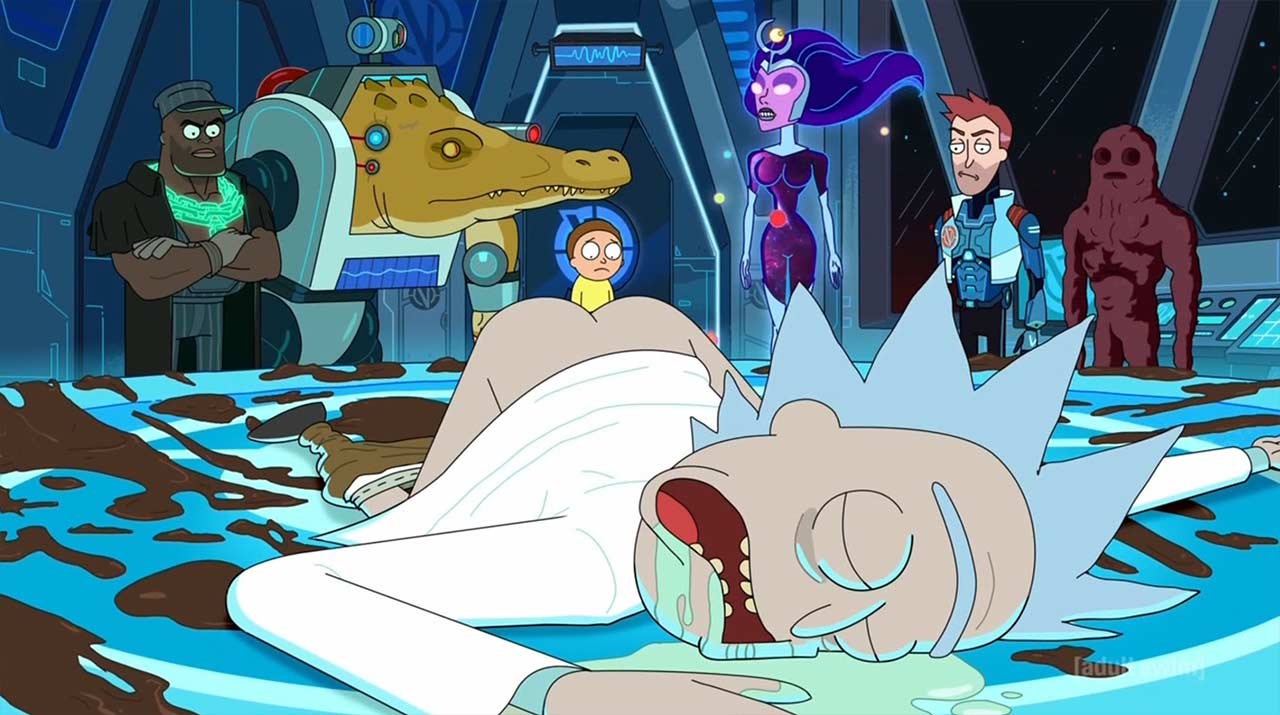 Die Wendung fand ich ungemein gelungen. Erst das Aufgebausche eines "noch größeren Bösen" und dann die Offenbarung, dass Rick letzte Nacht bereits alles geregelt und eine kleine SAW-like Challenge für die Vindicators erstellt hat. Dass Nüchtern-Rick selbst nicht mehr weiß, was Blackout-Rick gemacht hat und so sein eigener Gegenspieler wird, ist legendär! Natürlich nur mit standesgemäßer Sherlock-Mütze! Und die Defensivhaltung bei aufkommender Angst vor antisemitischen Äußerungen bezüglich Israel – herrlich!
"I hope you're proud of yourself." – "Uh, I kind of am. I saved the god-damn universe." – "That's not the issue, Rick!" – "Uhh, it would have been if I hadn't." (Morty & Rick)
Wunderbar dabei sind gleich mehrere Aspekte. Selbst Drunk-Rick verliert nach einer Weile die Lust an der Sache und lässt die Aufgaben immer gleichgültiger werden. Dennoch schafft es die Folge, immer absurdere Leistungen offenzulegen, die Rick binnen einer Nacht umgesetzt haben soll. Und den Taten Mortys, der dank seiner Erfahrung mit Drunk-Rick zum wichtigsten Helden der Truppe mutiert, wissen wir auch, dass das nicht seine erste "Wundernacht" mit Blackout war.
"Morty, how many of these…." – "TOO MANY, RICK! Too many." (Rick & Morty)
"Jesus Christ – what a shitty nutrino bomb. It's a miracle I ever actually destroy anything…" – "Oh, I dunno. You managed to destroy just about everything today: the villains, the heroes, the lines between them, my childhood…" (Rick & Morty)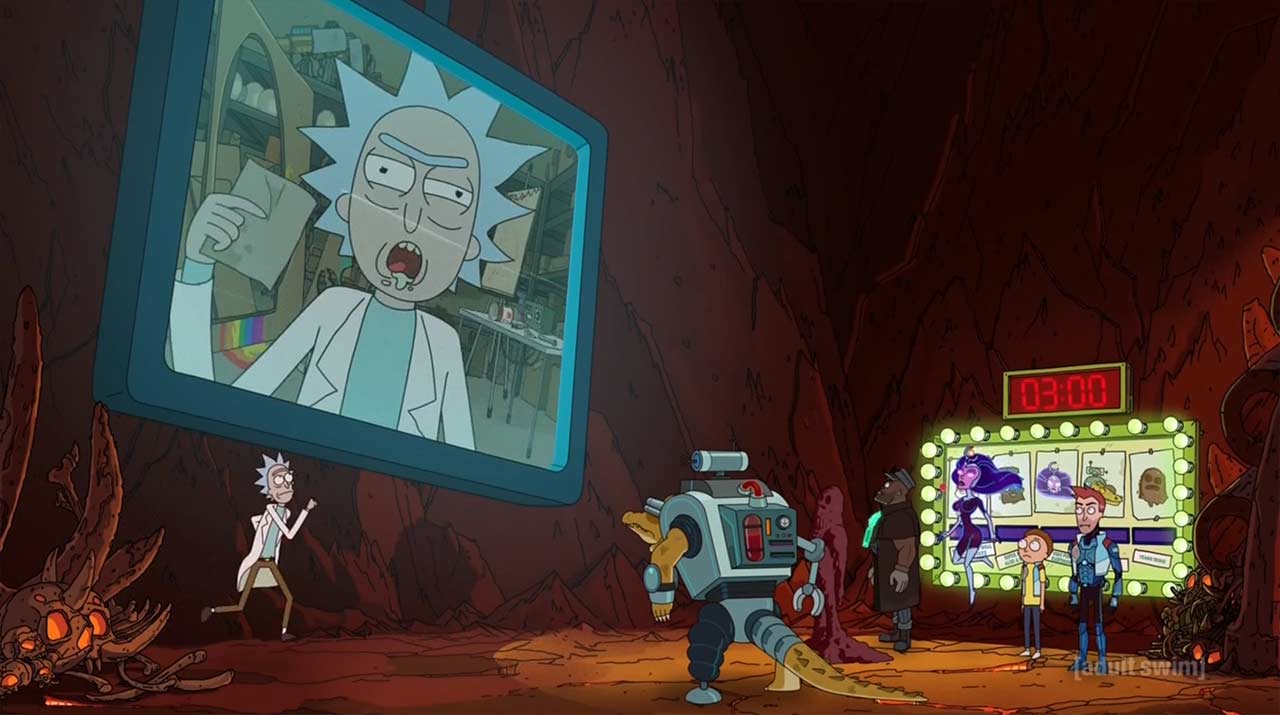 Und selbst, wenn man denkt, JETZT kämen endlich die Gefühle raus und Rick bekennt sich (zumindest im betrunkenen Zustand) zu seinem Morty, ist es nur eine Noob Noob-Hommage. Grandios!
"Are you a little superhero now?" – "Everyone in the universe is a hero, mom." (Beth & Morty)
Am Ende setzt es noch eine Persiflage auf Filme, die in Parties enden (ft. Rapper Logic), was für mich okay war, auch wenn die Auflösung insgesamt nicht zum Abenteuer zuvor passte. Neben dieser ultraleichten Flucht hatte mich auch gestört, dass Anführerin Supernova erst sehr spät wirklich durchgegriffen hat. Aber vermutlich ist das der offenkundigen Abhängigkeit der Superheldentruppe von Rick geschuldet, der natürlich den passenden Abschlusssatz parat hat.
"Who the fuck is 'Noob Noob'?" (Rick)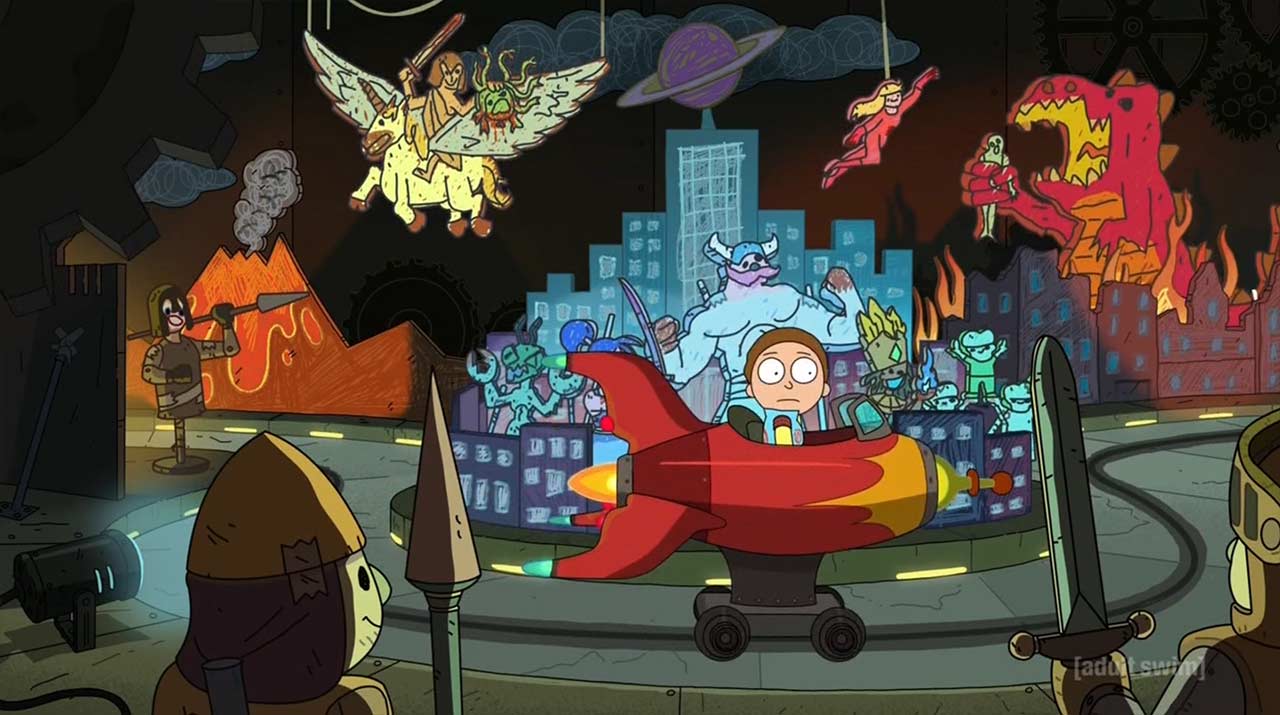 Interessant finde ich ja, wie enttäuscht viele Leute im Netz bzgl. der neuen Staffel sind (oder tun). Ich schiebe das auf die lange Pause und die epische Erwartungshaltung. Die erste Episode war episch, die zweite okay, "Pickle Rick" und diese haben mir dagegen sehr gut gefallen. Vielleicht war "Vindicators 3" sogar minimal besser als die letzte, weil der langweiligere Gegenpart komplett fehlte – das war Tempo pur! Dazu die gelungene Kontext-Verschleierung, der geniale Twist, die vielen Ebenen des "Wow, das hat er AUCH NOCH gemacht?!" und in Sachen ausgefeilter Dialoge brauche ich mich glaube ich nicht zu wiederholen. Dennoch fand ich "Pickle Rick" insgesamt unterhaltsamer und kurzweiliger, weshalb ich einfach mal eine halbe Krone runter gehe. Es fühlt sich irgendwie so an, als müsse ich noch Platz nach Oben halten. Hoffentlich hat Morty schon bald wieder seine Stempelkarte voll!
Rick and Morty S03E04 Stream
Aktuell gibt es die komplette Episode übrigens als kostenlosen Stream:

Bilder: Adult swim

-->