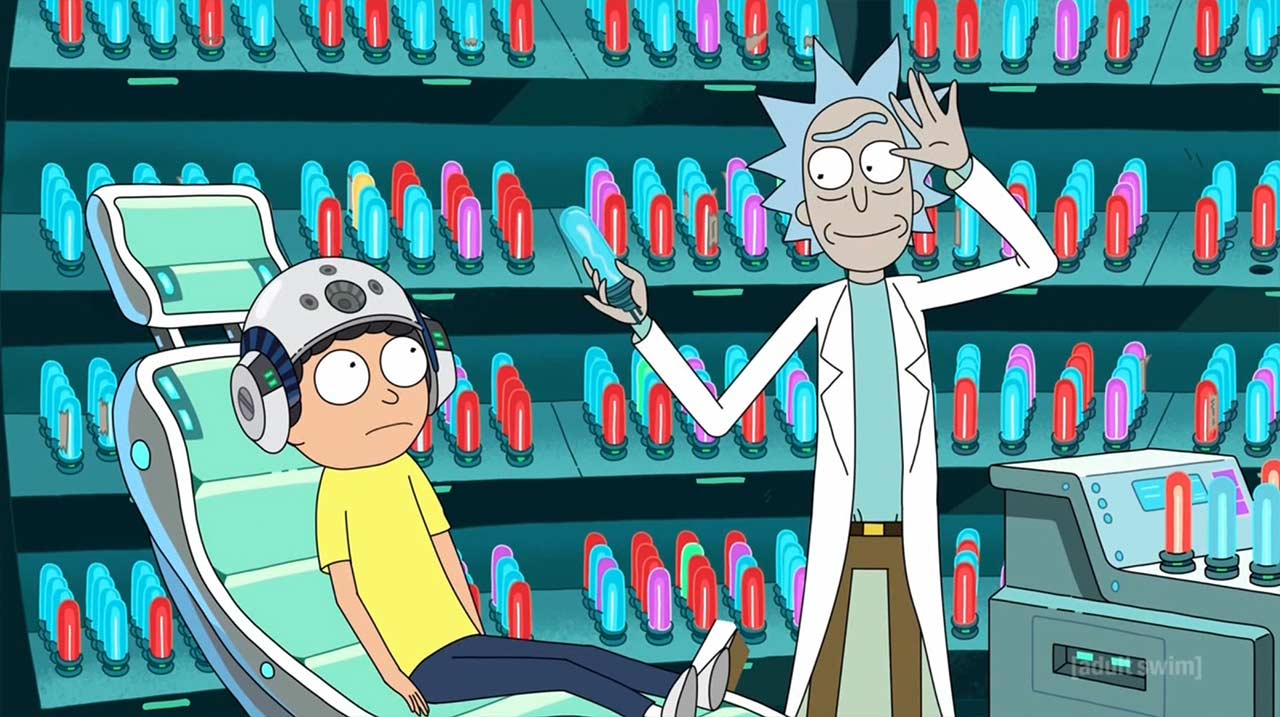 Auch diese Woche haben "Rick and Morty" für uns wieder ein prallgefülltes Geschenk voller Anspielungen und origineller Details für uns. Das beginnt bereits in den ersten Sekunden, wenn MC Escher auf eine Wahrheitsschildkröte trifft – wenn das so weitergeht, kann sich die Serie bald nicht mehr mit ultrakurz angeschnittenen Überabenteuern im Vorspann übertrumpfen. Als sich die beiden dann aufs Sofa setzen war mir eigentlich klar: Jetzt folgt die obligatorische Runde Interdimensionales Fernsehen…?! Nope. Die Serie bricht mit ihrer eigenen Tradition, bevor sie zu langweilig wird und präsentiert uns stattdessen "Morty's Mind Blowers". Was komplett anderes, versteht sich.
"How long have I been asking you to remove memories?!" – "Since the first time *burp* your mind was blown." (Morty & Rick)
Morty erfährt – nicht zum ersten Mal – wie viele und welch unterschiedliche Erinnerungen ihm gestohlen wurden, was eine immer schneller werdende Reihe an Abenteuern, Hintergründen und Mini-Gags beinhaltet, die vermutlich beim dritten Anschauen der Episode noch zu neuen Entdeckungen führen werden. Entsprechend kam ich auch kaum hinterher mit dem Notieren von Zitaten und Zeiten möglicher Szenenbilder für diesen Beitrag…
"There's no dust on it because this is not the first time we're doing this." (Rick)
"Jesus, I made that guy kill himself!" – "Only in the literal sense." (Morty & Rick)
Selbst auf die offenkundige Ähnlichkeit zum animierten Übervater wird eingegangen…
"They don't all have titles though, it's not a Simpsons Halloween special…" (Rick & Morty)
…genau wie auf mögliche Ungereimtheiten.
"Sometimes I have to do a little editing, Morty. It helps the mindblowers play a little better upon revisiting." (Rick)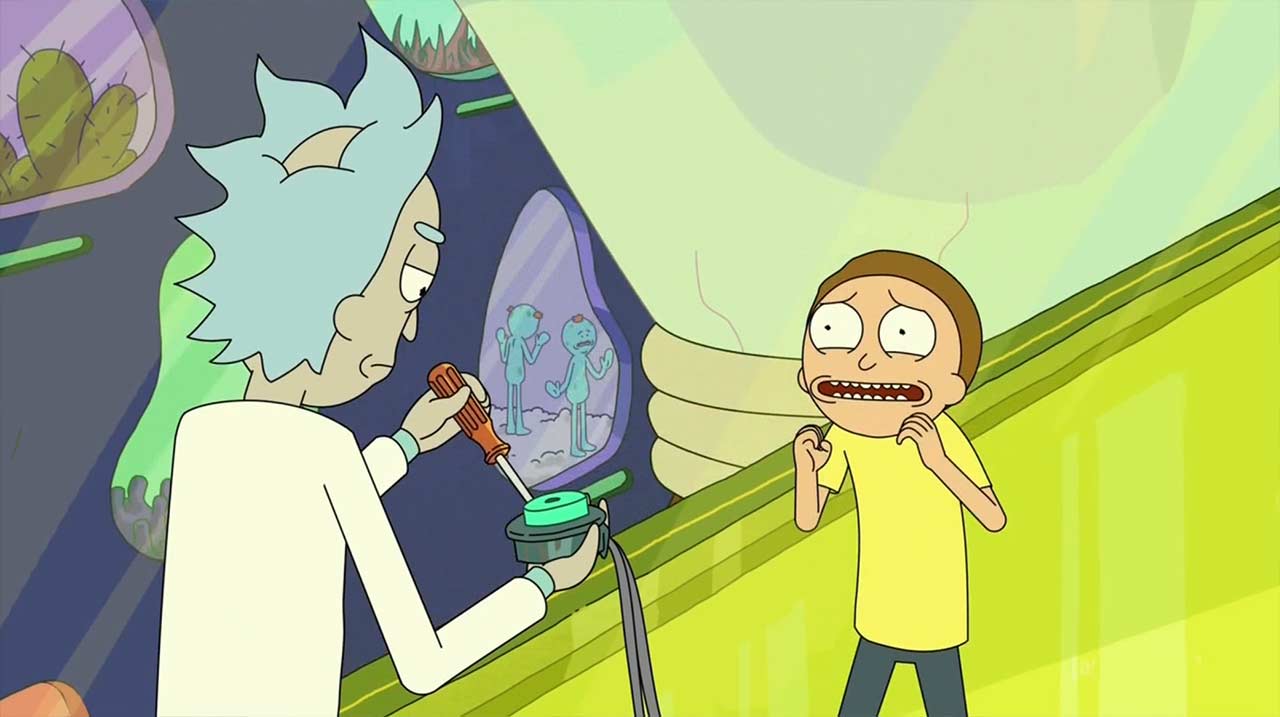 Habt ihr die Mr. Meeseeks im Alienlager entdeckt? Neben dieser kleinen "Contact"-Parodie erhalten wir ein bisschen schmutzige Mond-Verschwörung, eine Dosis Religions- und Nachlebens-Skepsis und etliche andere freiförmige Anthologien ohne jegliche lehrreiche Moral – dafür mit suboptimalen "Dateinamen". Ob "Poop Aids_Copy" oder der arme süße Beebo, der für eine Star Wars-Anspielung sein Leben geben musste.
Natürlich eskaliert alles, um eine höhere Ebene der Story zu erlangen, in der beide erinnerungslos sind. Und so geht Morty "geblitzdingste" Erinnerungen durch, die beide nicht mehr erinnern können.
"We're partners, I guess… and fight aliens. Like 'Men In Black'…?" (Morty)
Die wirklich wahre Ebenheit eines Bodens, ein banaler Lichtschalter in der Garade, an dem Leben hängen hingen (grandios!), wie Morty beim Damespielen gewinnt (großartig!), wie der echte Weihnachtsmann vergraben wird, Morty als Kopf auf Snowball oder das, was wir alle insgeheim sein möchte: ein Magnet für attraktive Rothaarige!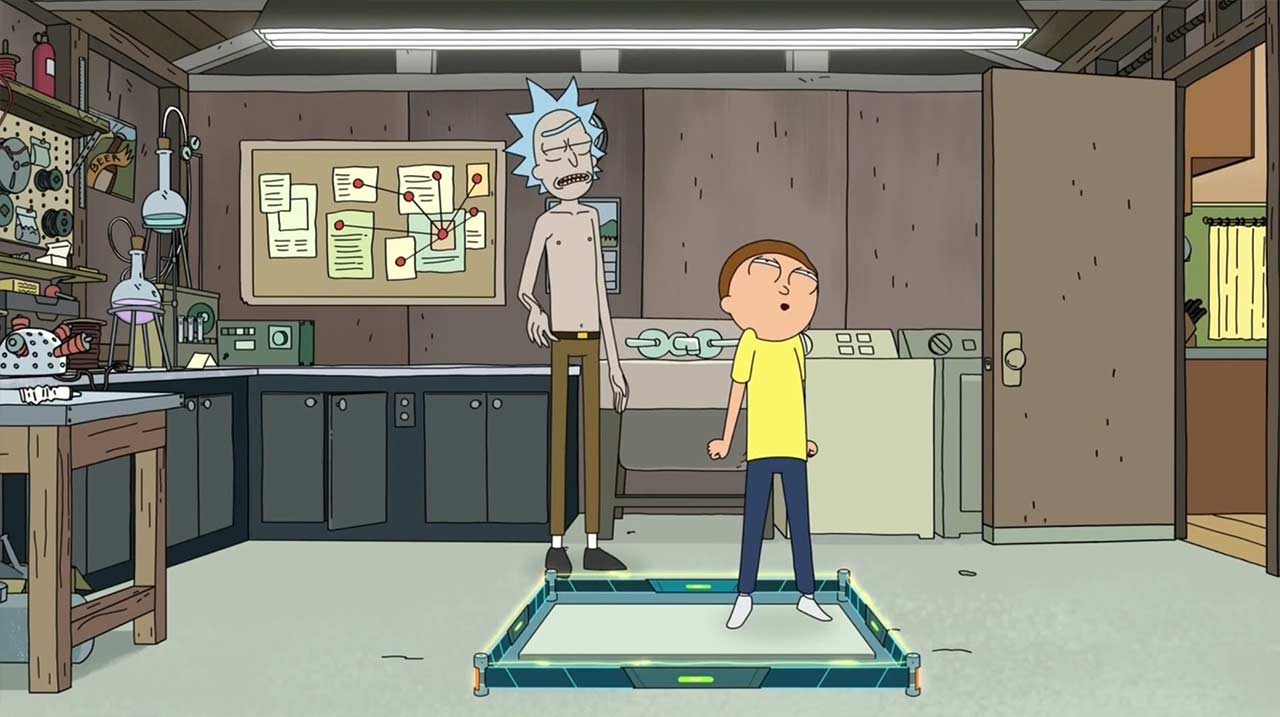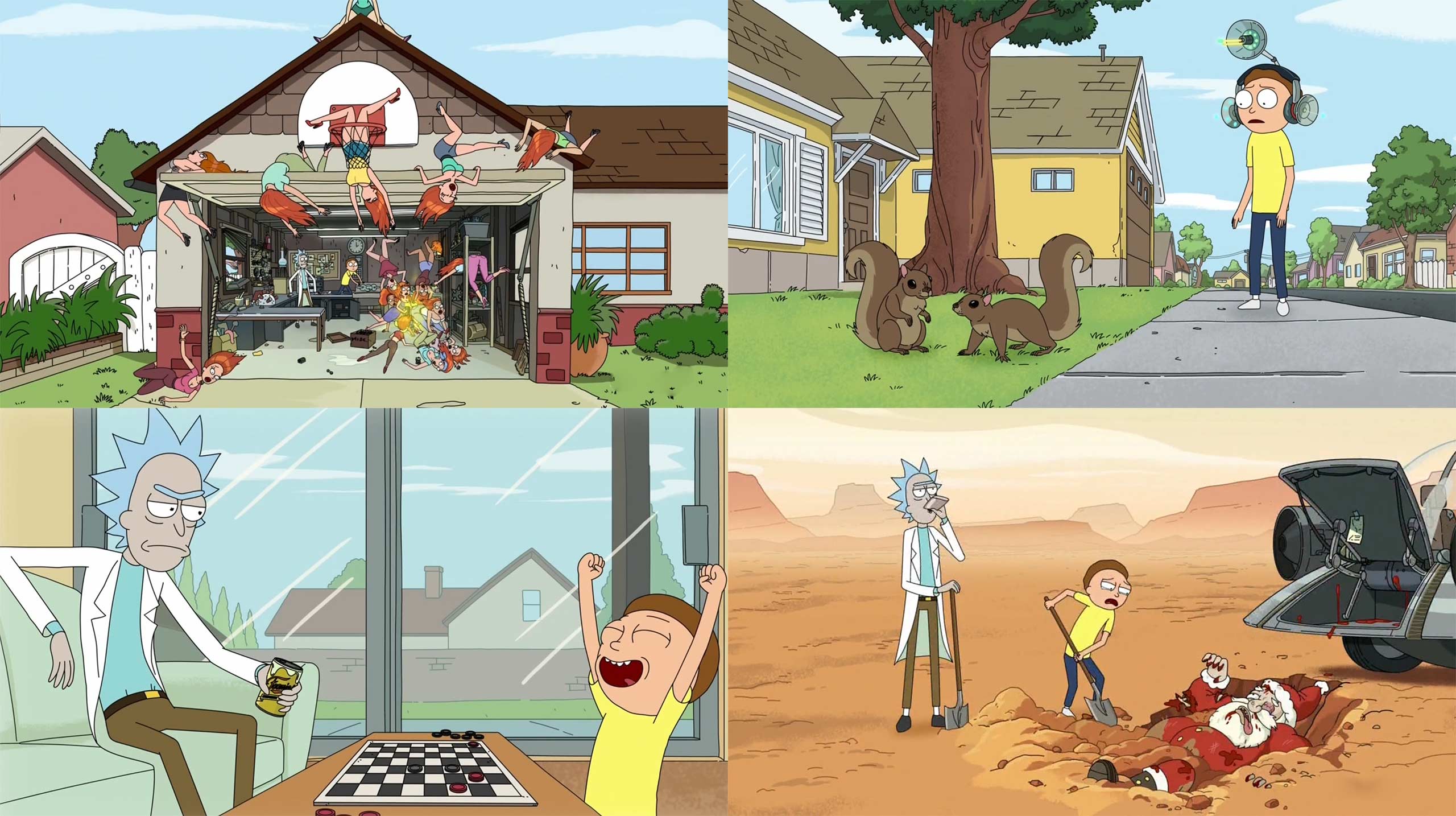 Herausstellen möchte ich aus dieser immer schneller werdenden Frequenz an Mini-Szenarien noch zwei: Beim Apparat, der die Sprache von Tieren übersetzt, wurde nicht nur deutlich, dass Eichhörnchen verschwörerische Ärsche sind, sondern auch, dass unsere Rick und Morty damals erneut ihre Welt für eine andere Parallelversion verlassen mussten (erneut mit dem dringlichen Hinweis, dass man das nicht beliebig oft machen könne). Mindestens genau so wichtig: Wir sehen Mr. Poopybutthole mal wieder, der vollkommen genesen (oder ist es einfach ein anderer?) einen Antrag macht.
Gelungen aufgelöst wird alles, indem Summer die zu eskalieren drohende Situation als üblich enttarnt und entspannt löst. Rick hat halt für wirklich alles vorgesorgt. Inklusive kleinem (vielleicht?) Seitenhieb auf die Sendung selbst, die sehr lange mit neuen Folgen hat auf sich warten lassen:
"No wonder you're constantly fighting with each other and behind schedule." (Summer)"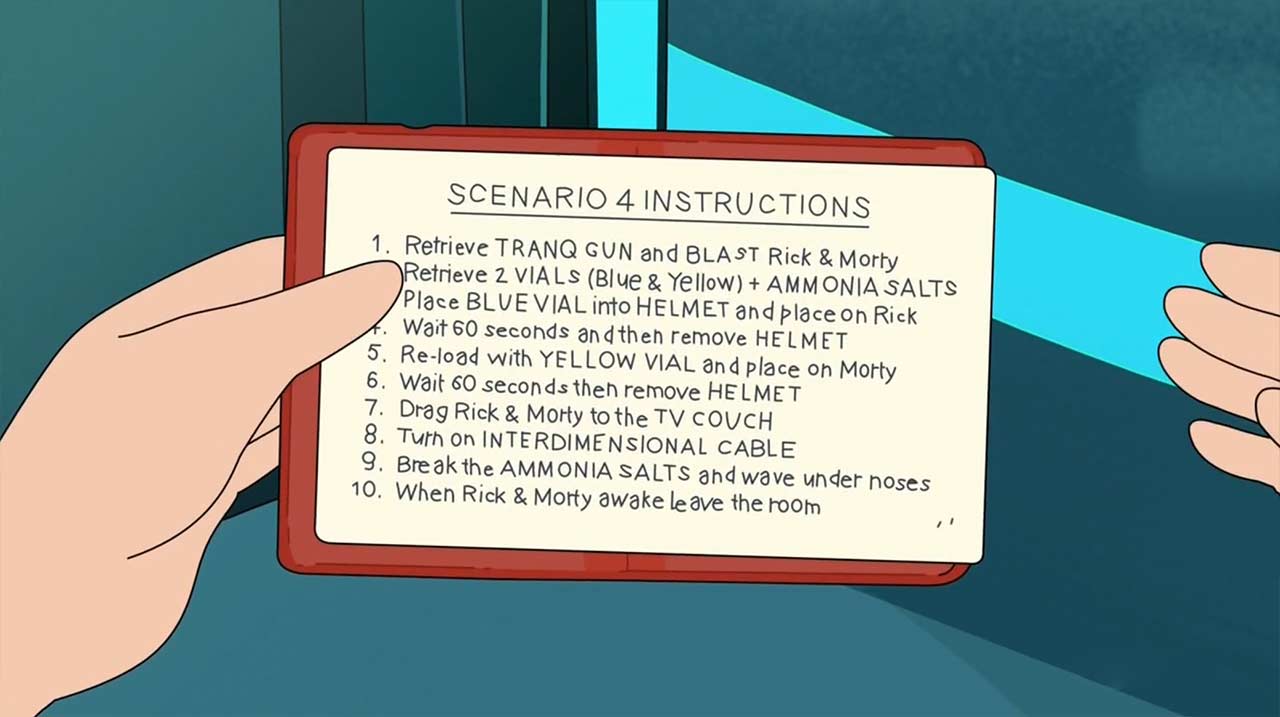 Zwar nicht so perfekt, wie "The Ricklantis Mixup", aber erneut stark abgeliefert und erneut eine vollgepackte Episode, die erneut nahezu komplett von Justin Roiland synchronisiert wurde. Selbst beim Abspann bekommen wir mit "Jerry's Mind Blowers" noch eine etwas längere Side-Adventure-Szene geboten. Allerbeste Unterhaltung, die ganz nebenbei nicht nur unterhält, sondern auch Kontexte für die Figuren und Backstory für die komplette Serie schafft. So gibt es wieder allerlei spezielle Dinge, über die sich Fans wie ich (und ihr) austauschen können.
Schade nur, dass man keine Erinnerung gesehen hat, wie Morty die Erinnerung an die gesehenen Erinnerungen zu sehen bekommt. "Erinnerungsception" quasi, womit man eine mögliche Meta-Ebene verpasst hat. Aber hey – don't take things for granet!
""Uff… Dibs on his stuff!" (Rick)"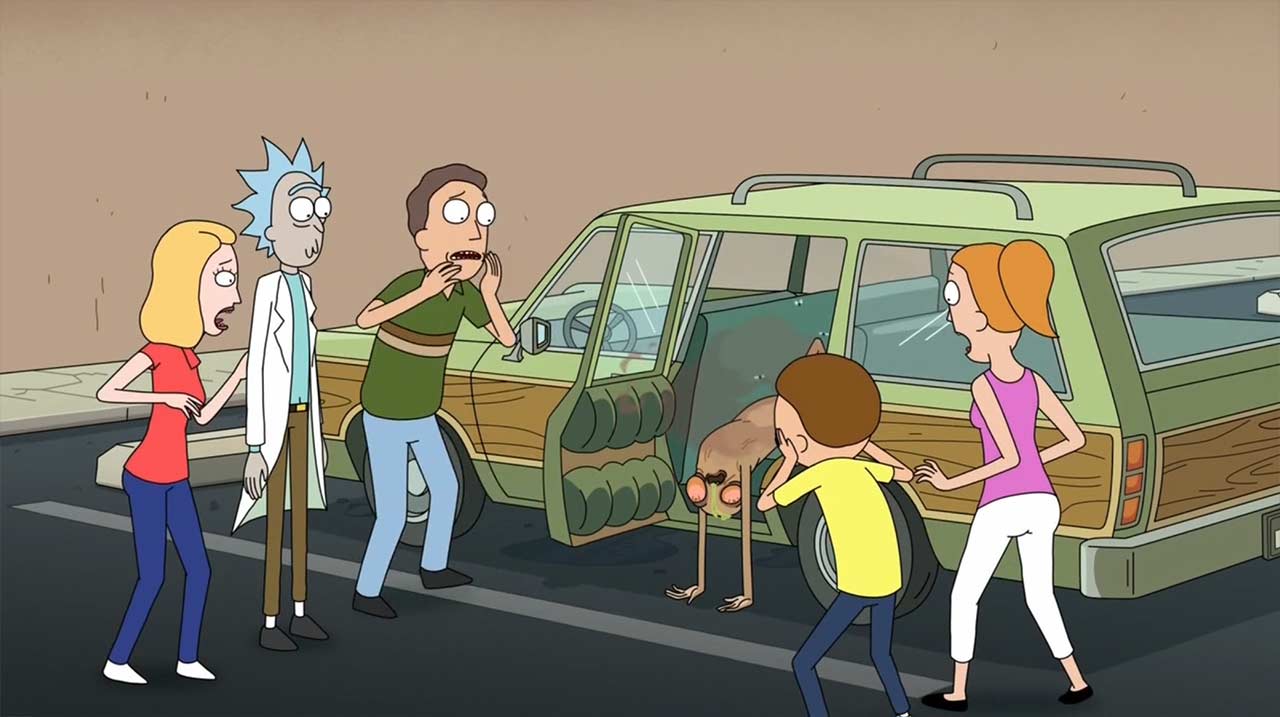 Bilder: adult sim

-->