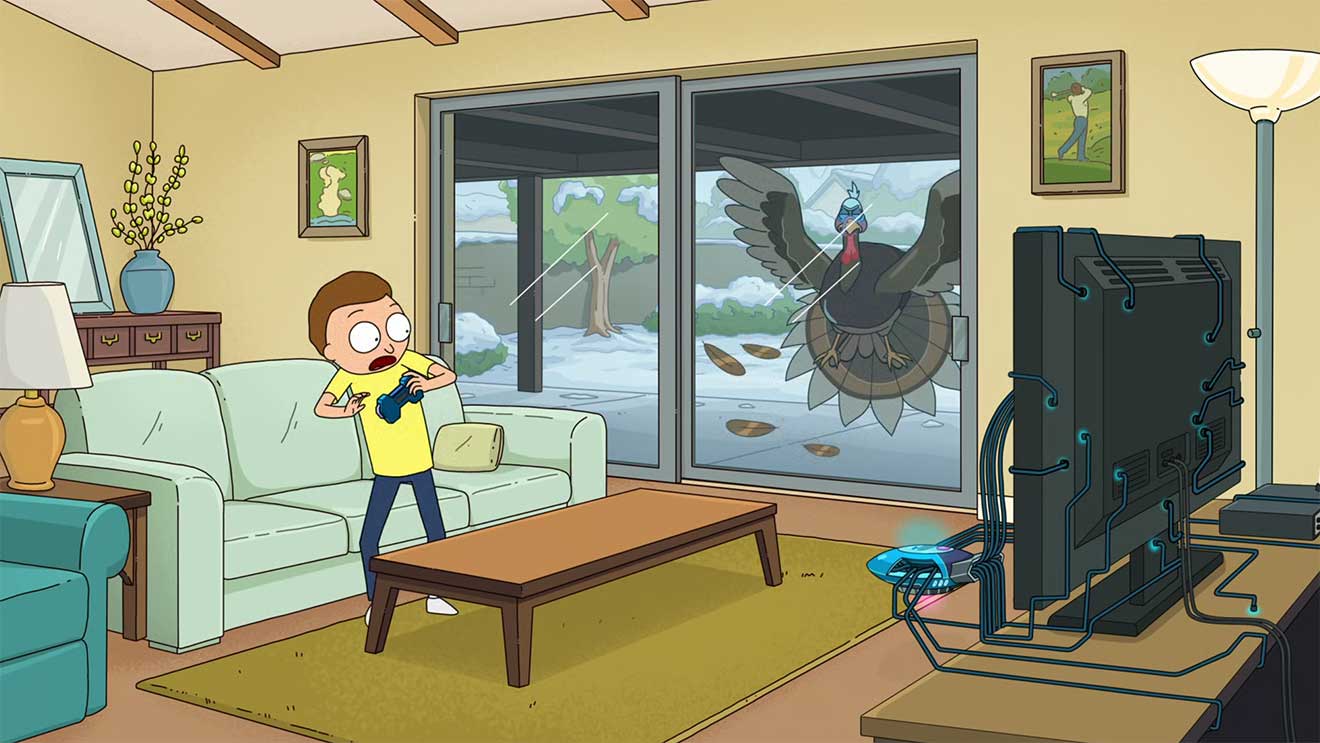 Die neue Staffel "Rick and Morty" hatte bereits einiges zu bieten. Erst gab es eine tief in die übergeordnete Story eingreifende Auftaktfolge, dann die konzentriert erzählte "Roy"-Episode. Auch diese Woche weiß die Serie wieder zu überraschen, allerdings liegt das Besondere darin, dass "Rick and Morty" sich dieses Mal erschreckend normal zeigen. Vielleicht hat man sich gedacht, dass Feiertagsessen mit der Familie bereits verrückt genug sind, da braucht es keine Weltall-Action.
"Life is a subscription and Thanksgiving is your yearly charge." (Rick)
Zu Thanksgiving gibt es traditionellen Truthahn aber es wird auch eine ungewöhnliche Liebesgeschichte aufgetischt. Die nach und nach in der Familie verbreitete Nachricht, dass Beth und Space Beth rummachen, wird beinahe so negativ aufgefasst, als hätten die beiden die intergalaktische Eiscreme vergessen. Das absolute Highlight war da natürlich die unangenehme Tischszene, in der die Kinder und Rick Doppel-Beth und Jerry im Nachbarzimmer reden hören.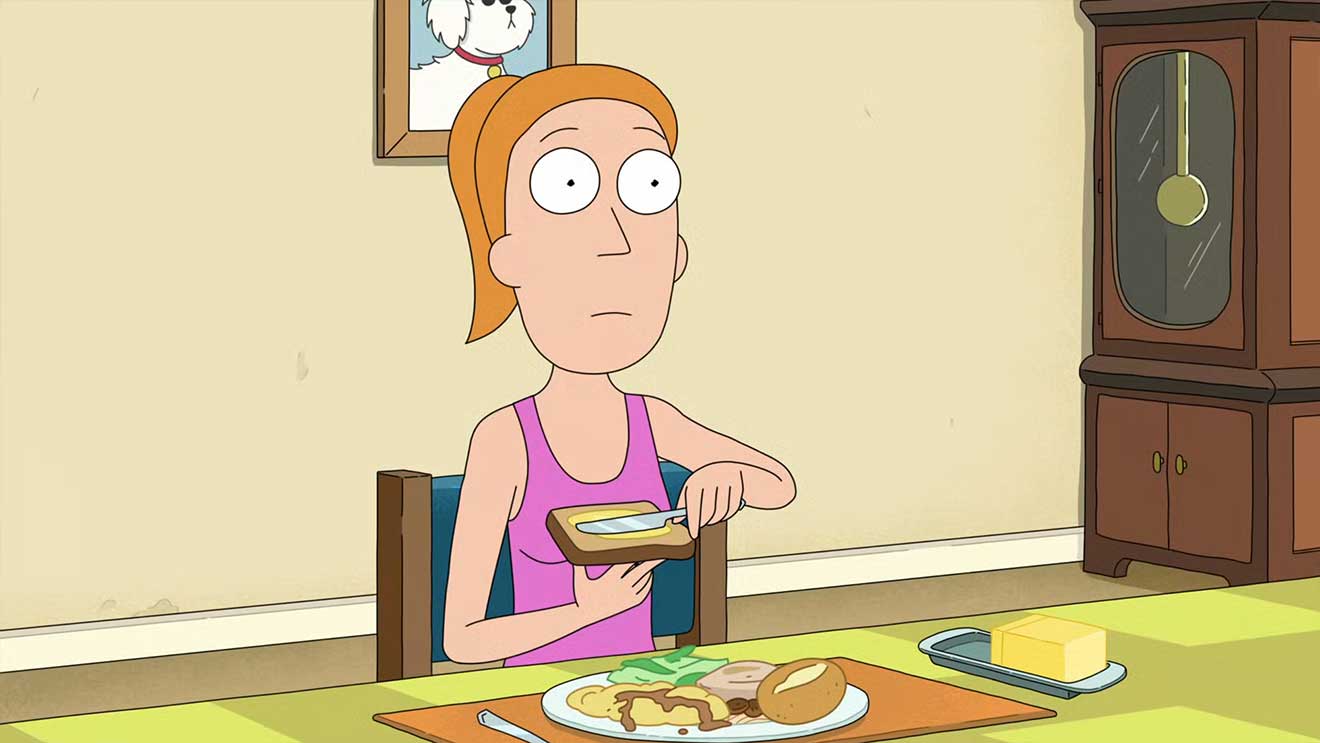 Allgemein gibt es diese Folge keine wirkliche Action zu sehen. Das Haus wird eigentlich auch nur wenige Male und meist lediglich für ein paar Meter verlassen. Vielleicht ist "Bethic Twinstinct" die unspektakulärtste und normalste Folge "Rick and Morty" überhaupt. Das ganze überzieht man anscheinend auch noch bewusst damit, dass selbst der B-Plot mit den intergalaktischen Videospielen sterbenslangweilig gestaltet wird.
Der Dreh mit dem Realitätgs-Grad auf Stufe Zehn war super, hat er mich beim ersten Spiel doch denken lassen, da kämen jetzt echte Asteroiden auf das Haus zugerast, nur um die selbst aufgebaute Erwartungshaltung beim Publikum mit einer entgegengesetzten Auswirkung zu torpedieren. Das Spiel unterliegt realistischen Logiken, also gibt es so gut wie keine Asteroiden zu sehen. Uff. Und gerade als die andere Handlung ihren Höhepunkt erhält als Jerry sich Gürteltier-artig in einen Panzer einrollt, entwickelt sich das Spielerlebnis gegensätzlich zu einem Text Adventure.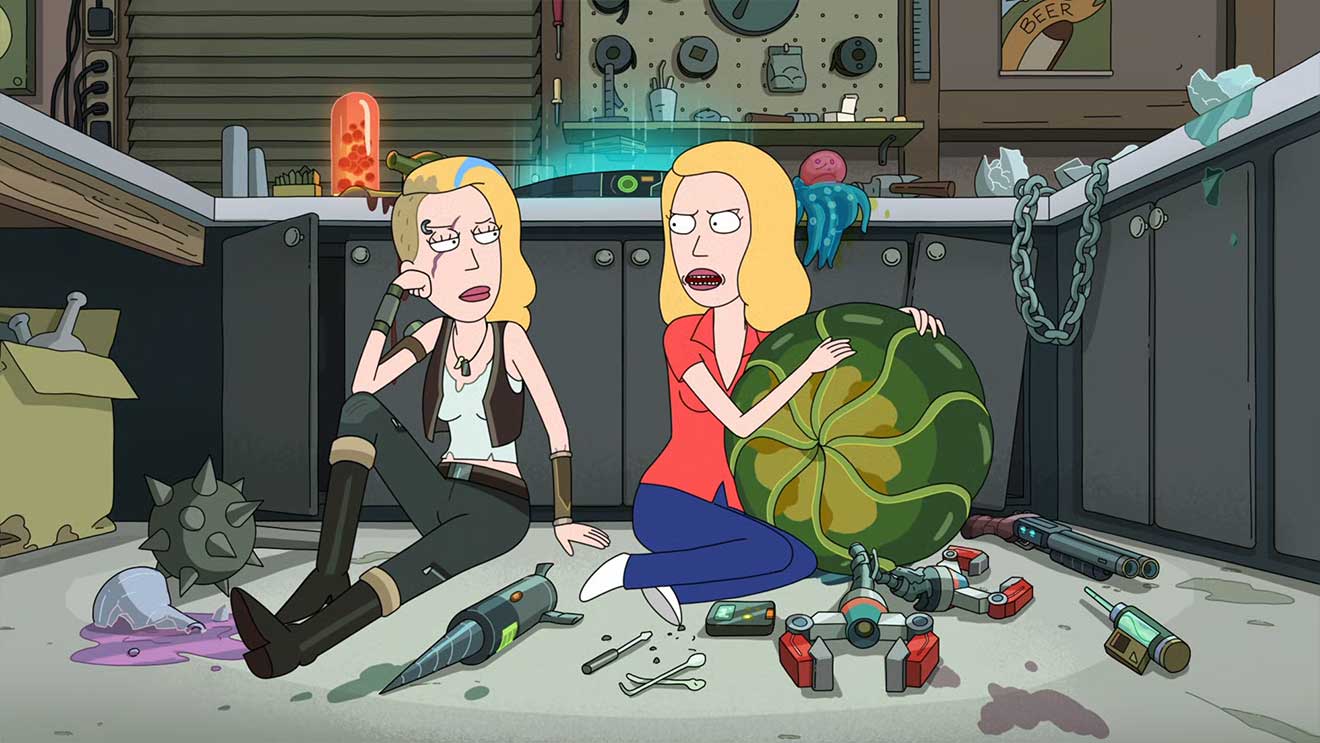 Obwohl die Folge verhältnismäßig langweilig aufgebaut war, gab es einiges zu sehen. Neben der außergewöhnlichen Videospielkonsole, die Hoffnungen auf ein neues Interdimensional-Cable-Abenteuer geschürt hatte, gibt es ein bisschen Tech von Rick zu sehen und auch die ein oder andere Meta- oder Popkultur-Anspielung zu hören. Zum Beispiel als Rick auf die "Black Mirror"-Folge "San Junipero" anspricht als die Beths im Holodeck ihr Leben im Alter simulieren. Auch empfand ich die kurze Szene interessant, in der Teenager-Jerry überlegt, Teenager-Beth zum Tanzball einzuladen. Von der Szene, in der er eine Hand voll identischer Shirts einpackt, ganz zu schweigen.
"How old are we? We had a million Thanksgivings." (Morty)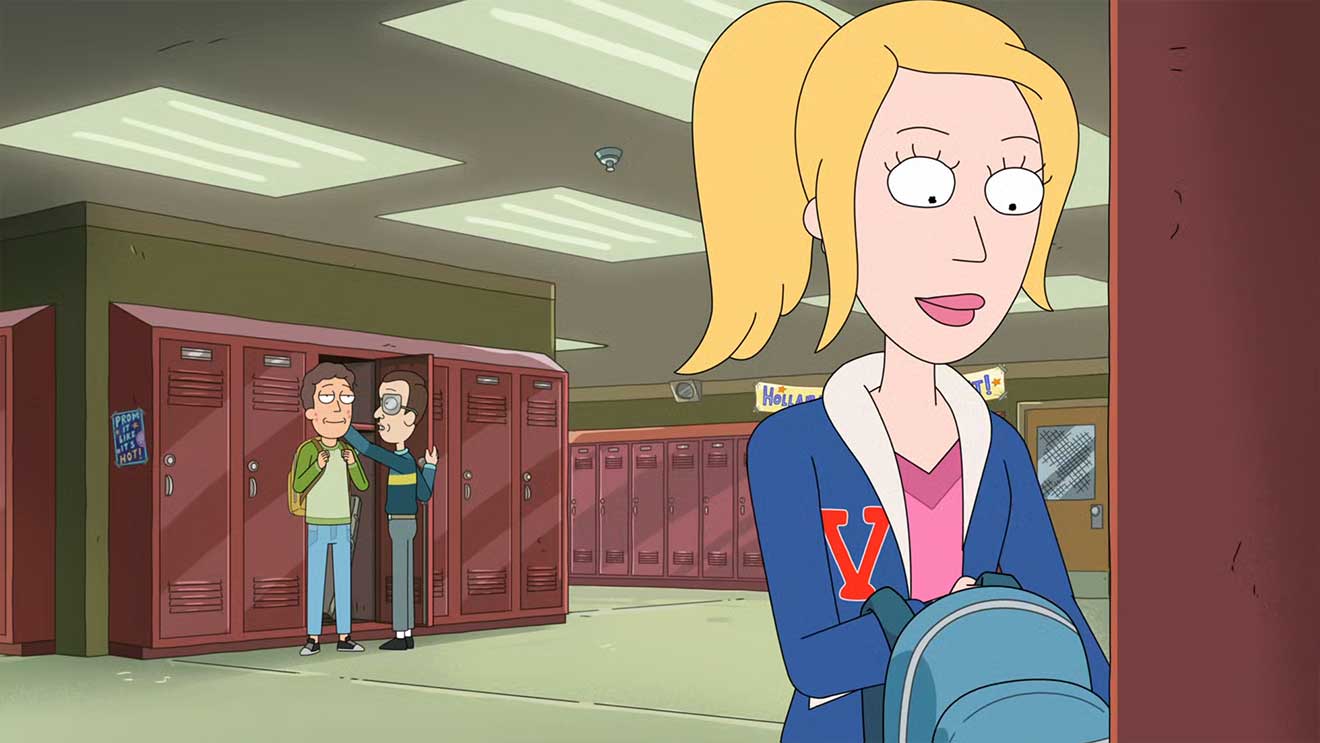 Das Ende hat dann noch ein paar Überraschungen parat. Mir hat gefallen, dass Mortys Space Baby Naruto nochmal erwähnt wird und auch die Post-Credit-Szene konnte mit einem kurzen Besuch im Jerry-Kindergarten sowie der intensiven homoerotischen Erfahrung punkten. Vor allem war da aber der Moment, in dem Rick die Alien-Weinflasche in einen versteckten Schrank voller gefährlicher Dinge setzt und die Fernbedienung zerschreddert. Klar ist leider nicht, ob die Flasche auch von dort stammt und vielleicht sogar von Rick in der Küche platziert wurde oder er sie im Nachgang einfach nur wegschaffen wollte. Jedenfalls scheint der Wein eine gewisse Wirkung mitzubringen, die er so lieber nicht mehr entfaltet sehen möchte.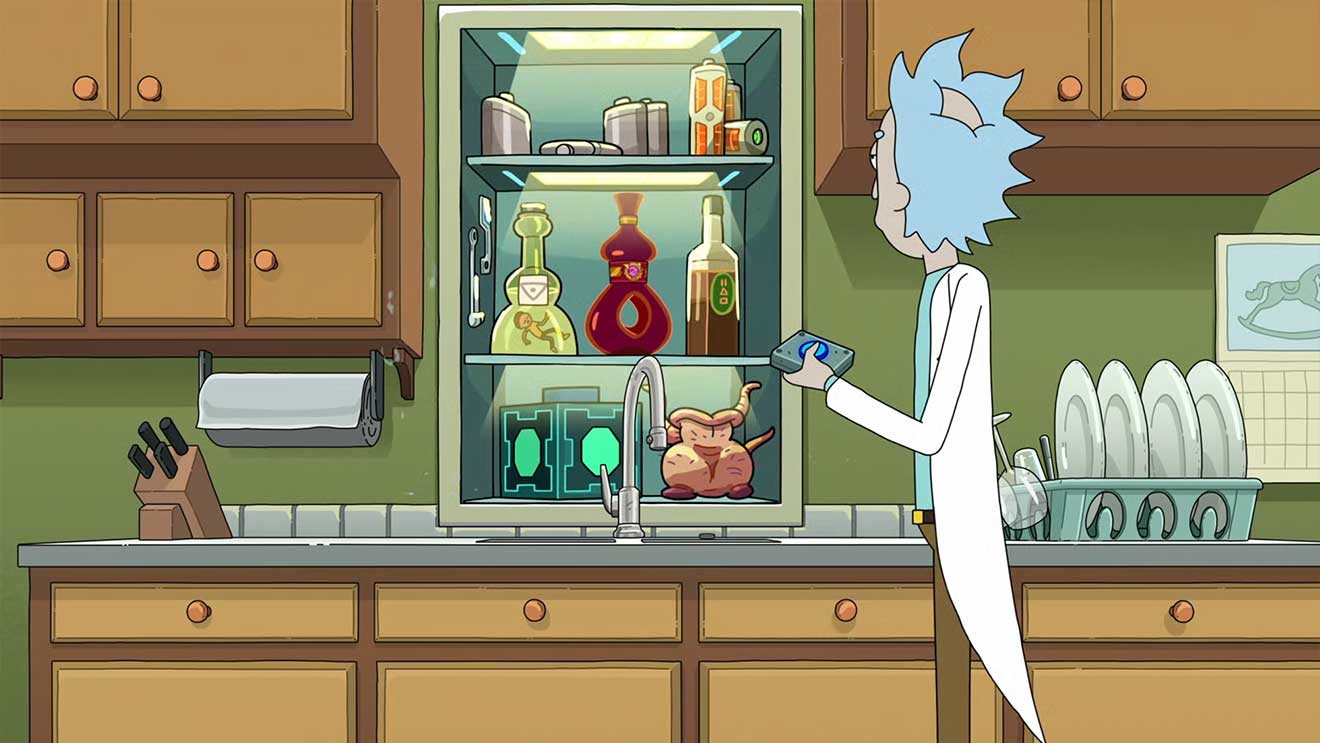 Das war die schwächste der drei bisherigen Folgen und ich kann mir vorstellen, dass viele Leute weitaus größere Probleme mit der Episode haben dürften als ich. Letztlich war "Bethic Twinstinct" eben das, was ich häufig auch mal eingefordert hatte: ein Gegenpol zur sich oftmals selbst überholenden Hektik. Vor allem war die Folge aber wichtig für die Charakter-Beziehungen in der Folge. Mir hat dabei gefallen, dass man diesen Langeweile-Faktor nochmal damit befeuert hat, dass selbst die kleinen Gimmicks zwischendrin und die Nebenhandlung eher unspektakulärer Natur waren. Und doch hat sich die Folge nicht zäh angefühlt sondern schaffte es, kurzweilig und überraschend schnell vorbei zu sein. Dennoch bin ich froh, wenn es nächste Woche wieder etwas mehr zur Sache gehen wird. Und damit hat die Episode dann auch in gewisser Weise ihren Dienst verrichtet, wirkt ausgefallene SciFi-Action hiernach doch gleich eine Stufe besonderer als zuvor.

Bilder: Adult Swim

-->