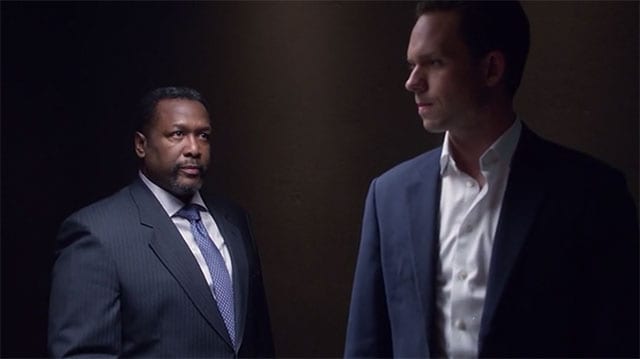 154(!) Tage sind seit dem Midseason-Finale der Staffel vergangen. Mir will es noch immer einfach nicht in den Kopf, wieso die Pausen zwischen den Staffelhälften mittlerweile länger als zwischen den nominellen Staffeln selbst sind. Vermutlich etwas Juristisches, das ich als Laie (und Nicht-Hochstapler) nicht verstehen kann. Jedenfalls hat das Warten jetzt ein Ende und ihr müsst nicht mehr unseren Akten-Supercut in Dauerschleife spielen. Endlich. Endlich ist die Bombe geplatzt und alle, die von Mikes Betrügertum wissen, werden mit in die Explosion gezogen.
Ist Mike nur ein "fake, cocky tough guy"? Zwischenzeitlich denkt er das wohl selbst, als er hoffnungslos am Boden liegt. Das wird auch ganz gut dargestellt.
"In my experience, college boys, even fake ones, don't do well in prison." (Anwältin)
Allerdings kommt dann doch das Offensichtliche durch: Mike kann sich (wenn nicht gerade taktisch unklug) selbst verteidigen und demonstrieren, dass er guter Anwalt ist – ohne wirklich einer zu sein. Wieso er dann aber nicht einfach sagen kann, dass Zane gar nicht sein Anwalt ist, wirkt etwas seltsam. Aber gut, Family Twist, I get it.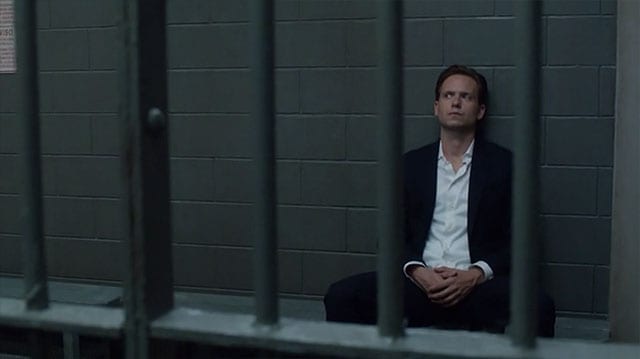 Das kleine "Officer im Knast"-Spielchen war so unglaubwürdig wie überflüssig. Fast so dämlich, wie im Gerichtsraum darüber zu reden, dass man ja "diese andere Sache" zusammen gemacht habe. "Weißt du noch?! Aber psst!!!" – das ist nicht wirklich schlau.
Und dann beginnt die Serie sich mal wieder irgendwie selbst im Rückwirksam-Marathon zu überbieten. Donna ist wieder (übergangsweise) bei Harvey, Harvey wieder (übergangsweise) in der Kanzlei und Mike wieder aus der U-Haft entlassen (hoffentlich nicht übergangsweise). Dabei wirkt es immer seltsam, wenn eine knallharte Anklage und die damit verbundene "Der Kerl kommt hier nie mehr raus!"-Einstellung mirnichts-dirnichts verpufft. Naja, Layered!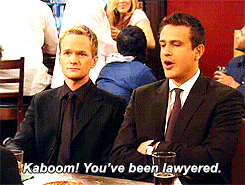 "I'm not Frodo. Once I got the ring of power we all know that it'll consume me." (Louis)
Dann bliebe da noch der Side-Plot mit Louis. Lösung und Blödsinn liegen wie so oft derart nah beieinander wie sein Arschloch- und Freund-Sein. Die Unterredung im Beauty-Palast mit Jessica hat mir jedenfalls gefallen, auch wenn ich Louis' schlammerregte Nippel jetzt nicht unbedingt derart in Nahaufnahme sehen muss.
"Shouldn't you wanna have a quick mud?" – "Maybe next time." – "Really?!" – "No." (Louis & Jessica)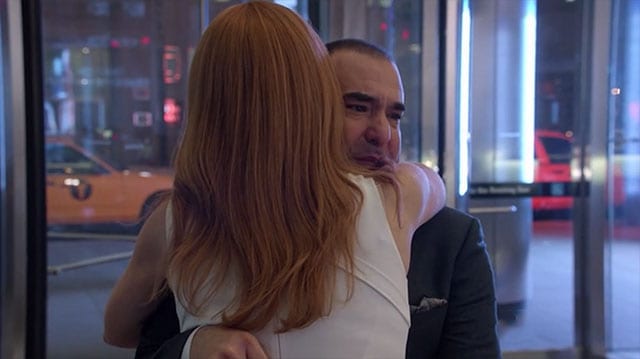 Insgesamt ein durchaus gelungener Auftakt zur zweiten Hälfte. Das Tempo war angenehm hoch, die Figuren hatten alle ihre Sorgen und das Dickicht aus Stricken war realistisch konzipiert. Allerdings müsste man eigentlich gut nachweisen können, dass z.B. Kündigungsschreiben vor dem Arrest Mikes verfasst worden waren (Zeit-Stempel des Drucker-Verlaufs?). Ansonsten bleibt zu hoffen, dass die Serie das Thema nicht zu schnell aufrollt und aufarbeitet. Vermutlich gibt es noch diese Staffel ein Happy End – und das wäre doof. Eigentlich müsste der Big Bang beim Staffel-Finale fallen. Bis dahin darf gerne die komplette bisherige Serie auf den Kopf gestellt werden, um alles zu bereinigen / aufzudecken.

Bilder: USA

-->