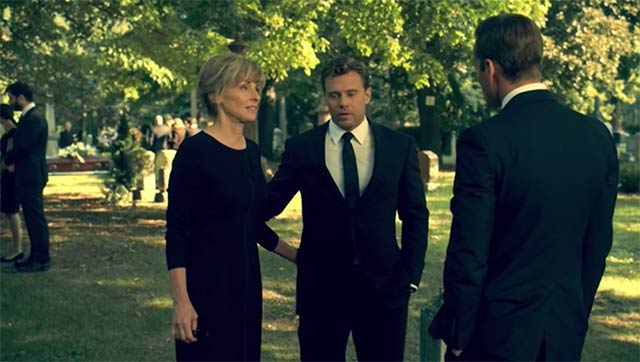 Diese Woche zeigt sich "Suits" mal wieder von guten wie von schlechten Seiten. Dabei gibt es endlich wieder zumindest einen konkreten Fall, es wird aber auch ordentlich auf die Emotionsblase gedrückt. Das wird vor allem bei einem munteren hin und her zwischen "heute" und "vor sieben Jahren" deutlich. Ja, damals war das bedeutungsschwere und doch eher hässliche Bild noch da…
Damals die Beerdigung von Papa, jetzt der Flug zu Mama. Der Background der Figur Harvey Spector wird bis aufs Kleinste aufgebohrt, wobei mir durchaus gefällt, dass er nicht als der Gute dargestellt wird. Wir Zuschauer haben die Wahl, auf wessen Seite wir uns schlagen wollen – verbitterter Sohnemann oder liebende Mutter?
"Do you look just like my big brother – only older, fatter and douchier…?" (Marcus)
Auf jeden Fall gibt es Erdbeerkuchen für alle! Also, gab es – vor sieben Jahren. Das Wechselspiel ist nicht immer ganz ersichtlich (also inhaltlich schon, springt aber etwas viel). Am Ende gibt es Vergebungen von allen Seiten, auch wenn diese nicht jeder hören möchte.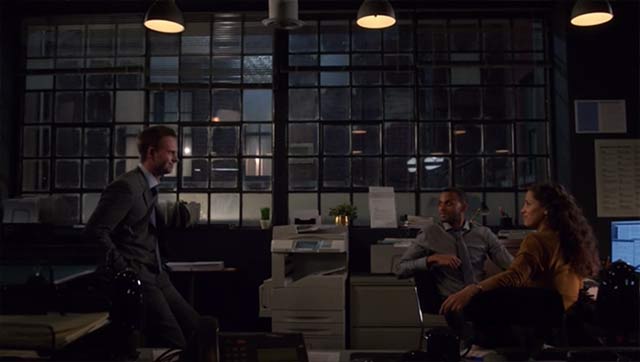 "Nathan?!" – "You remember me?" – "I remember everyone." (Mike & Nathan)
Spannender wird es bei Nathan. Den habe ich tatsächlich vergessen, aber anscheinend ergibt sich nun doch eine Hand voller Charaktere für uns – und endlich wieder konkretes Recht! Wir als Amateur-Justiziare schauen diese Sendung doch eigentlich nur wegen der Paragraphen, am I right?!
Jedenfalls habe ich mit sehr gefreut, dass Mike beim gut aufgelegten Oliver gelandet ist, das dürfte den einen oder anderen unterhaltsamen Dialog ergeben. Aber es ist eben auch Schluss mit Glamour und Multimillionen-Fällen – jetzt geht es z.B. um Mietrecht und all diese alltäglichen Dinge, die wir eher kennen dürften. Ich finde das aber durchaus gut, dass es endlich mal wieder um Fälle und das Zusammenspiel anderer Figuren geht und dieses schier endlose Versinken in Selbstmitleid ein (vorläufiges) Ende hat. Noch traue ich dem Braten ja nicht ganz und befürchte, dass das wie beim früheren Anlage-Job Mikes endet: Wir sehen ein, zwei Figuren für ein, zwei Episoden, dann wird das Kapitel frühzeitig beendet und alles deutet wieder auf "Spector Litt Ross".
"People here don't read the Journal. We read the Huffington Post." (Oliver)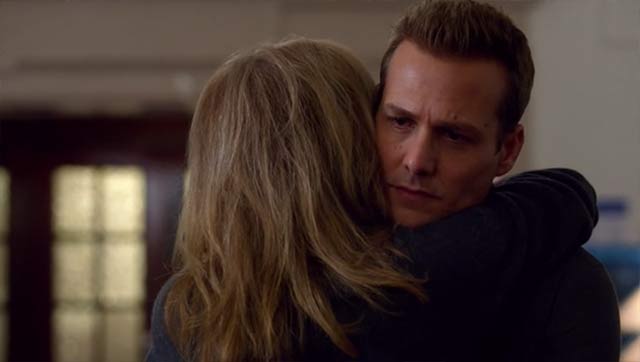 Ach, aber da ist ja noch das Mami-Chapter dieser Episode. Am Ende ist natürlich doch alles gut gelaufen. Mutti hat einen Sohn zurück, der Sohn neben Mutti auch noch ein neues Bild – was will man mehr? Kann jetzt auch bitte endlich wieder richtig losgehen, angeblich gibt es da ja eine Kanzlei, die gerade mächtig Probleme hat. Aber das regelt Louis ja mal eben so nebenbei…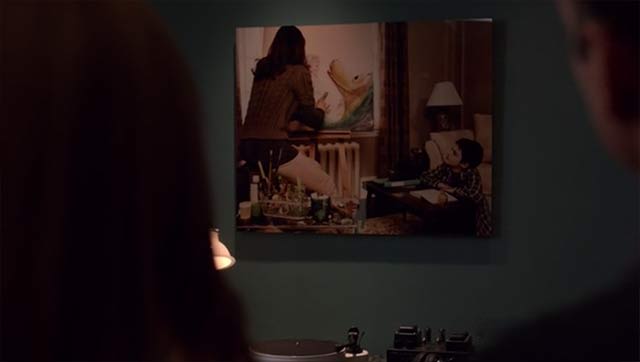 Tatsächlich empfand ich diese Episode auf ähnlichem Niveau wie vergangene Woche. Größtenteils war das okay, auch wenn ich die ganze ach so emotionale Familienzusammenführung auf Dauer arg anstrengend finde. Da wurde wieder etwas aufgebauscht, nur um es binnen einer Folge zu regeln – ein kleiner Exkurs, der die Figur stärken soll, am Ende aber nicht großartig auffällt. Klischee-Behandlung halt. Aber ich freue mich auf die neuen Fälle von Mike und hoffentlich auch wieder souveränes Anwalt-Spielen von Harvey.
Bilder: usa