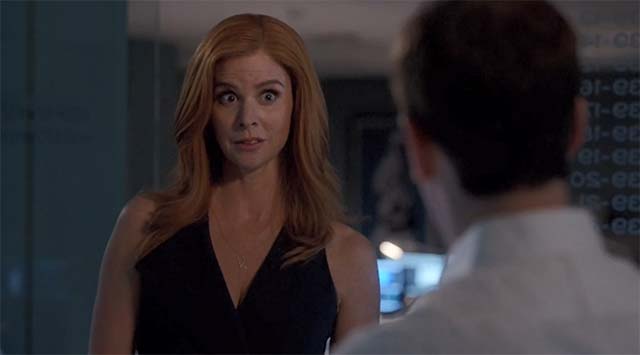 Bei den "Previously Ons" wird mittlerweile wunderbar deutlich, wie oft sich die Serie binnen Folgen, Szenen oder gar einzelnen Sätzen in Windungen und Wendungen dreht. So auch diese Woche wieder, in der leider nicht ganz das Niveau der vorherigen Episoden gehalten werden kann.
"Boom-shakalaka…" (Benjamin)
Mikes Prinzipien und Loyalität stehen ihm im Weg – mal wieder. Harvey hat einen dunkelgrauen Alternativweg parat – mal wieder. Und Mike sagt erstmal "ne", um es dann doch zu machen – mal wieder…
"No. No one's ever holding all the cards. I don't give a damn what Mike says, I am not folding." (Harvey)
Louis hat mit der verteidigten B-Besetzung einen Kunden verloren. Dafür muss er einen alten Hacker-Nicht-Buddy kontaktieren. Rachel wird auch noch reingezogen und am Ende versucht eine gane Kanzlei ihren Ex-Schößling in den Anwaltsstatus zu betrügen. Louis hat tatsächlich mal Recht, dass da das Schicksal einer Firma aufs Spiel gesetzt wird. Aber dafür gab es einen netten "Ich sitz hier ne Stunde rum und warte auf mein Stichwort"-Auftritt von Harvey im Hotel zu sehen (in der Szene, in der sich die zuletzt eher mimimi-weinerlich-zögernde Rachel plötzlich total tough zeigt, hm…).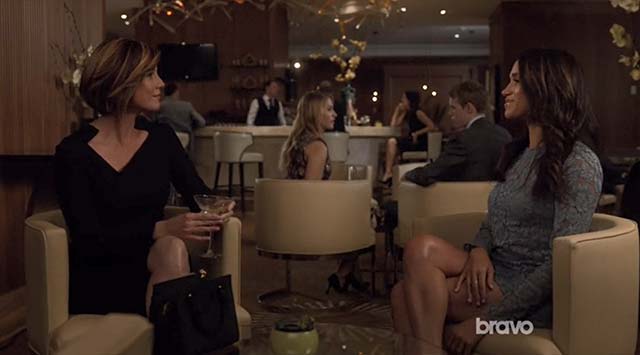 "You know what they are saying: you don't pay the plumber to bang against the pipes…" – "You pay him to know where to bang…" – "Yahtzee!" (Hacker & Harvey)
Donna trifft derweil tatsächlich nochmal Stew, obwohl er gar nicht mehr im gleichen Gebäude arbeitet – verrückt. Es gibt also doch eine erweiterte Suits-Welt abseits der paar Hauptfiguren. Donna spielt ihre Superkräfte ein bisschen aus, um beim Pitch zu punkten. Trotz ein paar netten Tricks muss sie aber einsehen, dass ihr Chef deutlich mehr Einfluss auf ihr Leben hat, als ihr lieb ist. Mich wundert aber, wieso sie nicht einfach weitere Meetings abhält?!
"Lucky for us, she isn't just pretty, she's a hell of a bookkeeper." (Harvey)
Schöne Abschluss-Szene mit den Sprüche-klopfenden und Whiskey-trinkenden Jungs. Wobei, so ganz war es gar nicht der Abschluss. Eine überspielte und herunterziehende Beichte zerstört leider ein wenig die Stimmung…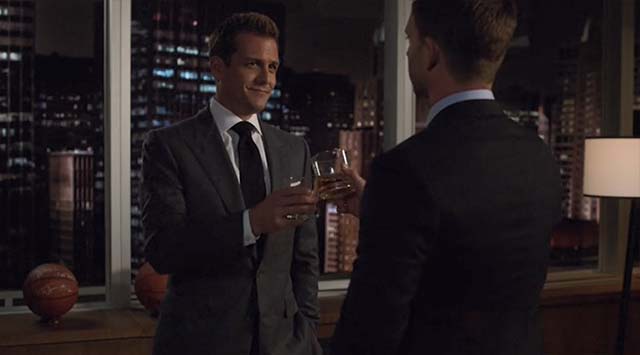 Fühlte sich langwieriger an, nicht mehr ganz so griffig wie zuletzt. Dennoch eine Episode, die ihre starken Momente und Sätze hatte. Insgesamt suhlt man sich aber erneut in der Rezeptur alter Tage. Es wird spannend sein zu sehen, wie sie das diese Woche folgende Staffelfinale aufziehen werden. Mike als Anwalt oder der große Twist, der alles kaputt macht? Wetten werden noch angenommen…
Bilder: bravo