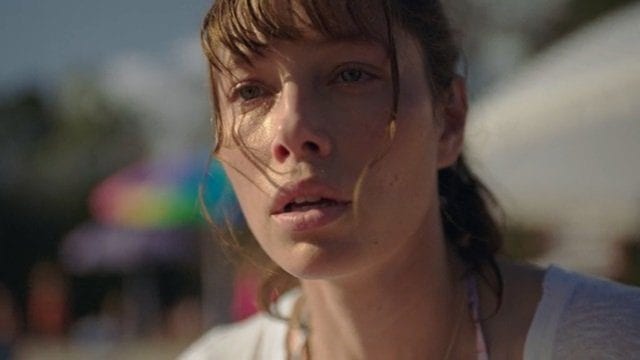 Ein wunderschöner, sonniger Tag. Mit Mann und Sohn ab an den Strand, durch das seichte Wasser schwimmen, den Handtuchnachbarn beim Rumblödeln und Musikhören zusehen und dann das Messer schnappen, mit dem gerade noch das Obst für das Kind aufgeschnitten wurde und den Handtuchnachbarn vor den Augen seiner Freundin erstechen. Das Messer nicht ein Mal, sondern immer und immer wieder in den Körper des Mannes fahrend, bis er in den Armen seiner Freunde verblutet.
Als die Polizei am Tatort eintrifft, ist eigentlich alles klar: Es gibt genug Augenzeugen und ein Geständnis der Täterin Cora Tannetti (Jessica Biel) selbst, dass sie den Mann am Strand umgebracht hat. Doch niemand weiß, warum sie es getan hat. Cora ist der klassische Fall des "damit hat niemand gerechnet, sie war doch immer so normal". Doch schon in den ersten Minuten von The Sinner wird klar, dass es hier einiges gibt, das wir (noch?) nicht wissen.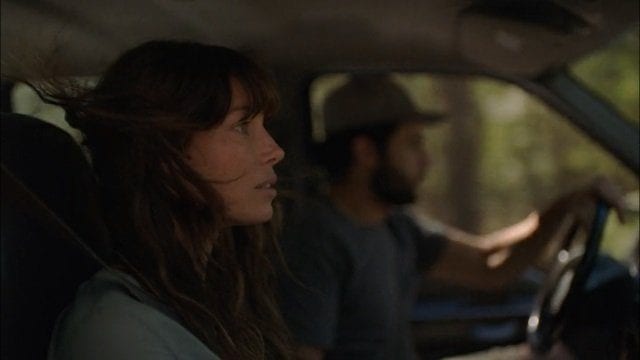 Zunächst einmal werden wir, wie es für den Auftakt einer neuen Serie üblich ist, in Cora Tannettis Leben eingeführt. Sie arbeitet in dem Unternehmen der Familie ihres Ehemannes Mason (Christopher Abbott), wie dieser und sein Vater auch, während seine Mutter tagsüber auf Coras und Masons Sohn Laine aufpasst. Masons Familie scheint an einem sehr großen Teil ihres Lebens teilzuhaben. Dieser schafft es nicht mal – zum Missfallen von Cora – seinen Eltern auch nur für ein gemeinsames Abendessen abzusagen. Dafür setzt Masons Mutter dann auch noch ihre eigenen Erziehungsmethoden bei Laine durch. Aber das scheint gar nicht das (größte) Problem zu sein.
Die Kamera bringt uns schon in den ersten Minuten so nah an Cora heran, dass uns ihre Gefühlswelt nicht entgehen kann. Sie wirkt ständig abwesend, als wäre sie mit den Gedanken ganz woanders, in Erinnerungen, der Vergangenheit, als würde sie etwas verarbeiten und mit sich selbst kämpfen, sich auf die Gegenwart zu konzentrieren und im Hier und Jetzt zu leben.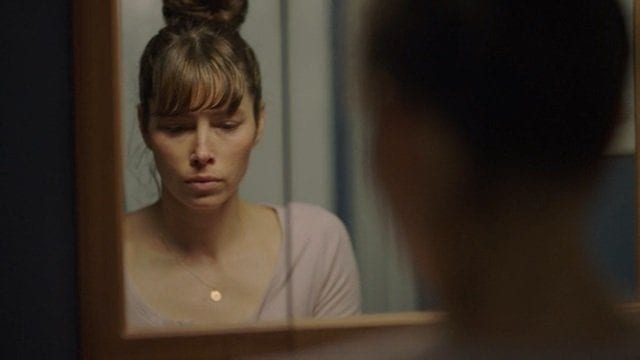 Wir sehen, dass sie vor dem Schlafengehen Medikamente nimmt, dass sie sich nur schwer auf die körperlichen Annäherungen ihres Mannes einlassen kann und einem fast schon zwanghaften Drang zu Ordnung und Sauberkeit nachgeht. Von der ersten Minute an baut sich die Spannung auf, spüren wir Coras Anspannung, versuchen wir als Zuschauer zu ergründen, was in ihr vorgeht – noch bevor sie zu der schrecklichen Tat schreitet, die für alle, selbst sie überraschend kommt.
"Get it filed!"
Die Polizei will die Ermittlungen schnell einstellen, denn für die Inhaftierung Coras ist alles klar. Doch Kommissar Harry Ambrose (Bill Pullman) möchte mehr herausfinden über diese Frau und die Gründe ihrer Tat, die selbst sie nicht zu kennen scheint.
"I have never met him before in my life. […]" – Cora
"Then why kill him?" – Dan Leroy
"'Cause they were playing that music, and they kept turning it up." – Cora
Kann tatsächlich ein Song ihre Reaktion hervorgerufen haben? Kannte sie den Mann doch? Wollte sie seine Freundin beschützen – vor ihm? Welche Verbindung besteht hier, die weit in der Vergangenheit liegt? Diesen Fragen nähert sich Ambrose schon in der Auftaktfolge langsam, während wir Zuschauer durch Rückblicke in Coras Vergangenheit den Fall von einer anderen Seite aufrollen – oder aber gehörig auf die falsche Fährte geführt werden.
Obwohl es vom Stil der Serie her doch in eine ganz andere Richtung geht, erinnert mich The Sinner im ersten Moment nach dem Seherlebnis stark an HBOs The Night of – größter Unterschied ist jedoch, dass wir dort nicht wussten, ob der vermeintliche Täter die Tat tatsächlich getan hat (Tatatatata) und wie sehr wir mit ihm mitfühlen, seiner Figur vertrauen dürfen. Hier ist ja eigentlich alles klar – und dennoch überhaupt nicht.
Mir hat der Auftakt des Thriller-Dramas ziemlich gut gefallen. Die Kamera, die uns zahlreiche Male im Close up an Jessica Biels Gesicht führt, lässt uns keine andere Möglichkeit, als uns mit ihr zu identifizieren, mit ihr mitzufühlen, die Tränen zu verfolgen, wie sie langsam aus ihren leeren Augen austreten und von ihrem grauen Pulli aufgesogen werden. Wir nehmen immer wieder ihre Perspektive ein und überschlagen uns im Chaos der Tat, sehen die Tapete auf uns zurasen, werden von der dröhnenden Musik betäubt – übrigens von einem tollen Song, dem Auslöser, an dem noch einiges hängen wird: "Huggin & Kissin" von Big Black Delta.
Nicht nur Jessica Biel beweist ihre Schauspielkünste, auch die Nebencharaktere, allen voran Bill Pullman und Christopher Abbott, werden tiefer gezeichnet, was hoffentlich noch im Verlauf der Staffel fortschreiten wird. The Sinner, Part I, regt zum Grübeln an und dazu, herausfinden zu wollen, wie es weitergeht.
"It was like she was someone else."
Ich hoffe nur, dass die Auflösung mehr ist als das, was gerade als erste Theorie sehr nahe liegt: Coras familiäre Vergangenheit war schwierig, Religion spielt eine große Rolle, sie wurde missbraucht, als der Song lief und hat die Ereignisse verdrängt, die aber noch immer tief in ihr schlummern und darauf warten, verarbeitet zu werden. Bitte lass es mehr als das sein.
Ich bin gespannt, ob uns die Serie so stark in ihren Bann ziehen kann, wie es das tolle Intro verspricht.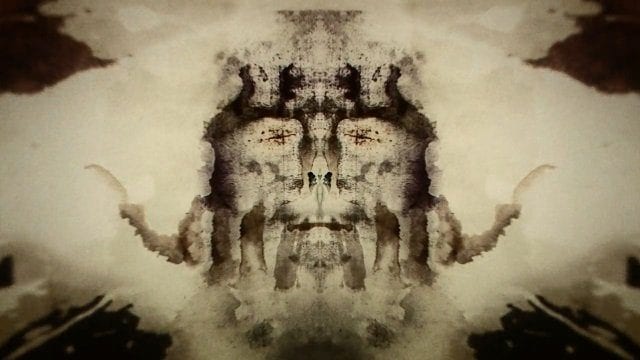 Bilder: Netflix