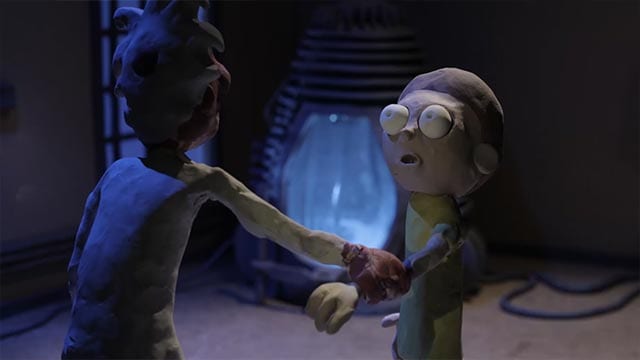 Wenn es nach mir geht, hätte adult swim lieber die Energie und Moneten zur Erstellung dieser Stopmotion-Videos in ein schnelleres Realisieren der 3. Staffel von "Rick and Morty" investieren können. Kann die bitte endlich mal losgehen?!
Wer wie ich so langsam verrückt wird, ob der ausstehenden neuen Folgen (oder zumindest einem Starttermin), der kann sich mit "Rick and Morty The Non-Canonical Adventures" zumindest etwas vertrösten. Kleine Knet-Stopmotion-Nachbildungen von "Halloween", "The Fly", "Ex Machina" oder auch dem Schlimmsten von allen: "Liebling, ich habe die Kinder geschrumpft". Horror pur!
via: Marco, der zur Monatsmitte auch noch Horrormäßig Knete hat.