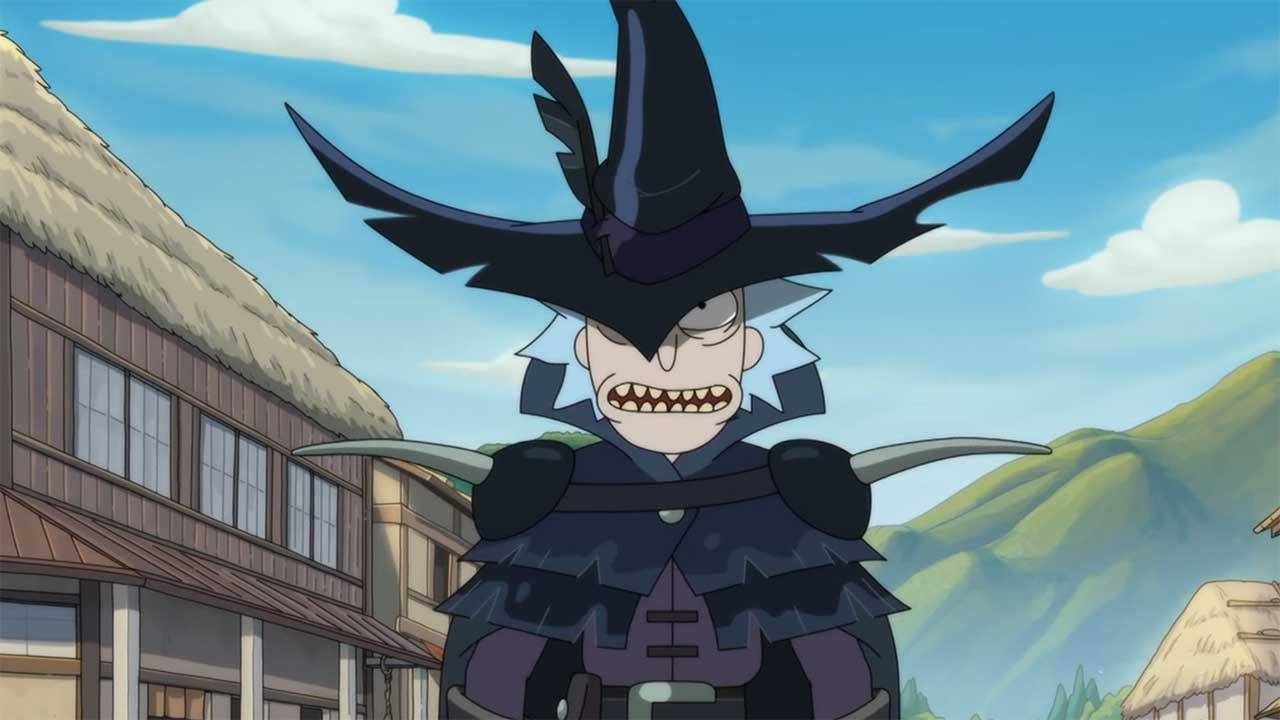 Neben der Beziehungs-Krisen-Folge wurde in der Nacht zu heute auch die allerletzte Folge der fünften Staffel "Rick and Morty" ausgestrahlt. Äh, ich meine, die erste Folge von "Rick and Two Crows"! Denn "The Crow-Man" ist da und hat seinen eigenen im Anime-Stil gehaltenen Vorspann erhalten – sehr coole Idee!
Doch das Abenteuer in noch coolerer schwarzer Montur hält nur kurz. Einen doch recht billigen "Twist" später hat Rick den Gefallen an der Raben-Thematik verloren. Wobei, vermeintlich soll diese Phase ja 26 Jahre gedauert haben, wie uns der in die Jahre gekommene Morty weismachen möchte.
"He's like his old man!" (Jerry)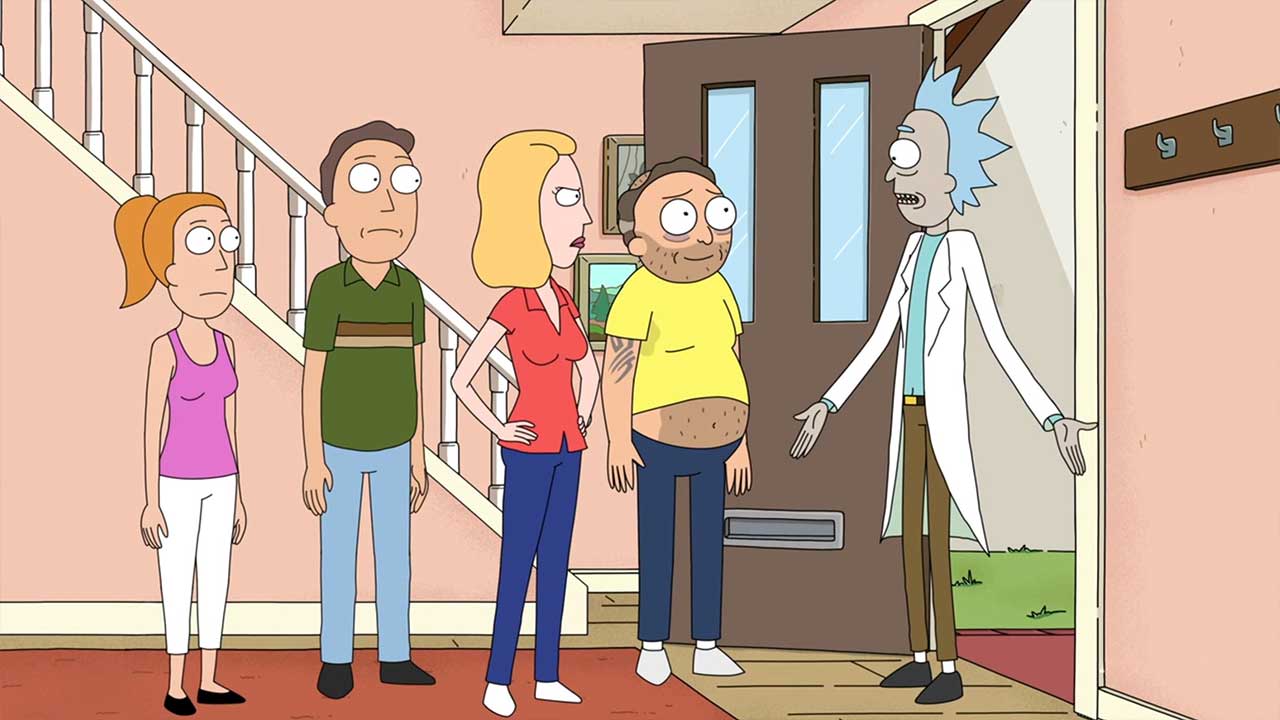 Aber nein, Morty hat sich nur altern lassen und dass die Folge ein gebührendes Finale werden würde, wusste man dann auch, als eine Reise zur Citadel angekündigt worden ist. Uhhh, es kribbelt….
"Right, no drama, keep it episodic." (Morty-Präsident)
Die dort vollzogene Alters-Reduktion mit dem 27-jährigen Morty war super und hat ganz nebenbei nochmals die Anfang der Staffel aufgegriffene Polizeigewalt-Problematik aufgegriffen. Was kurz angeteasert wurde, soll dann (ENDLICH!) offengelegt werden: Rick hat den Ort gemacht oder war zumindest mit dafür verantwortlich.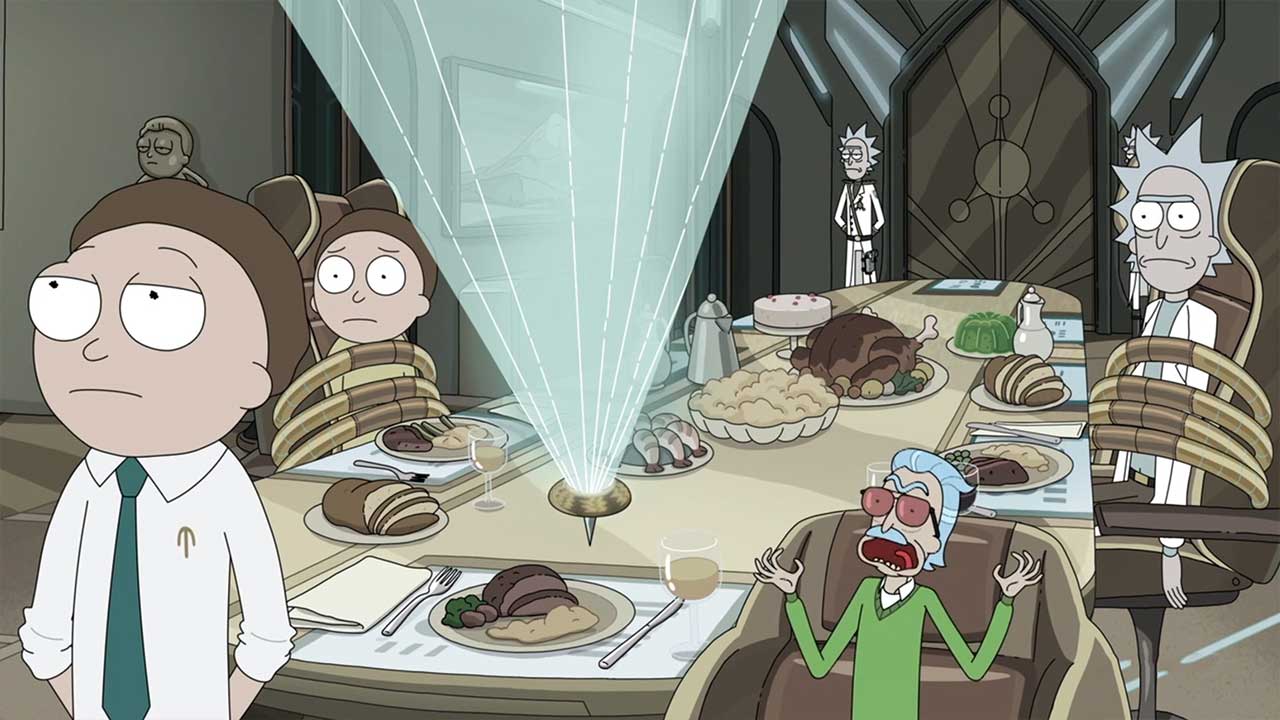 Die kleine Stan-Lee-Hommage hat mir genauso wie die Bezeichnung "Rickheads" sehr gefallen. Und ganz nebenbei die Arbeit erleichtert, denn so war direkt klar, in welcher Folge (S01E09) die Planungen angeschoben worden sind. Im "Inside the Episode" haben die Macher zugegeben, die Anfänge nochmal genauestens studiert zu haben, um diesen aufgeschobenen Handlungspunkt möglichst gut unterfüttert zu bekommen. In der Evil-Rick-Folge, als Evil-Morty erstmals aufgetaucht war, hat dieser also bereits damit begonnen, die Erinnerungen Ricks zu kopieren.
"Tonight, the quality of dialogue stops mattering. Tonight, I do that thing I wanna do, with the curve thing." (Evil Morty)
Nachdem die Massenfertigung von zugezüchteten Mortys offenbart worden ist und ein Kapitalismus-Blob (WTF?!) zum Einsatz kam, ging es dann wirklich ans Eingemachte.
"I'm basically Inspector Gadget." (Rick)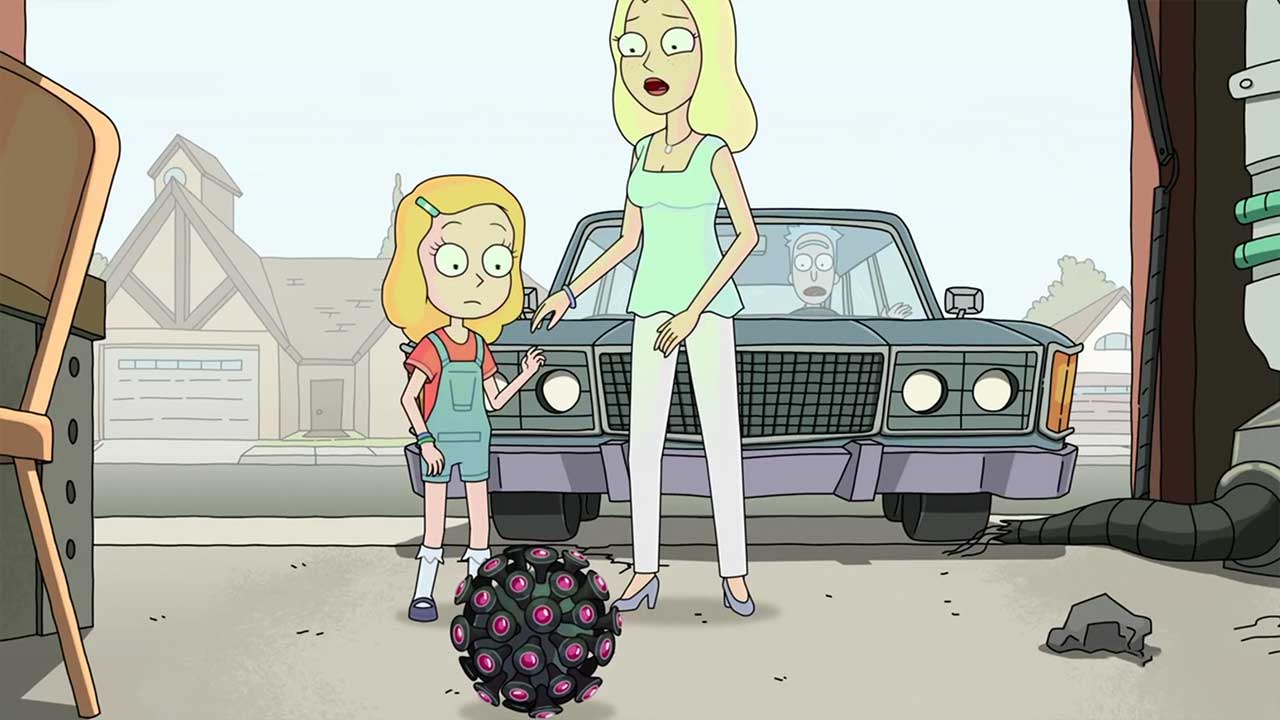 Was die komplette Staffel über immer wieder angeteasert worden war, sollte nun offengelegt werden: Ricks Backstory. Eine von einem anderen Rick durch ein Portal geworfene Bombe hat seine Frau und die junge Beth getötet. Wir sehen Sequenzen, die die weitere Geschichte Ricks zeigen. Angetrieben von Rache entwickelt Rick seine eigene Portal Gun, schenkt uns einen kleinen Ausflug zum Pizza-Planeten, wo große Telefone kleine Hände in Händen halten (hach!), und bringt vor allem massenhaft Ricks um. In Gleichgültigkeit und Alkohol versinkend stimmt er Plänen der Citadel-Erbauung zu und hängt so in gewisser Weise drin im Netz der Morty-Ausbeutung.
"Woah, dead wife?" – "Yes. Now everyone can shut up about it!" (Morty & Rick)
Spätestens beim wohlgetakteten Evil-Morty-Song war es dann um mich geschehen. Die Entwicklungen überschlagen sich, unser Rick-und-Morty-Paar kommt aber durch eine vielleicht etwas plump inszenierte Kooperation aus dem Schlamassel, sitzt aber mit einer Horde Gollum-Mortys und ohne Portal-Flüssigkeit fest. Evil Morty dagegen hat sich mit einer Raumkapsel (plus WC-Sitz!) aus der unendlichen Morty-Versklavungs-Kette befreien können und ist vielsagend durch ein gelbes Portal gesprungen. Die Frage zurücklassend, ob er eigentlich wirklich "evil" ist oder lediglich das wahrhaft böse Rick-System hat zerstören und daraus flüchten können? Oder um es mit den traurigen Worten von Mr. Poopybutthole zu sagen: Uhhh-weee…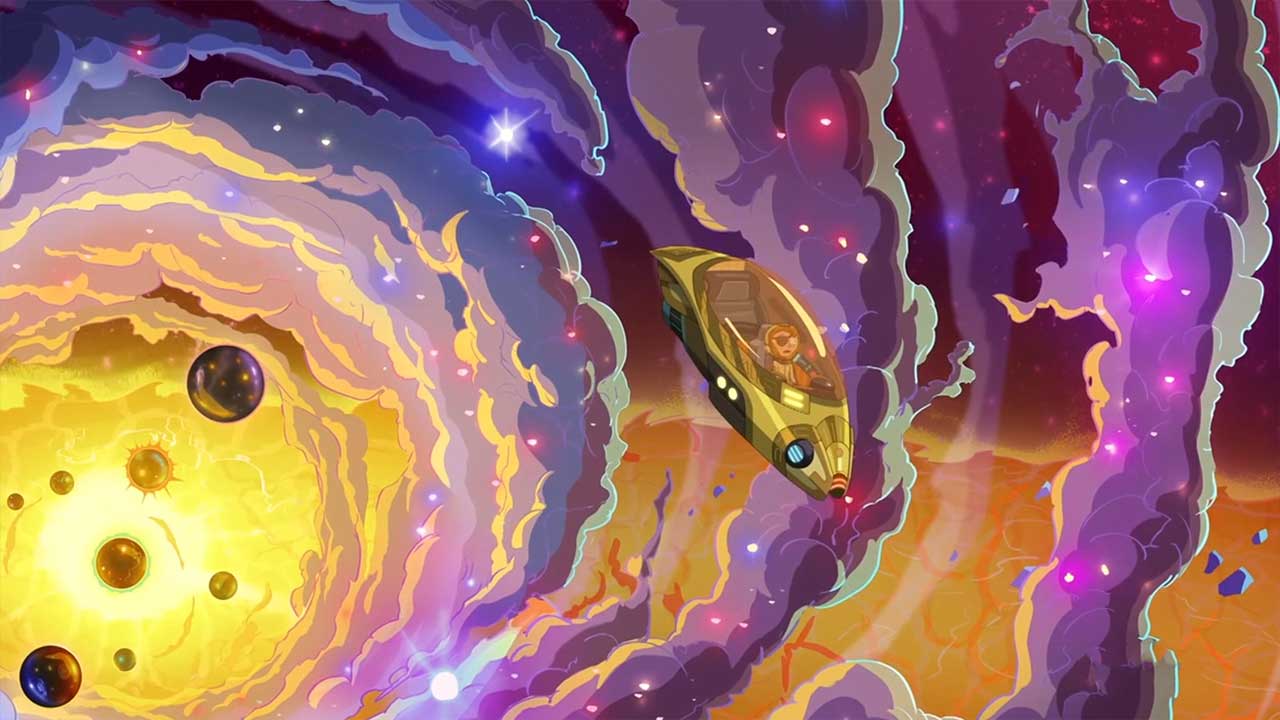 Uff. Das hat gesessen. Ein würdiges Staffelfinale hat eine Entwicklung offengelegt, auf die die Fans eine ganze Weile warten mussten. Nicht nur ist Evil Morty wieder da, er hat auch endlich seinen Plan offengelegt und durchgeführt, ganz nebenbei auch noch ordentlich an der Perspektive gerüttelt und uns Dinge zum Nachdenken mitgegeben. Dazu die Backstory Ricks, die neben Charakter-Tiefe auch gekonnt Kontext für die finale Entwicklung geliefert hat. Dazu waren die Dialoge on point, die Zeichnungen sind (vor allem, wenn man nochmal Episode Neun aus Staffel Eins anschaut…) so detailliert und flüssig geworden, das war schon alles ziemlich hohe Qualität. Einzig die etwas unnötige Überlappung aus der Vorfolge sowie ein paar Kleinigkeiten haben meiner Meinung nach eine perfekte Folge zunichte gemacht. Da hat mir die letzte Citadel-Folge dann doch noch einen Deut besser gefallen. Dennoch war das verdammt großes Fernsehen und ich bin sehr gespannt, wie man diesen Wendepunkt in der Geschichte der Serie fortschreiben wird.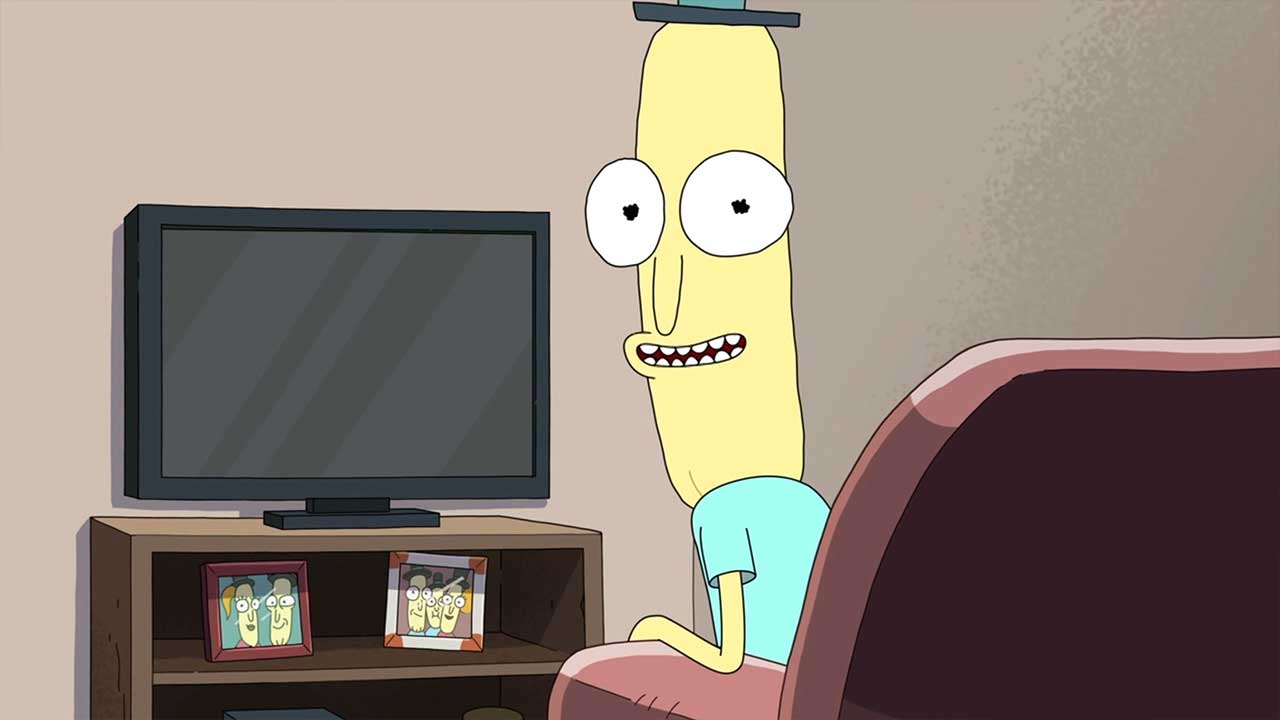 Bilder: Adult Swim

-->