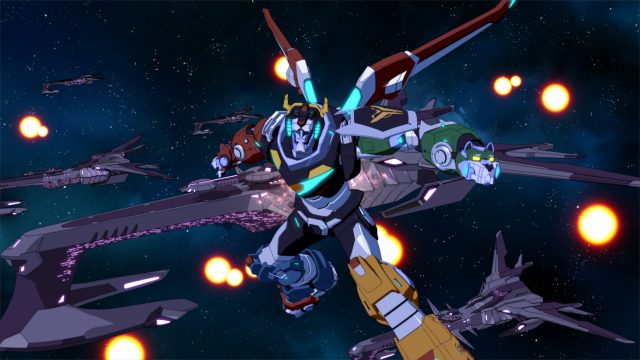 In der Neuauflage der Anime-Serie Voltron: Defender of the Universe aus den 1980ern, schließen sich fünf Raumforscher zusammen, um den mächtigen Robotor Voltron im Kampf gegen das Böse zu formen.
Darum geht's
Seit Jahrhunderten beutet das Imperium der Galra unter Herrschaft von König Zarkon andere Planeten und ihre Zivilisationen aus. Der Einzige, der sich den Galra in den Weg stellt ist Voltron – ein aus fünf mechanischen Löwen zusammengeschlossener Roboter, der von sogenannten Paladinen gesteuert wird.
Allura, die Bewahrerin der Mächte des Planeten Altea, hält die Kräfte der Löwen bei sich, bis zu jenem Tag, an dem sie fünf unterschiedliche Weltraumpiloten von der Erde auserwählt, um in die Schlacht gegen den schurkischen König Zarkon zu ziehen.
Shiro steuert den schwarzen Löwen und ist der Anführer und kampferfahrenste der Truppe. Der rote Löwe wird von Einzelgänger Keith gesteuert. Der lustige Frauenheld Lance bedient den blauen Löwen. Das technische Genie Pidge, die sich anfangs noch als Junge ausgibt, führt den grünen Löwen an. Der letzte im Bunde ist der pummelige und liebenswerte Hunk, der sich des gelben Löwen angenommen hat.
Das ist so toll daran
Für mich zählt Voltron – Legendary Defender zu einer der besten Animations-Serien auf Netflix. Das starke Ergebnis von 93 % bei Rotten Tomatoes legt nahe, dass ich nicht alleine der Ansicht bin.
Die Serie atmet den Geist ihrer Vorlage und reichert sie um eine gelungene Story an. Dabei nimmt sie sich Zeit zur Entwicklung ihrer Figuren, erklärt Hintergründe und wiederholt nicht stupide in jeder Folge die Formation von Voltron mit ein und derselben Animation, wie es in den 1980ern noch üblich war.
"Activate interlock…dynotherms connected…mega thrusters are go!"
Nicht in jeder Folge taucht der Riesenrobotor auf, stattdessen stehen auch mal einzelne Figuren oder Figurenkonstellationen im Fokus. Gerade zu Anfangs, wenn die Charaktere sich erst annähern und den Umgang im Team erlernen müssen. Außerdem hält ein übergeordneter Handlungsstrang den Zuschauer am Ball.
Mir gefallen insbesondere die wundervollen und ausdrucksstarken Animationen, sowie die beeindruckende Action. Der Zeichenstil ist von Anime-Elementen inspiriert und wird um bestechende CGI Animationen erweitert. Die Farben wirken prächtig und lassen den Zuschauer in atemberaubende Welten eintauchen, wie man sie auch in SciFi-Filmen wie Star Wars, Guardians of the Galaxy oder Avatar antrifft.
Nachdem die dritte Staffel mit Prinz Lotor einen neuen Schurken bot, bin ich gespannt, wie es nun in der vierten Staffel weitergeht. Der Trailer dazu verspricht wieder jede Menge kurzweiligen Spaß für Zwischendurch und coole Action.
Dreamworks plant insgesamt 78 Episoden mit dem galaktischen Verteidiger, d.h. der Kampf gegen das Imperium geht noch ein Weilchen weiter.
Voltron – Legendary Defender Staffel 1 bis 3 ist auf Netflix verfügbar, Staffel 4 folgt am 13. Oktober.
Bilder: Netflix