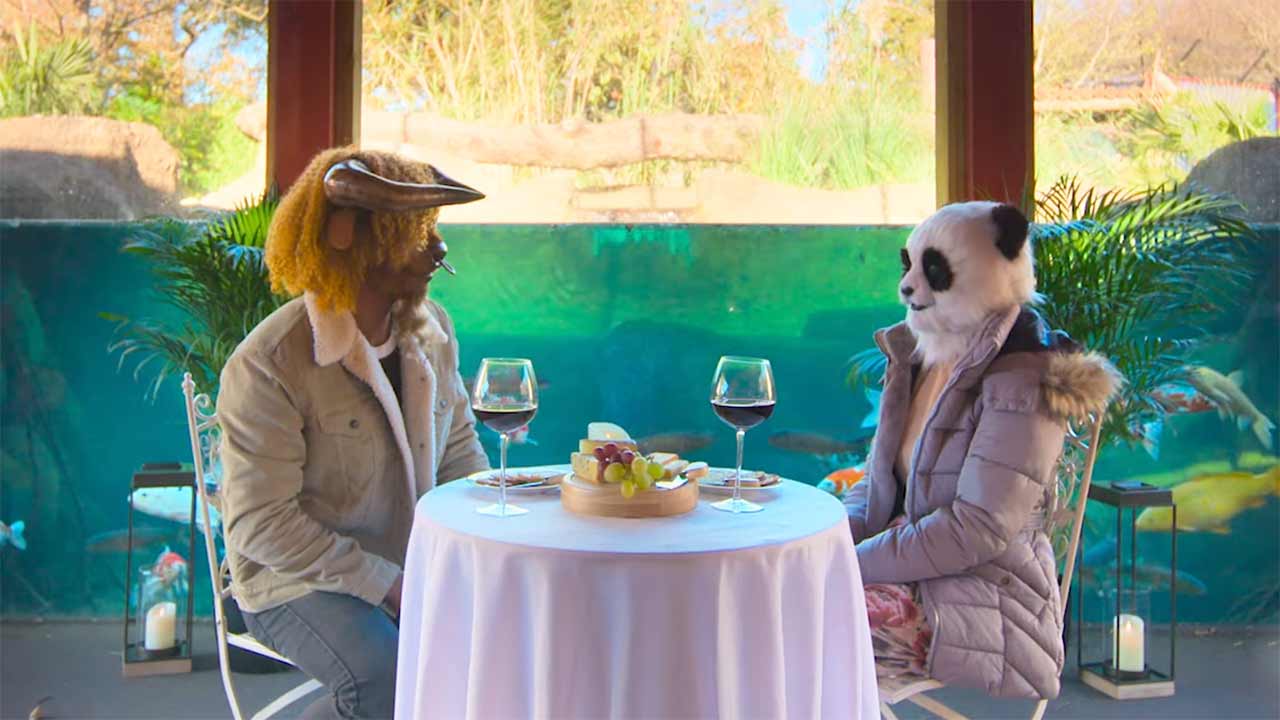 "Sexy Beasts" – da klingelt doch was? Ja, irgendwann im spätabendlichen Zapping-Wahn, auf der Suche nach etwas Sehbarem, waren mein Lieblingsmädchen und ich über diesen Titel gestolpert. Ich glaube, das war ein Teaser auf sixx, der unser Interesse geweckt hatte, aber kurz drauf war der Drang, das mal anzuschauen, auch schon wieder verflogen. Aus den Augen, aus dem Sinn. Denn ja, "Sexy Beasts" ist nichts Neues. Bereits 2014 haben in Großbritannien maskierte Menschen die Liebe gesucht. Frei nach dem Motto "es kommt auf den Charakter an" wurde das Äußere verhüllt. Zumindest das Gesicht, Größe und Statur blieben größtenteils ersichtlich. Also alles ein bisschen wie "The Masked Singer", nur halt mit Reden. "The Masked Dater" also!
2015 wurde das Format bereits (für vier Folgen) in den USA und gar hierzulande auf Deutsch adaptiert. Dass niemand von uns so wirklich was davon mitbekommen hat und es lediglich bei zehn produzierten Folgen blieb, dürfte zeigen, dass man da nicht viel Erfolg mit hatte (oder zu wenig Geld, um das ordentlich zu pushen). Denn Potenzial steckt da schon hinter, das finde nicht nur ich, sondern auch Netflix. Die haben sich nämlich Produktionsrechte geschnappt und legen die Show neu auf. Hier der heute veröffentlichte Trailer zum nicht nur für Maskenbildner:innen interessanten Reality-Format.
"Hoping to say goodbye to superficial dating, real-life singles sport elaborate makeup and prosthetics to put true blind-date chemistry to the test."
Netflix hat direkt zwei Staffeln geordert, in denen wir insgesamt 48 Kreaturen-Designs zu sehen bekommen sollen. Je Episode datet ein Single drei andere Personen, wobei allesamt aufwendig geschminkt sind. Bis zur Unkenntlichkeit. Simon Welton, Erfinder des Show-Formates, sagt zur Netflix-Adaption:
"Making 'Sexy Beasts' for Netflix has been an incredibly exciting process. With an international cast featuring some truly brilliant characters, a host of prosthetics which look extraordinary in 4K and with Rob Delaney narrating, the viewers are in for a real treat. I hope the show puts a smile on peoples' faces as they play along to discover who'll fall in love with who, and what our cast all really look like." (Quelle)
Die Netflix-Neuauflage zu "Sexy Beasts" kann man dann ab Mittwoch, dem 21. Juli 2021, über Netflix sehen (bisher ist alles nur auf Englisch verfügbar, ich nehme aber an, dass das auch für Deutschland gelten wird).
Einige der alten Folgen von der britischen bzw. deutschen Variante von "Sexy Beasts" gibt es aktuell noch auf sixx zu sehen (online und im linearen Fernsehen).