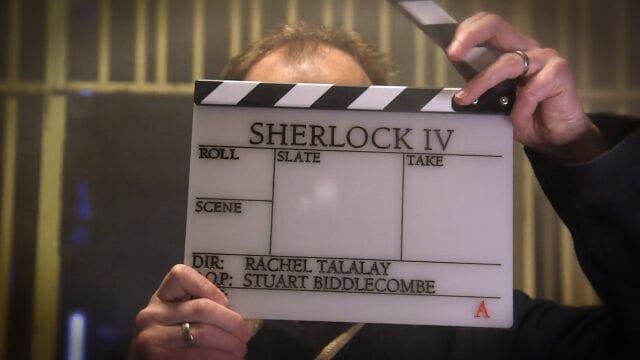 Erst gestern hat Tobias berichtet, dass die Dreharbeiten zur 4. Staffel Sherlock gestartet sind: Anhand diverser Fanpics, die auf allen möglichen sozialen Netzwerken unter dem Hashtag #setlock zu finden sind, haben wir schon die ersten Eindrücke vom Set der aktuellen Staffel sammeln können. Nun hat Mark Gatiss, Produzent, Autor und Darsteller der Serie Sherlock, auf dem Sherlock-Twitter-Kanal ein knapp 10-sekündiges Teaservideo veröffentlicht, das zeigt, wie er zum Auftakt der Dreharbeiten die Filmklappe schlägt.
It begins… Filming for series 4 is underway! #221Back @markgatisshttps://t.co/QeAiD1nza0

— Sherlock (@Sherlock221B) 6. April 2016
"Sherlock series four — here we go again! Whatever else we do, wherever we all go, all roads lead back to Baker Street — and it always feels like coming home. Ghosts of the past are rising in the lives of Sherlock Holmes and John Watson bringing adventure, romance and terror in their wake. This is the story we've been telling from the beginning and it's about to reach its climax." – Steven Moffat und Mark Gatiss
Doch nicht nur der Drehbeginn der Serie ist "newsworthy" – die Filmklappe verrät uns nämlich noch mehr: Regie wird in der kommenden Staffel (zumindest bei der ersten Folge) Rachel Talalay führen – damit ist sie die erste weibliche Regisseurin dieser Serie. Und Talalay kommt nicht ganz plötzlich aus dem Boden geschossen. Sie hat bereits zahlreiche Male als Regisseurin für einzelne Folgen namhafter Serien fungiert: Doctor Who, The Flash und Legends of Tomorrow, aber auch Reign, Supernatural und Ally McBeal tauchen in Talalays Portfolio auf.
Dass eine Frau Regie führt, ist leider immer noch nicht "gängig" im Filmbusiness. Laut DGA (Director's Guild of America) Diversity Report haben Frauen in der TV-Saison 2014-2015 bei lediglich 16% aller entstandenen Episoden Regie geführt – und das war schon eine deutliche Steigerung zum Vorjahr. Wir erinnern uns nur an die Oscar-Debatte dieses Jahr, in der es nicht nur um Diversität bezüglich der Hautfarbe Filmschaffender ging. Auch die fehlende Chance für Frauen, bei Filmen Regie zu führen, war ein Aspekt der großen Diskussion – der ebenso wenig klein geredet werden darf und viel größerer Aufmerksamkeit bedarf.
Genau genommen ist Talalay aber auch gar nicht die erste Frau, die bei Sherlock Regie führt. Dieser Fall macht die Situation aber nicht unbedingt besser: Für die erste Version der Pilotfolge, die nur auf DVD veröffentlicht wurde, ist Regisseurin Coky Giedroyc verantwortlich. Die BBC hatte sich aber kurzerhand entschieden, die 60-Minuten-Folge gegen die uns bekannte Episode in Spielfilmlänge einzutauschen bzw. neu drehen zu lassen – und damit auch Giedroyc gegen den männlichen Regisseur Paul McGuigan auszutauschen. Warum? Das weiß keiner so genau.
Umso schöner ist es, dass bei Sherlock nun wieder eine Frau auf dem Regiestuhl sitzen darf. Und die 4. Staffel wird sicherlich großartig! Wann sie ausgestrahlt werden wird, steht noch nicht fest. Spekuliert wird über eine Veröffentlichung am 1. Januar 2017. Und nicht nur wir sind gespannt und aufgeregt und begeistert, dass Sherlock zurück ist. Auch Benedict Cumberbatch freut sich, seine Rolle als "high functioning sociopath" wieder aufleben zu lassen.
"I'm genuinely thrilled to be back filming Sherlock with all the cast and crew. I can't wait for everyone to see season four. But you will have to wait … though not for long. … And it will be worth it." – Benedict Cumberbatch
via: Vulture Bild: Twitter

-->