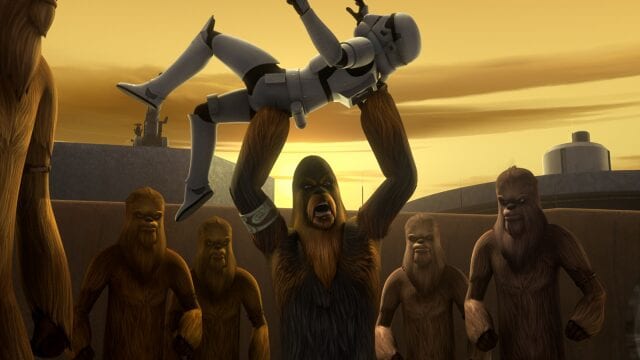 Vor kurzem lief die letzte Folge der ersten Staffel von Star Wars Rebels im Free-TV im Disney Channel. Die ersten Einblicke in die zweite Staffel haben wir Euch ja schon gewährt, unter anderem mit einem allgemeinen Trailer und mit einem Ausschnitt aus der Folge "Belagerung von Lothal", die den Auftakt der zweiten Staffel bilden wird.
Jetzt ist klar: Am 28. August wird Disney XD die zweiteilige Folge – von Disney als 44-minütiges Special angekündigt – ausstrahlen. Leider geht's danach nicht direkt mit den weiteren Folgen weiter, weder in den USA noch bei uns. Geplant ist allerdings, dass wir im Herbst mehr erfahren sollen über die Machenschaften von Darth Vader, der eine prominente Rolle in der Staffel einnehmen soll.
Im Special kehren die Rebellen nach Lothal zurück, um einen abtrünnigen Offizier des Imperiums zu retten. Doch kurz nach ihrer Rückkehr, werden sie eines Verbrechens beschuldigt, das sie nicht begangen haben, und müssen deshalb vor Darth Vader treten. Die Geschichte spielt im Zeitraum zwischen der Prequel-Trilogie und der Original-Trilogie. Star Wars Rebels wurde kreiert von Simon Kinberg ("X-Men: First Class", "Sherlock Holmes", "Mr. & Mrs. Smith"), Dave Filoni ("Star Wars: The Clone Wars", "Avatar: The Last Airbender") und Carrie Beck (Lucasfilm Story Group). Daneben zählt auch Greg Weisman ("Young Justice", "The Spectacular Spider-Man", "Gargoyles") zu den Executive Producers.
via: wunschliste.de

-->