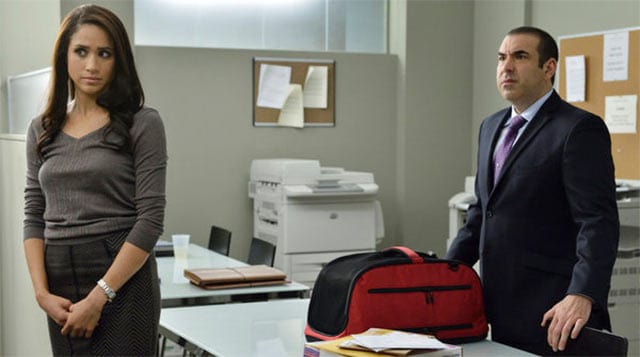 Auch wenn ich spät dran bin: das ist immerhin die siebte Folge und ich bin noch dabei! Hier also die Rezension zur bereits siebten der Staffel, es neigt sich also langsam dem Ende zu.
Eine Folge, die endlich mal wieder einen soliden Nebenschauplatz hat. Und genau der dürfte hängen bleiben. Zunächst aber tritt Jessica aktiv in den Case hinein, Harvey zieht scheinbar seine Ambitionen auf Entthronung offiziell zurück. Zunächst schaut es dazu nach weiterem 08/15-Hin und Her im Eva-Case aus. So langsam wird es etwas unglaubwürdig, zumal sich all die tollen Nasen immer wieder in Termine begeben und dann mit einem einzigen Satz wieder heim geschickt werden. Da sind einige extreme Fehlschläge dabei, das häuft sich langsam zu sehr…
"We have to come up with another plan, because the one we had just went to shit." (Jessica)
Knaller der Folge ist Louis Litt. Der verklagt seinen Lieblingsbuddy um das Sorgerecht dessen Katze. Endlich mal wieder etwas für einen internen "Mock Trial". Dabei vertritt ihn Rachel sehr erfolgreich und zeigt, dass sie bereit für den nächsten Schritt ist. Dieser Sideplott lockert die Folge ungemein auf.
Und das hat sie auch nötig. Denn James Bond Stephen hat es sich endgültig mit allen verscherzt. Aber so richtig. Es ziehen sich nun ziemlich krasse Wellen, so dass der Bosskampf dann wohl doch wieder "Jessica vs. Partner" heißen wird. Nur, dass der Nachfolger diesmal Harvey sein könnte. Der hat Stephen jedenfalls schon einmal ordentlich in die Wand geprügelt – mit Ansage.
Meine Meinung:
Eine Folge mit richtungsweisenden Aktionen zwischen den Hauptcharakteren und einigen schönen Wendungen. Es geht aber sicherlich noch mehr. Pluspunkt definitiv für den kreativen, emotionalen und humorvollen Nebenkriegsschauplatz. So langsam wächst einem Team Louis immer mehr ans Herz, wer hätte das gedacht?

-->