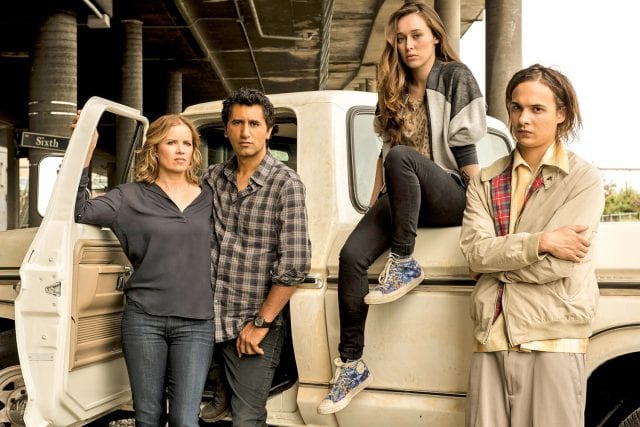 Das Spin-Off zur AMC-Erfolgsserie "The Walking Dead" wird die Serienzeit der Original-Serie nicht einholen: Die erste Staffel von "Fear the Walking Dead" wird bekanntlich zum Zeitpunkt des Ausbruchs des Virus starten, die erste Staffel wird aber den Startpunkt der Originalserie nicht einholen. Das sagte FTWD-Produzent David Erickson auf der Television Critics Association's Press Tour. Die Serie wird also – zumindest in der ersten Staffel – nicht den Moment einholen, in dem Rick Grimes aus dem Koma aufwacht.
By the end of season 1, we definitely know the world has changed, but we're not at the same place where Rick woke up. There's still a window of time, we'll have some real estate left. Rick's coma was about 4 to 5 weeks.
Die Handlung der ersten Staffel werde sich über drei Wochen erstrecken. FTWD sei auch nicht darauf ausgelegt, möglichst schnell die Mutterserie einzuholen. Denkbar sei allerdings, nach einer späteren Season einen Zeitsprung zu machen, um näher an "The Walking Dead" zu rücken. Die Idee zur Verbindung beider Serien wurde von den Produzenten ja schonmal bestätigt.
If you track our story, we probably go three weeks over the course of our first season. There is a time that may come that we catch up, and there may be a season where we do a major time cut. The thinking right now in season 1 and the writers' room for season 2 isn't about how do we intersect them how or catch up with the original show?
Im Spin-Off werde außerdem die Rolle des Militärs stärker beleuchtet, allerdings nicht aus Sicht des Militärs. Man werde zeigen, wie Soldaten auf die Bedrohung reagieren und was sie tun werden, um ihre eigenen Familien zu schützen.
When Rick exits the hospital, you see the presence of military and MASH units. We're never going to tell the story from a military perspective, but we will see a military presence and how first responders reacted and what they did to protect their own families.
via: Entertainment Weekly