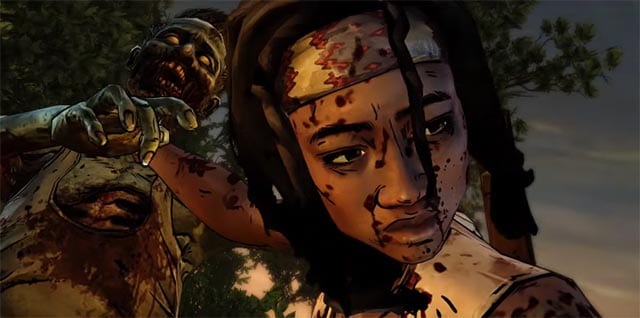 Im vergangenen Juni hatten wir schon einmal kurz über den Mini-Ableger der Telltale-Videospielreihe zu "The Walking Dead" berichtet, in dem es fokussiert um die Geschichte Michonnes geht. Die erste von drei Episoden ist heute raus gekommen, die weiteren sollen im März und April folgen. Hier ein etwas längeres Preview aus der Intro-Passage des Games sowie der Trailer für die erste Episode.
"'The Walking Dead: Michonne – A Telltale Miniseries' stars the iconic, blade-wielding character from Robert Kirkman's best-selling comic books, portrayed in-game by award-winning actress Samira Wiley (Orange is the New Black). Haunted by her past, and coping with unimaginable loss and regret, the story explores Michonne across a three episode miniseries event. Players will dive into the mind of Michonne to discover what took her away from Rick, Carl, and the rest of her trusted group… and what brought her back."
Weitere Informationen und Bilder zum Titel gibt es auf der Telltale-Website zu sehen, kaufen und zocken könnt ihr das gute Stück bei Steam oder auf PS4, PS3, Xbox One, Xbox 360 und Mobile Devices (iOS und Android folgen teils verspätet am 25. Februar) – Kostenpunkt: 14,99 Euro.
via: theawesomer