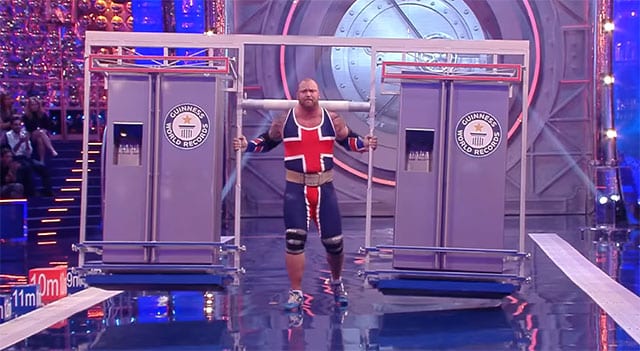 Neben Serien scheint unsere größte inhaltliche Säule mittlerweile der Kraftsport zu sein. Nachdem Ende letzten Jahres ein Fasswurf-Weltrekord für Game of Thrones-Darsteller Hafþór Björnsson anstand, hat er dieses Mal auf Weite statt auf Höhe gemacht. Im direkten Duell konnte er seinen Widersacher im 20-Meter-Lauf mit zwei ausgewachsenen Kühlschränken (und einem nicht zu vernachlässigenden Stahlgerüst!) schlagen.
"Episode one of GWR Italian Show sees Game of Thrones actor and strongman Thor Björnsson, take on world's strongest man winner Zydrunas Savickas, in an attempt to be the fastest to carry two fridges over 20m !"
Irgendwie muss man sich ja zwischen den Drehs fit halten. Was kommt wohl als nächstes? Badewannen-Weitwurf? Todesstern-Ziehen? Wir sind jedenfalls gespannt und werden berichten, sobald der nächste Weltrekord purzelt wie sonst nur die Köpfe der Gegner von The Mountain auf dem Schlachtfeld Westeros'.
via: devour