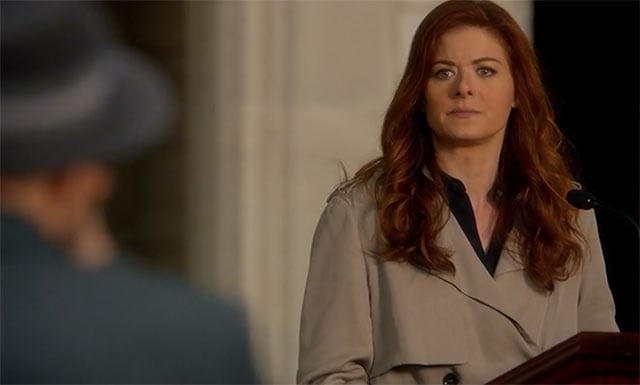 Eine lockere Crimedy, die Unterhaltung und Spannung bietet. Eine toughe Polizistin, die mit Charme und Witz ihre Fälle löst, anstatt auf die Regeln zu pochen und deren wichtigsten Fälle privater Natur sind. Zwillinge als alleinerziehende Mutter als lockerer Gegenpunkt zum Krimi-Alltag. Das sollte "The Mysteries of Laura" wohl sein. Ist es aber nicht.
Dabei habe ich Debra Messing mal gemocht. Vor 16 Jahren oder so. Vermutlich wegen Pubertät oder so… Jedenfalls ist die ehemalige Grace-Darstellerin gut in die Jahre gekommen und spielt eben die sesshaft gewordene Mutti zweier Göhren.
"Lady!?! Your boys are peeing on each other!" (Passantin)
Bei Jonas war The Mysteries of Laura ja noch auf der besseren Seite der Comedy-Vorschau zu sehen. Ich hatte da bereits "Krimi-Comedy mit Esther Schweins-Double? Das muss nicht sein…" kommentiert. Aber nein, ich muss es natürlich dennoch schauen…
Die Pilotfolge ist ungemein vorhersehbar, bietet allerlei stumpfen und direkten Humor (der darin gipfelt, dass ihre Söhne alles und jeden vollpinkeln?!) und bietet lächerliche Kampfeinlagen gepaart mit übertriebenen Split-Screen-Schnitten. Nein, das ist nicht das Beste aus beiden Welten, das ist schlicht nichts Halbes und nichts Ganzes. Es ist weder spannend noch lustig, nicht intelligent – nicht beachtenswert.
Auf dem Papier mag es inhaltlich zu funktionieren aber die Umsetzung ist einfach auf einem TV-Niveau des letzten Jahrtausends. Stets bemüht, aber nicht erfolgreich. Ein Mysterium, wie das auf Sendung gehen konnte.