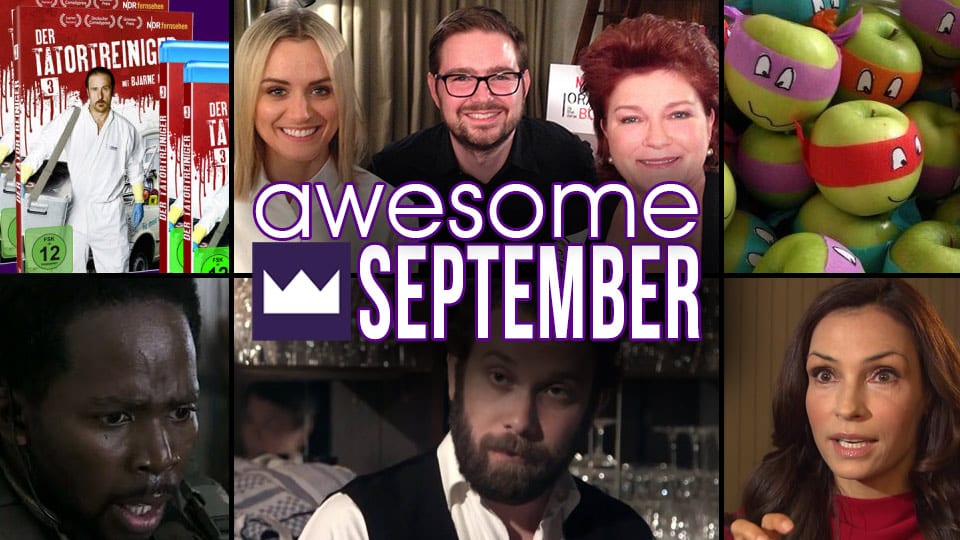 Im August gab es den ersten Monatsrückblick (siehe hier), nun folgt der zweite für den September: Endlich beginnt die spannende Phase der Serienneustarts. Im September ist unter anderem "Gotham" gestartet, die Prequel Serie aus dem Batman Universum. Dann haben wir eine neue Zombie-Serie "Z Nation" oder aber Comedy mit "Selfie" und eine Crime-Mystery mit "Forever". Ansonsten sind wir fast in der Mitte der neuen "Doctor Who Staffel" angelangt wie auch bei "Sons of Anarchy", Halle Berry hat ihr Seriencomeback in "Extant" erfolgreich beendet und in "The Strain" stehen wir kurz vor dem Finale. Also wieder einmal reichlich Reviews und Tipps für eure Serienplanung. Ansonsten haben wir seit diesem Monat mit den ersten Artikeln von Daniela auch eine wissenschaftliche Perspektive über Serien anzubieten.
Neben der neuen Seriensaison stand der September ganz im Zeichen von Netflix. Endlich dürfen wir Deutschen auch Geld für die erfolgreichste Online Videothek bezahlen und können die Eigenproduktionen wie Orange Is The New Black ganz legal und offiziell im Stream schauen. Wir haben uns dazu intensiv mit dem Angebot und den Vor- und Nachteilen beschäftigt sowie unsere Erfahrungen mit dem Service zusammen getragen.
Das besondere Highlight in diesem Monat waren in dem Zusammenhang die Interviews mit den Netflix Stars, darunter Kate Mulgrew & Taylor Schilling, aber auch Robert Rodriguez durften wir für euch interviewen. In dem Zusammenhang soll unser neuer Youtube Channel nicht unerwähnt bleiben, nach 2 Wochen haben wir mit den Videointerviews immerhin schon 16.000 Views erreicht! Und auch wenn wir den Channel erstmal unregelmäßig befüllen, würden wir uns über weitere Abonnements sehr freuen.
Doch jetzt zu den Top 10 im September. Auf der zweiten Seite in diesem Artikel findet ihr noch den der persönliche Serienmonat der serieslyAWESOME Crew:
serieslyAWESOME Top 10 September:
 1. Gewinnspiel: Tatortreiniger Staffel 3 vor Verkaufsstart!
3. Alles zum Netflix Deutschland-Start
4. Kate Mulgrew & Taylor Schilling im serieslyAWESOME Interview
6. Z Nation S01E01 – Puppies and Kittens
7. Das deutsche Game of Thrones
8. Laura Prepon & Uzo Aduba aka 'Crazy Eyes' im Videointerview
9. Der erste Fail der neuen TV Season – Selfie S01E01
Auf der nächsten Seite geht es zu dem persönlichen Serienmonat der seriesly Autoren.
Dieser Beitrag hat mehrere Seiten: