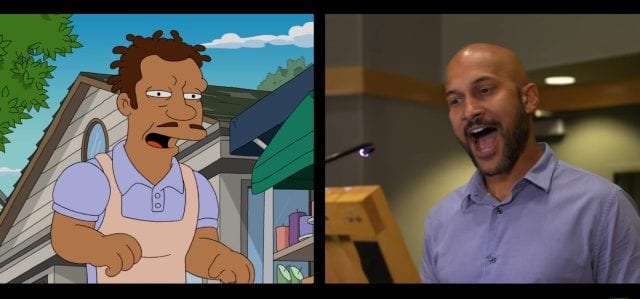 Erstaunlich, dass wir bei den Simpsons mittlerweile schon bei Staffel 28 angelangt sind. Das können nun wahrlich nicht viele Serien von sich behaupten. Am 15. Januar gibt es dafür auch mal wieder eine ganz besondere und etwas aus der Reihe tanzende Folge: die allererste einstündige Episode – Werbepausen allerdings einberechnet. In dieser Hip-Hop-Episode wird kein geringerer als Schauspieler Keegan-Michael Key, bekannt aus MADtv, Fargo und Parks and Recreation, eine Gast(sprecher)rolle übernehmen: als ehemaliger Rapper Jazzy James, der nun Kerzen verkauft. Neben Keegan-Michael werden Darstellerin Taraji P. Henson (Cookie aus Empire, die hier den Namen Praline tragen wird, hihi) und die Musiker Snoop Dogg und Common weiteren Figuren ihre Stimme leihen.
"This was just going to be a regular episode, but the table read went so well, in a fit of passion and excitement and ambition and excess, we decided to supersize it. And we haven't done a huge amount of stories in the world of hip-hop and rap culture, so we just went for it." – Matt Selman (Simpsons executive producer)
Die einstündige Episode wird zwei Teile umfassen: Part 1 könnte laut Selman den Untertitel "The Betrayal" tragen, während zu Part 2 "The Revenge" gut passen würde – wie ein zweiteiliges Rap-Album. In einem neuen Video wird uns ein kleiner Blick hinter die Kulissen dieser Folge und ins Synchronisationsstudio gewährt – und wir bekommen auch schon einen kleinen Einblick in die fertige Episode, die den Titel "The Great Phatsby" tragen wird und damit auf F. Scott Fitzgeralds "The Great Gatsby" anspielt.
via: Entertainment Weekly